News and Events
press releases
Pepperdine Graziadio School Names Charla Griffy-Brown to Lead Center for Excellence
As part of a five-year strategic plan, Pepperdine University's Graziadio School of Business and Management has announced the establishment of a Center for Teaching and Learning Excellence and named as director Charla Griffy-Brown, associate professor of information systems and technology management.
The Center will advance the School's understanding of marketplace dynamics affecting working professionals given current and future economic challenges, while also enhancing teaching effectiveness in delivering graduate business education that has relevant and practical value and affirms a higher purpose for business practice.
"The Center for Teaching and Learning Excellence aligns our long-term strategic goal to enrich learning with the Graziadio School's mission to develop values-centered leaders and advance responsible business practice, "says Linda A. Livingstone, dean of the Graziadio school.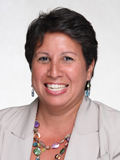 "As we embark on a new decade, the challenges facing enterprises and the working professionals they hire require an unprecedented focus on teaching applied business skills, delivering a more personalized educational experience and the ability to create value through innovation, critical thinking and trust. The Center will engage in actionable research and lead the development of faculty and learning solutions that addresses the changing marketplace for professional talent and responds to economic realities," says Griffy-Brown.
Among the center's mission priorities are effective, affordable learning programs that blend traditional classroom delivery with online instruction and other innovation-driven options, as well as improved faculty resources in experiential learning. The Center for Teaching and Learning Excellence will also investigate processes for capturing unique and innovative teaching techniques and approaches, programs for recognizing and rewarding faculty, and resources for managing knowledge practices both in the classroom and in an increasingly experience-intensive, high-pressure workplace.
Griffy-Brown adds, "Personalized, experience-driven learning that meets immediate marketplace demands is a Graziadio School hallmark. The center will collaborate directly with companies, industries, faculty, and students to assure teaching remains in-step with market realities and anticipates those opportunities to improve the employability of advanced business degree recipients."
Charla Griffy-Brown is a former Fulbright Scholar and internationally recognized as one of the most active and prolific researchers in the technology management and innovation fields. She is a Harvard University graduate and holds a Ph.D. in technology management from Griffith University in Queensland, Australia. Griffy-Brown joined the faculty at Pepperdine in 1999 and was the first faculty member to be awarded the professorial honor of the Denney Chair (2007-2009). She currently serves as part of an international research team examining technology and development issues. A former researcher at the Foundation for Advanced Studies on International Development, Tokyo, she has also served as associate professor at the Tokyo Institute of Technology, worked for NASA at the Kennedy Space Center, and has taught innovation/technology management courses in Australia, Singapore, Indonesia, Malaysia, and Japan. She previously served as a consultant for the United Nation's Global Environmental Facility and the European Commission.
Learn more about the Center for Teaching and Learning Excellence at bschool.pepperdine.edu.