Prospective Students
Pepperdine University is an independent, private Christian university enrolling more than 7,500 students in its five colleges and schools. We draw students from every state of the union and from more than 90 countries worldwide. Pepperdine is considered to be among the nation's finest universities, regarded for its high academic standards, its nationally acclaimed Division I athletics program, and its commitment to serving the needs of each and every Pepperdine student.
Our world-renowned, picturesque Malibu campus is home to our undergraduate school, Seaver College, to our Schools of Law and Public Policy, and to programs of the Graziadio School of Business and Management and the Graduate School of Education and Psychology. Additionally, our graduate campuses, located throughout Southern California, afford convenient access to mid-career adults pursuing bachelor's degrees in business, and advanced degrees in business, education, and psychology.
Visit the pages below to learn more about the five schools of Pepperdine University.
A Spirit of Place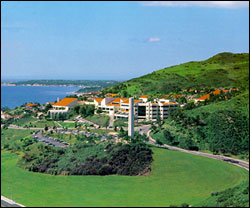 Seaver College, located in Malibu, California, provides Pepperdine University's undergraduate studies in letters, arts and sciences. Such a place furnishes students an opportunity to study at the edge of the Pacific Rim and the greater Los Angeles basin. Beyond Malibu, Seaver College has international programs in Florence, Heidelberg, London, Lausanne, Shanghai, and Buenos Aires, allowing students to live and learn in a wide variety of settings.
A Spirit of Person
At Seaver College, the total development of the student is the heart of the educational enterprise. Seaver is primarily a full-time residential community of students who have outstanding academic records, demonstrate strong moral character, possess an eagerness to learn, and aspire to professional, personal, and social excellence. Faculty are scholars who are deeply committed to teaching, having academic preparation to the highest degree combined with a devotion to Christian moral and ethical values.
A Spirit of Purpose
Seaver College is a Christian College because of its Christian faculty, students, and commitment to the integration of faith and learning. As a liberal arts college, it nourishes and transmits the noblest ideas of western culture while continually framing the learning process within modern global contexts. Seaver College is committed to preparing its graduates for lives of purpose and leadership, recognizing, moreover that knowledge calls ultimately for lives of service.