Michael F. Adams
Chancellor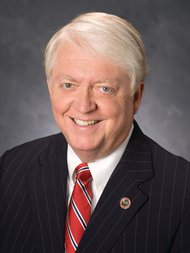 Michael F. Adams was named chancellor and Distinguished University Professor on August 1, 2015. The chancellor's role at Pepperdine University is a senior administrative position designed to advance the institution's marketing, reputation, and support base, as well as serve as an advisor to the senior administrative team.
Adams is a nationally recognized leader in higher education with expertise in educational administration, marketing, communications, and government relations. He returns to Pepperdine where he served as vice president for university affairs from 1982 to 1989. For the prior 25 years he has been a distinguished college president, first at Centre College (1989 – 1997) and for 16 years as president of the University of Georgia (1997 – 2013).
Nationally, he has chaired the American Council on Education, the Association of Public Land-Grant Universities, the National Association of Independent Colleges and Universities, and the NCAA.
He holds a PhD in political communications from The Ohio State University, where he was a Graduate Fellow, the Graduate School's highest academic recognition.
Phone: 310-506-4443
E-mail: michael.adams@pepperdine.edu