Pepperdine Hispanic Alumni Council
Providing leadership in scholarship, advocacy, and support for Hispanic students, alumni, and the community.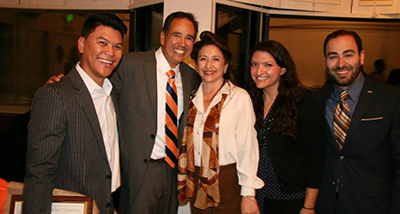 Mission Statement
The Pepperdine Hispanic Alumni Council will shift the Latino community's mindset and influence families to empower and enable students to actively pursue higher education. We will provide Hispanic students and alumni with tools and a path to greater professional and personal success.
The Pepperdine Hispanic Alumni Council seeks to strengthen and build awareness of the Pepperdine Hispanic alumni community, aiming to increase the enrollment of Hispanic students in the bachelor's and MBA programs. The council also seeks to improve the professional development and career services for Hispanic alumni, as well as achieve peer and community recognition for Pepperdine University as a top school for Hispanics seeking a values-centered education that focuses upon building the business leaders of tomorrow.
Purpose
Energize a vital graduate constituency by reconnecting Hispanic alumni back to Pepperdine and attracting outstanding Latino students to the University
Enhance our university brand in the Hispanic business community, and provide tools and resources to help to educate and empower the next generation of Hispanic business leaders
To provide scholarships, advocacy, support and networking opportunities for Hispanic students and alumni.
To recognize the achievements and contributions that Pepperdine Hispanic alumni have made in their companies and their communities.
Events
The Pepperdine Hispanic Alumni Council hosts, sponsors and promotes a variety of events to offer its members opportunities for networking and continued learning. Events include executive panels, C-level presentations, and networking mixers. Please visit the Pepperdine Alumni Affairs Calendar of Events and add the next Hispanic Alumni Council event to your calendar.
How to Get Involved
If you would like to get involved with the Hispanic Alumni Council, contact Madelynn Perry in Pepperdine alumni affairs office at 310.506.6826 or madelynn.perry@pepperdine.edu. Join our groups on LinkedIn and Facebook!
Event Sponsorship
As a sponsor of the Pepperdine Hispanic Alumni Council events, you will play a critical role in the development of scholarships for Latino students. Become a sponsor today!
Donate to the Hispanic Alumni Scholarship Fund
Click here to give today. For further questions regarding the scholarship fund, please contact Giuseppe Nespoli at 310.506.6587 or giuseppe.nespoli@pepperdine.edu.