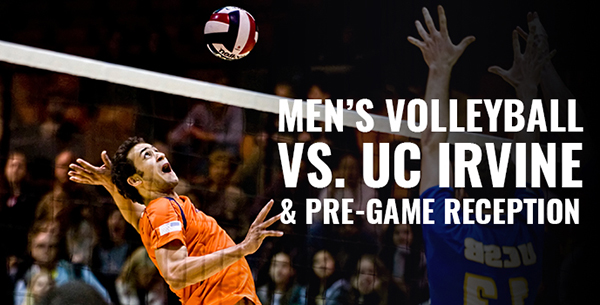 Men's Volleyball vs. UC Irvine &
Pre-Game Reception
Saturday, March 25, 2017
5:30 - 9:00 PM
Cheer on the Pepperdine men's volleyball team as they bump, set, and spike their way to victory over UC Irvine. Get decked out in blue and orange and join fellow alumni, Pepperdine Associates, students, parents, and friends for a pre-game dinner reception followed by an intense game. Bring the family to meet Willie the Wave, enjoy dinner at Pepperdine's Jones Trophy Room, and witness some of the best volleyball action in the country—all for one low price!
Schedule of Events:
5:30 PM: Pre-game dinner reception in Jones Trophy Room
7:00 PM: Game vs. UC Irvine
Cost:
Adult: $15
Children (ages 6-12): $8
Children (age 5 and under): Free
Ticket price includes dinner reception and tickets to the volleyball game.
Pepperdine and Crest Associates receive a special discounted rate for this event. Please contact alumni@pepperdine.edu for more information about your Associate's benefit.
Want to be a Pepperdine insider? Click here to learn more about the Pepperdine Associates program and join us in strengthening Pepperdine University.
If you have any questions about this event, please email alumni@pepperdine.edu or call 310.506.6190.
To update your contact information, take advantage of alumni benefits, and find other great events near you, visit: www.pepperdine.edu/alumni/