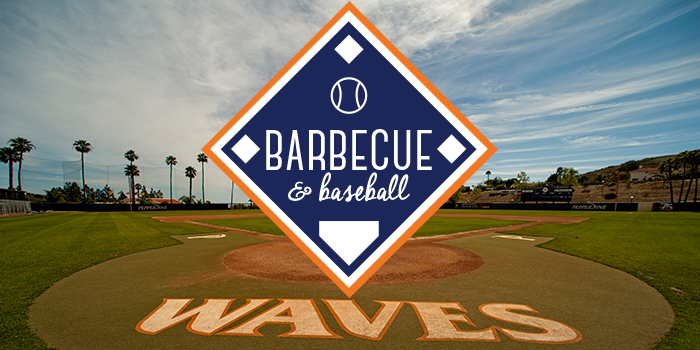 6th Annual BBQ & Baseball
Saturday, May 13, 2017
11:00 AM - 4:00 PM
Join the Ventura Waves and Pepperdine Associates for an all-American afternoon complete with It's In The Sauce's famous barbecue and America's favorite pastime. Gear up in your Pepperdine orange and blue to join fellow alumni, parents, family, and friends for an afternoon of fun. Bring your entire family out to play family field games, then watch the Pepperdine men's baseball team take on Saint Mary's at Eddy D. Field Stadium!
Be one of the first 100 people to arrive and receive a Pepperdine baseball hat generously sponsored by the Pepperdine Associates program.
We are currently working on securing a special guest from player personnel to stop by the private pre-game party and give attendees the inside scoop on all things Waves baseball. Stay tuned for more updates on this featured guest!
The Crest Advisory Board along with our Pepperdine partners, invites our local community friends to join us at this fun event to better know and connect with our Pepperdine community of students, staff, faculty, and alumni. Community friends may register up to 4 guests for this event.
Schedule of Events:
11:00 AM - 12:45 PM: It's In The Sauce is serving up delicious chicken and tri-tip! (Veggie option available upon request).
1:00 PM: Pepperdine Men's Baseball team take on Saint Mary's
There is no cost to attend; however, online registration is required.
If you have any questions about this event, please email alumni@pepperdine.edu or call 310.506.6190.
To update your contact information, take advantage of alumni benefits, and find other great events near you, visit: www.pepperdine.edu/alumni/