Pepperdine Presents: The Western Auto Building Centennial Celebration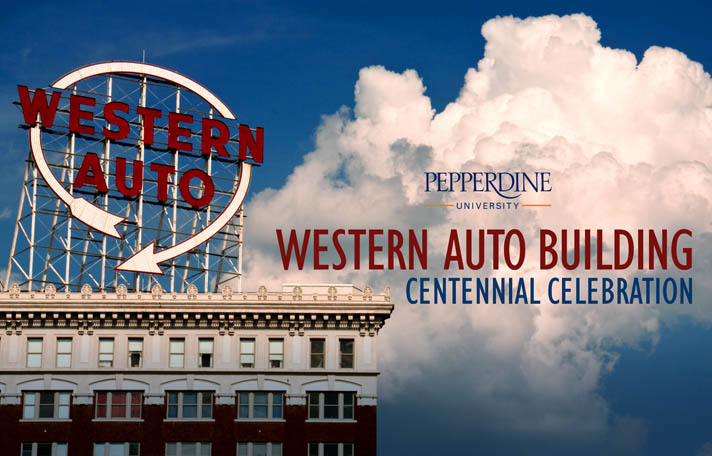 This celebration is one for the books. Honor the centennial anniversary of the Western Auto building with an exclusive once-in-a-lifetime celebration at the former headquarters of Western Auto in Kansas City. Join President Andrew Benton, Kansas City Mayor Sly James, owner of the loft Adrian Smith, and fellow alumni to celebrate the history of George Pepperdine and Western Auto. View artifacts, hear stories, and mingle with guests in the exact space that used to be home to the Western Auto offices. Finally, venture up to the roof to take in the spectacular views near the famous Western Auto sign.
Date:
Monday, April 18, 2016
Agenda:
5 – 6 PM: Guest arrival, check-in, and social hour
6 – 6:30 PM: Tour of Western Auto Building and Artifacts
6:30 – 7 PM: Remarks and gift exchange
7 – 8 PM: Reception
About Western Auto Building
100 years ago, the Coca Cola company commissioned architect Arthur Tufts to design and construct their latest Coca Cola building in Kansas City. However, it wasn't until 1928 when Pepperdine started leasing space on the 11th floor of the Coca Cola building. After more than 20 years of operating there, the Western Auto Supply purchased the building in 1952, establishing it as its world headquarters. Shortly after, the iconic seven-story circle arrow Western Auto sign was erected using ten tons of American-made steel, 1000 feet of neon, and 2500 light bulbs. The sign shines so brightly, it can be seen for 15 miles. The Western Auto Building, now known as the Western Auto Lofts Building is celebrating its 100th anniversary as part of the Kansas City skyline.
About George Pepperdine
In 1909 George Pepperdine, then 23 years old, founded Western Auto Supply Company, a specialty retail chain of stores that supplied automobile parts and accessories, with an initial investment of five dollars. Serving a nation just beginning its love affair with the automobile, Western Auto grew at an exponential rate and eventually operated approximately 1,200 stores across the United States.
Pepperdine had always exercised a spirit of generosity and charity, and was a man who understood himself as a steward and caretaker of the assets that God had entrusted to him. That sense of stewardship matured into a call of destiny when he observed the alarming rate at which Christian young men and women lost interest in their faith after going on to higher education. He determined that he would dedicate his fortune to creating and endowing a college that would provide the best education possible, managed by administrators and taught by professors who would support students in their Christian belief.
---
If you have any questions about this event, please email alumni@pepperdine.edu or call 310.506.6190.
To update your contact information, take advantage of alumni benefits and find other great events near you, visit: www.pepperdine.edu/alumni/