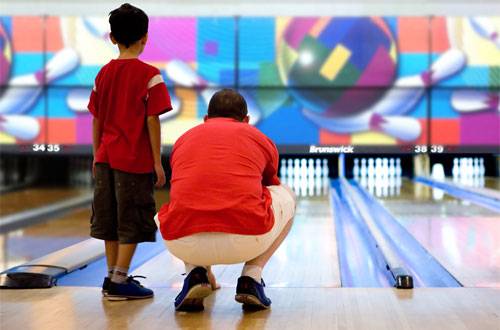 Las Vegas Waves: Bowling for Dads
Sunday, June 18, 2017 • 11 AM to 2 PM
Dads are good for corny jokes, terrible puns, bike-riding lessons, and more. But not every child is lucky enough to have a present father in their life. Inspired by his best friend's experience of losing custody of his kids and his own experience of having an absentee father, Anthony Parnell, M.S.W. founded the Fatherhood Support Network to help support fathers and their families. Due to his father's absenteeism, Anthony served in a fatherly role for his younger brother, Diya ('05) and now the two share a special experience helping fathers and families, bringing awareness to the organization, and helping support events related to the cause. It's no surprise that Pepperdine has been active supporters of the Fatherhood Support Network, with friends of Diya's supporting the organization through voices of support, prayer, and getting involved.
Join your Las Vegas Waves and get involved with the Fatherhood Support Network. This Father's Day, give back to the local dads in your community by bringing the whole family out to Bowling for Dads! Treat Dad to a fun afternoon of strikes and spares. Already have Father's Day plans? Support the cause by pledging someone that's already bowling.
---
Due to the nature of this event, no refunds are available.
If you have any questions about this event, please email alumni@pepperdine.edu or call 310.506.6190.
To update your contact information, take advantage of alumni benefits, and find other great events near you, visit: www.pepperdine.edu/alumni/