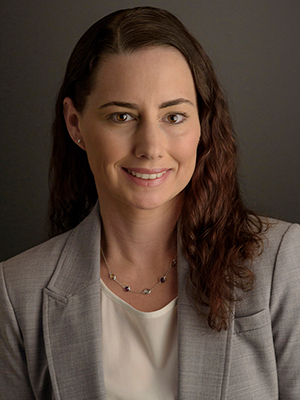 Dr. Danielle L. Greg
Calabasas, California

Title: Clinical Psychologist
Company: Private Practice
AT A GLANCE:
Seaver College Class of 2001
BA, Psychology
Graduate School of Education and Psychology Class of 2010
Doctor of Psychology
What does being one of Pepperdine's 40 under 40 honorees mean to you?
Being one of Pepperdine's 40 under 40 award recipients is a great honor. I am an enthusiastic alumna of Pepperdine with great appreciation for my educational career and how it prepared me to become a Clinical Psychologist.
Describe your success:
In the final year of my doctoral program at Pepperdine's GSEP, I worked at the University of North Carolina at Chapel Hill as a psychotherapist and member of the Eating Disorder Treatment Team. After graduating with my doctoral degree, I began working as the Assistant Clinical Director at an autism treatment agency following many years of work in the special needs field. A few years ago, I decided that it was time to begin working in private practice so that I could provide psychotherapy for a diverse range of people. It is wonderful to have my practice in Calabasas, California, as I am able to stay connected with the broader Pepperdine University community.
How does Pepperdine play into your success?
I am very grateful that I was able to attend Pepperdine University for my undergraduate and graduate studies. I have such fond memories of my time at Pepperdine and, in particular, of all of my professors and advisors who provided me with individual attention and prepared me for my career.
Who inspires you and why?
Dr. Anat Cohen, the Clinic Director at the Pepperdine Community Counseling Center in Encino, inspires me tremendously. Dr. Cohen played a major role in my graduate education at Pepperdine. I started my beginning training as a psychotherapist at her clinic, served as her Graduate Assistant and she was also a part of my dissertation committee. I learned so much from her over my years at Pepperdine. What inspires me most about Dr. Cohen is the energy and attention that she gives to all of her students as she helps them begin the work of being a psychotherapist.
What's next for you? What's your five year outlook? What's your ten year plan?
I plan to continue my work in private practice and perhaps begin teaching some university courses soon. I would also love to write a book about developing a healthy body image. I am currently brainstorming about a children's book focused on helping young girls appreciate their bodies for all of its magnificent abilities!
How do you prepare for a busy day?
I wake up at 5:30 AM and either go to a Pilates class or take my two-year-old Labradoodle, Reef, for a walk around the neighborhood!
What is one of your hobbies?
Reading, adventuring and spending time with family and friends.
What is your favorite quote?
"Your task is not to seek for love but merely to seek and find all the barriers within yourself that you have built against it." –Rumi
What profession other than your own would you like to attempt?
Medical research scientist or pastry chef.