About Us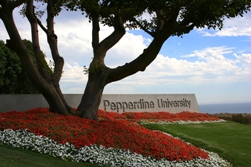 Pepperdine University Alumni Association Mission Statement

Its mission is to strengthen the Pepperdine community by engaging alumni in a lifelong relationship with the University, its students, and fellow alumni through meaningful service and leadership. This is accomplished through the efforts of volunteer alumni leaders, regional programs and activities, and exclusive benefits and services.
What is the Pepperdine University Alumni Association?
The Pepperdine University Alumni Association is composed from more than 97,000 graduates of Pepperdine's five schools: George Pepperdine College/Seaver College, Graziadio Business School, Graduate School of Education and Psychology, School of Law, and School of Public Policy. Members automatically receive membership into this exciting community of alumni. The Pepperdine University Alumni Association (PUAA) was formed to promote interaction between the University and its alumni, students, parents, and friends through events, regional programs, benefits, and services.

Alumni Leadership Council (ALC)
The Alumni Leadership Council's role is to be advisors and ambassadors, acting as the voice of alumni to the University and developing an environment of involved, active alumni across the world. More...