WSCUC Reaffirmation 2021
Pepperdine was invited by WSCUC to participate in a new process, Thematic Pathways for Reaffirmation. This website will serve as a resource and as a way for us to share the knowledge (theme 3) gained as we progress through the WSCUC process. On this site, you will learn more about our themes, committee work, and the WSCUC criteria and standards. We are hoping for both a transparent and transformative process. Pepperdine's last reaffirmation from WSCUC was granted in 2013. Our next onsite visit is October 20-22, 2021 and our institutional report is due August 11, 2021. Preparations for our institutional report and site visit began in Fall 2018. Please read our WSCUC Steering Committee's welcome letter and the WSCUC Handbook of Accreditation for more information.
WSCUC Steering Committee minutes
The Pepperdine community began the WSCUC 2021 reaffirmation process in the fall of 2018, as the TPR process asks for self- identified areas of improvement. The process began with the development of a WSCUC Steering Committee, which consisted of membership representation across all five Schools and Student Life. Our next step was to audit the community in an attempt to identify our strengths and areas of growth in relation to the WSCUC Standards and criteria for review. Based on this the Steering Committee and University assessment committee (ASLC) choose themes. The first two themes came directly from the WSCUC reaffirmation process.
The first theme is Meaning, Quality, and Integrity of the Degree, and the second theme is Assessment and Program Review. This was followed by a year of inquiry, data collection, and discussions in these areas. We also brought in a consultant to help us with our examination. Our investigation revealed that our educational effectiveness infrastructure (assessment) was progressing but there were final aspects of these processes we had not yet achieved but desired to. It was important for us to ensure that student excellence and student learning were at the center of this process. We also wanted to find ways to make this process part of our culture of teaching-learning and decision making.
The third theme evolved from examining all of the criteria with the committees and stakeholders. The decision was made that we would benefit as an organization if we developed better ways to share information and knowledge.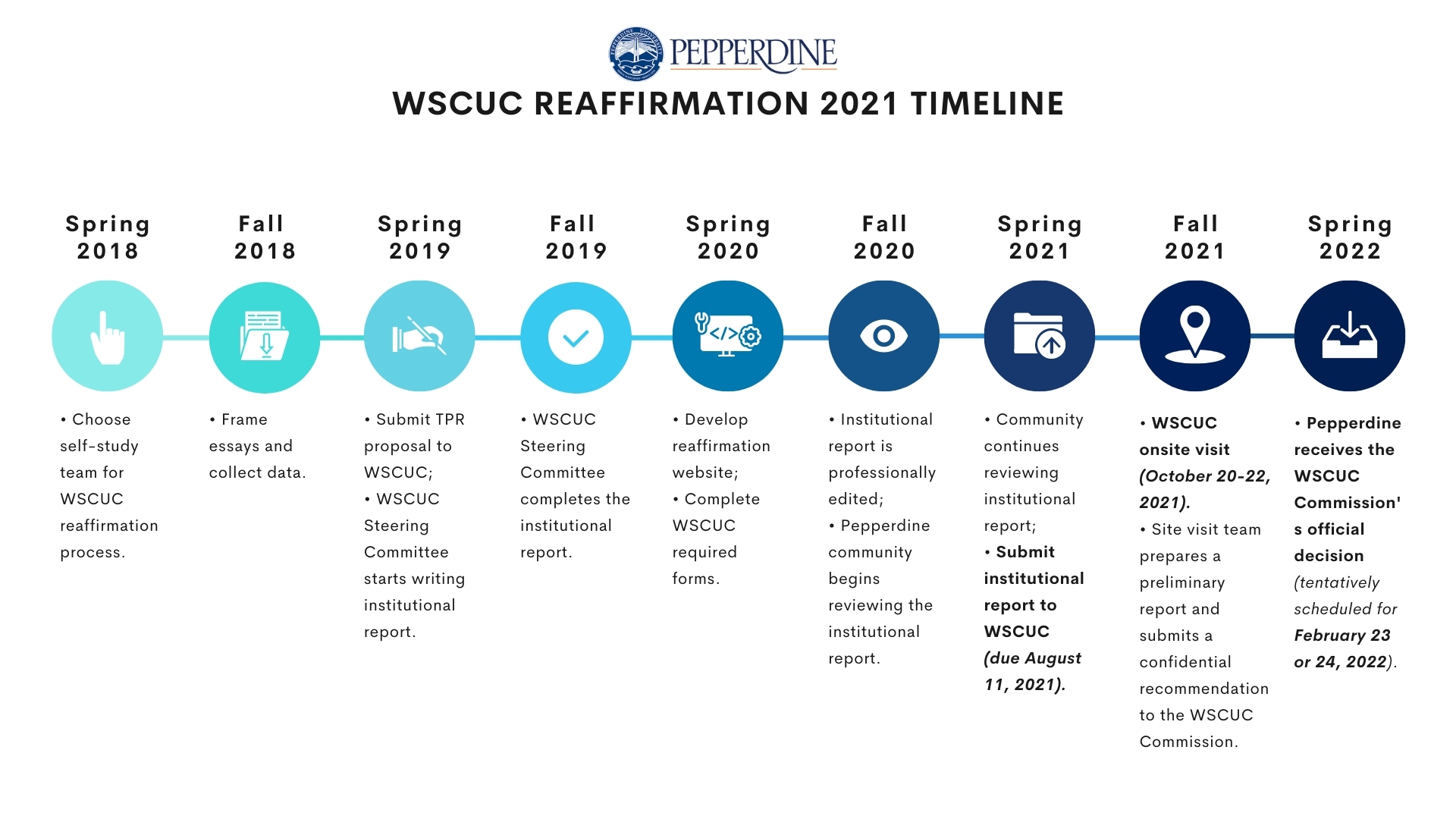 Please access the institutional report and supporting documents below. If you would like to provide feedback, you can do so via the OIE Feedback Form.
Supporting Documents & Additional Resources