Diversity, Equity, and Inclusion (DEI)
50%
Students of Color Enrolled
As of fall 2020
91%
1-Year Retention Rate for Students of Color
Fall 2018 FTFT cohort
90%
6-Year Graduation Rate for Students of Color
Fall 2014 FTFT cohort
26%
Instructional Faculty of Color
As of November 1, 2020
Reports
OIE DEI Reports
OIE Research Briefs

In-Progress/Coming Soon
OIE Equity Report

OIE Infographic | HEDS Survey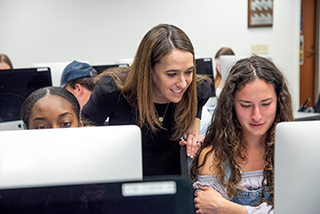 Dashboard
Coming soon.
---
OIE Terms and Definitions
The OIE recognizes the complex and dynamic nature associated with defining DEI; thus, the terms below are meant to serve as definitions for OIE-related deliverables and reporting only and are not meant to represent, or serve as, university definitions. The following definitions were adapted from the Higher Education Data Sharing Consortium and Independent Sector.
Diversity: differences among people based on race and ethnicity, sex, gender identity, sexual orientation, socioeconomic status, culture, national origin, faith/religious identity, age, ability status, and political perspective.
Equity: fair treatment, access, and opportunities for all people, including the attempt to identify and eliminate barriers that hinder full participation from some groups.
Inclusion: environments in which all people feel welcomed, respected, supported, valued, and invited to participate.