A Message from President Benton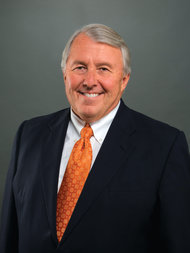 Not long before I became president a man named Robert Donovan came to my office unannounced and told me that he and his wife were the artists who created the Stauffer Chapel stained-glass masterpiece. He and Bette had returned to campus in the twilight years of their lives together to sign their work and to be remembered.
He told me of the process of fitting more than 125 different shapes and colors together, and of the theme they selected for our chapel, "The Tree of Life," with an open Bible featured in the center of the window around which the stained glass elements swirl and flow. They wanted only to sign their work and we, of course, granted their request. To this day, their handiwork calls me to worship whenever I sit in one of the pews either alone or with other worshippers.
Allow me to invite you join us May 1–4, 2018, to take a journey into the Word of God through the event we now call Harbor. When you arrive, I urge you to take a deep breath and consider the marvelous mystery of color and light of the stained glass in our chapel by the sea. As a mosaic of Christians from around the world assemble, Pepperdine will sign its work with song, prayer, fellowship, and study. Ours is a labor of love for you and for the Lord's church. As with the stained glass in our chapel, God's Word and Jesus Christ will be central to all that transpires, and his peace, confidence, and warmth will be enabled by the Holy Spirit that comforts us and calms the waters of this tumultuous world—not unlike a welcome harbor in our seaward journey.
Pepperdine University wants nothing more than to be your port and respite during this week together. On our final night, we will sing together "The Lord Bless You and Keep You." May that benediction sign our work for this year and may God, Jesus Christ, and the Holy Spirit illuminate your path and service until we meet again.
Indeed, may the Lord bless you and keep you in all ways and always.
Andrew K. Benton
President and CEO