Meet the Pepperdine Faculty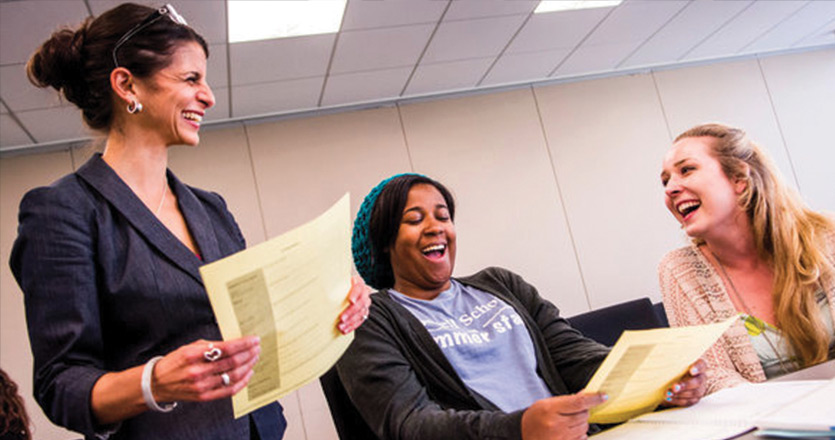 Pepperdine's more than 700 distinguished faculty members are renowned leaders in their fields who are hardworking and passionate about their work and their students. Pepperdine's student-faculty ratio of 13:1, allows professors to truly get to know each student and serve as academic mentors as well.
Learn more about our exceptional faculty from the combined schools list below or choose a faculty member from the school's site.
A

B

C

D

E

F

G

H

I

J

K

L

M

N

O

P

Q

R

S

T

U

V

W

X

Y

Z
| Faculty | Job Title | Department | Email | Phone | Letter | School |
| --- | --- | --- | --- | --- | --- | --- |
| Accomazzo, Davide | Instructor of Finance | | 310-874-5871 | Email | A | Graziadio Business School |
| Adjemian, B. Carol | Emerita Professor of Mathematics | Natural Science Division | | Email | A | Seaver College |
| Ahn, Anthony (Ho-Young) | Associate Professor of Advertising | Communication Division | 310.506.6033 | Email | A | Seaver College |
| Alderman, Jillian | Associate Professor of Accounting | | | Email | A | Graziadio Business School |
| Alexandra Sowa, Lauren | Visiting Assistant Professor | Communication | 310.506.6004 | Email | A | Seaver College |
| Allen, Mark | Adjunct Faculty | Education Division | 310.568.5593 | Email | A | Graduate School of Education and Psychology |
| Allen, Tracy | Adjunct Professor | | | Email | A | Caruso School of Law |
| Allen, Mark | Practitioner of Organization Theory and Management | | 310.568.5593 | Email | A | Graziadio Business School |
| Amaro, Lauren | Associate Professor of Communication | Communication Division | 310.506.6811 | Email | A | Seaver College |
| Amato, Lisa | Adjunct Professor | | | Email | A | Caruso School of Law |
| Amparán, Antonio | Adjunct Faculty | Education Division | | Email | A | Graduate School of Education and Psychology |
| Anderson, Chiconia | Adjunct Professor | Online Psychology Division | | Email | A | Graduate School of Education and Psychology |
| Armstrong, Christina | Adjunct Professor | Online Psychology Division | | Email | A | Graduate School of Education and Psychology |
| Arrechiga, Eva | Adjunct Faculty | Education Division | | Email | A | Graduate School of Education and Psychology |
| Asamen, Joy | Emeritus Professor of Psychology | Psychology Division | | Email | A | Graduate School of Education and Psychology |
| Ashworth, Jared | Assistant Professor of Economics | | | Email | A | Graziadio Business School |
| Asim Cooper, Tanya | Clinical Professor of Law | | 310.506.4646 | Email | A | Caruso School of Law |
| Assilian, Anett | Adjunct Faculty | Psychology Division | | Email | A | Graduate School of Education and Psychology |
| Aviera, Aaron | Senior Clinical Professor and West Los Angeles Clinic Director | Psychology Division | | Email | A | Graduate School of Education and Psychology |
| Awan, Seher | Adjunct Professor | Education Division | | Email | A | Graduate School of Education and Psychology |
| Azadian, James | Adjunct Professor of Law | | | Email | A | Caruso School of Law |
| B. Kim, Paul | Professor of Screen Arts | Communication | | Email | B | Seaver College |
| Bahar, Lisa | Adjunct Professor | Online Psychology Division | | Email | B | Graduate School of Education and Psychology |
| Baim, Dean | Professor of Economics and Finance | Business Administration Division | | Email | B | Seaver College |
| Baird, W. David | Dean Emeritus of Seaver College | Humanities/Teacher Education Division | 310.506.4280 | Email | B | Seaver College |
| Baker, Jeffrey | Associate Dean of Clinical Education and Global Programs | | 310.506.6350 | Email | B | Caruso School of Law |
| Baker, Sean | Adjunct Faculty | Psychology Division | | Email | B | Graduate School of Education and Psychology |
| Barba, Arnold | Assistant Dean of Professional Formation | | 310.506.4570 | Email | B | Caruso School of Law |
| Barton, John D. | Professor of Teaching of Religion | Religion and Philosophy Division | 310.506.4923 | Email | B | Seaver College |
| Barton, John | Visiting Associate Professor of Religion | Education Division | 310.506.4923 | Email | B | Graduate School of Education and Psychology |
| Baskin, Otis | Emeritus Professor of Organization Theory and Management | | | Email | B | Graziadio Business School |
| Basraon, Baldip | Adjunct Professor | Straus Institute | | Email | B | Caruso School of Law |
| Batchelder, Ronald W. | Professor of Economics | Social Science Division | 310.506.4544 | Email | B | Seaver College |
| Batcheller, Gretchen | Professor of Studio Art - Painting & Drawing | Fine Arts Division | | Email | B | Seaver College |
| Bauer, Steven | Assistant Instructor of Teaching of Marketing | Business Administration Division | 310.506.4139 | Email | B | Seaver College |
| Begin, Paul | Professor of Hispanic Studies | International Studies and Languages Division | 310.506.4866 | Email | B | Seaver College |
| Belton, Jeffrey | Adjunct Professor | | | Email | B | Caruso School of Law |
| Benton, Gary | Adjunct Professor | | | Email | B | Caruso School of Law |
| Berger, Denise | Adjunct Faculty | Education | | Email | B | Graduate School of Education and Psychology |
| Bernstein, Ruth | Associate Professor of Nonprofit Management | Business Administration | 310.506.6716 | Email | B | Seaver College |
| Berumen, Alfonso | Instructor of Decision Sciences | | 323.687.3145 | Email | B | Graziadio Business School |
| Betre, Kassahun | Assistant Professor of Physics | Natural Science Division | 310.506.4974 | Email | B | Seaver College |
| Betz, Brian | Adjunct Faculty | Psychology Division | | Email | B | Graduate School of Education and Psychology |
| Bhatia, Gitu | Adjunct Faculty | Psychology Division | | Email | B | Graduate School of Education and Psychology |
| Bikel, Robert | Practitioner of SEER Business and Management | | | Email | B | Graziadio Business School |
| Bilakovics, Steven | Adjunct Faculty | | | Email | B | School of Public Policy |
| Birmingham, Carrie | Associate Professor of Teacher Education | Humanities/Teacher Education Division | 310.506.7405 | Email | B | Seaver College |
| Blakely, Jason | Associate Professor of Political Science | Social Science Division | | Email | B | Seaver College |
| Blanco, Luisa | Professor of Public Policy | | 310.506.7466 | Email | B | School of Public Policy |
| Blas, Michelle | Adjunct Faculty | Education | | Email | B | Graduate School of Education and Psychology |
| Bleuel, William | Professor Emeritus of Decision Sciences | | 805.379.5814 | Email | B | Graziadio Business School |
| Blondell, Stephanie | Professor of Law and Practice | | 310.506.6382 | Email | B | Caruso School of Law |
| Board, Ryan | Professor of Music | Fine Arts Division | 310.506.7324 | Email | B | Seaver College |
| Bocci, Goali Saedi | Adjunct Professor | Online Psychology Division | | Email | B | Graduate School of Education and Psychology |
| Boduryan, Menije | Adjunct Professor | Online Psychology Division | | Email | B | Graduate School of Education and Psychology |
| Bogardus, Tomas | Professor of Philosophy | Religion and Philosophy Division | | Email | B | Seaver College |
| Boghossian, Zarik | Adjunct Professor | Education Division | | Email | B | Graduate School of Education and Psychology |
| Boliek, Babette | Professor of Law | | 310.506.4963 | Email | B | Caruso School of Law |
| Bolton Bonnici, Kate | Assistant Professor of English | Humanities and Teacher Education | 310.506.4225 | Email | B | Seaver College |
| Boschee, Jerr | | Education Division | | Email | B | Graduate School of Education and Psychology |
| Bowman, Joshua | Associate Professor of Mathematics | Natural Science Division | 310.506.4236 | Email | B | Seaver College |
| Brahme, Maria | Head Librarian | Education Division | 310-568-5686 | Email | B | Graduate School of Education and Psychology |
| Brannan, Beau | Visiting Instructor of Humanities | Humanities and Teacher Education | 310.506.4025 | Email | B | Seaver College |
| Brereton, Kelsey | Visiting Assistant Professor of Chemistry | Natural Science | 310.506.6310 | Email | B | Seaver College |
| Brewster, Jay | Provost and Chief Academic Officer of Pepperdine University | Natural Science Division | 310.506.4259 | Email | B | Seaver College |
| Brooks, Lyndsay | Adjunct Professor | Online Psychology Division | | Email | B | Graduate School of Education and Psychology |
| Brooks, Bob | Maldonado Fellow | | | Email | B | School of Public Policy |
| Brunn, Dity | Adjunct Faculty | Psychology Division | | Email | B | Graduate School of Education and Psychology |
| Bruno, Carson | Adjunct Faculty | | 310.506.7492 | Email | B | School of Public Policy |
| Bryant, Thema | Professor | Psychology Division, Online Psychology Division | 818.501.1632 | Email | B | Graduate School of Education and Psychology |
| Buckingham, John | Practitioner of Marketing | | 949.887.9203 | Email | B | Graziadio Business School |
| Bui, Khanh-Van T. | Professor of Psychology | Social Science Division | 310.506.4805 | Email | B | Seaver College |
| Buickians, Natalie | Assistant Professor of Voice | Fine Arts | 310.506.4877 | Email | B | Seaver College |
| Bumgardner, Larry | Associate Professor Emeritus of Business Law | | 805.379.5811 | Email | B | Graziadio Business School |
| Burke, Jonathan | Professor of Economics | Business Administration Division | 310.506.4763 | Email | B | Seaver College |
| Burke, Lindsey | | | | Email | B | School of Public Policy |
| Burns Loeb, Tamra | Adjunct Professor | Online Psychology Division | | Email | B | Graduate School of Education and Psychology |
| Caesar, Vance | Visiting Faculty of Education | Education Division | 949-223-2500 | Email | C | Graduate School of Education and Psychology |
| Cail, Jessica | Visiting Assistant Professor of Psychology | Social Science Division | 310.506.6680 | Email | C | Seaver College |
| Cain, Ebony | Program Chair EdD in Educational Leadership Administration & Policy | Education Division | 818-702-1351 | Email | C | Graduate School of Education and Psychology |
| Caldwell, Harry | Professor of Law | | 310.506.4669 | Email | C | Caruso School of Law |
| Caldwell, Dan E. | Emeritus Distinguished Professor of Political Science | Social Science Division | 310.699.1468 | Email | C | Seaver College |
| Canillas, Gregory | Adjunct Faculty | Psychology Division | | Email | C | Graduate School of Education and Psychology |
| Cao, Terrance | Senior Certification Manager | Education Division | | Email | C | Graduate School of Education and Psychology |
| Carlsen, Lila McDowell | Interim Vice Provost | International Studies and Languages Division | 310.506.4215 | Email | C | Seaver College |
| Carlsen, George Arthur | Professor of Hispanic Studies | International Studies and Languages Division | 310.506.7957 | Email | C | Seaver College |
| Caron, Paul | Duane and Kelly Roberts Dean | | 310.506.7521 | Email | C | Caruso School of Law |
| Carr, Joi | Professor of English & Film | Humanities/Teacher Education Division | 310.506.7610 | Email | C | Seaver College |
| Carroll, Lee Ann | Emerita Professor of English | Humanities/Teacher Education Division | 310.506.4172 | Email | C | Seaver College |
| Carruth, Paul | Assistant Professor of Management | Business Administration Division | 310.506.7704 | Email | C | Seaver College |
| Castaneda-Sound, Carrie | Program Director of the MA in Clinical Psychology (Evening Format) | Psychology Division | | Email | C | Graduate School of Education and Psychology |
| Caton, Casey | Adjunct Professor | | | Email | C | Caruso School of Law |
| Cha, Eun Sang | Keck Visiting Assistant Professor | Natural Science Division | | Email | C | Seaver College |
| Chalom, Fiona | Adjunct Faculty and Ombudsperson | Psychology Division | | Email | C | Graduate School of Education and Psychology |
| Chan, Aldrich | Adjunct Professor | Online Psychology Division | | Email | C | Graduate School of Education and Psychology |
| Charles, Jacob D. | Associate Professor of Law | | 310.506.7395 | Email | C | Caruso School of Law |
| Chase, Carol | Professor Emeritus | | 310.506.4675 | Email | C | Caruso School of Law |
| Chen, Weina Li | Clinical Assistant Professor | Education Division | | Email | C | Graduate School of Education and Psychology |
| Chen, Lanhee | Fall 2017 William E. Simon Distinguished Visiting Professor | | | Email | C | School of Public Policy |
| Cheng, Joseph | Associate Professor of Finance | | | Email | C | Graziadio Business School |
| Chesnutt, Randall D. | Professor Emeritus of Religion | Religion and Philosophy Division | | Email | C | Seaver College |
| Childress, Donald | Professor of Law | | 310.506.4807 | Email | C | Caruso School of Law |
| Choi, Charles | Associate Professor of Communication | Communication Division | 310.506.6017 | Email | C | Seaver College |
| Choi, Anna | James Q. Wilson Visiting Professor 2018–2020 | | | Email | C | School of Public Policy |
| Chun, Mark | Professor of Information Systems Technology Management | | 310.258.2824 | Email | C | Graziadio Business School |
| Cissa, Kerri | Adjunct Professor | Education Division | | Email | C | Graduate School of Education and Psychology |
| Cividanes, Ame | Professor of Hispanic Studies | International Studies and Languages Division | 310.506.6237 | Email | C | Seaver College |
| Clegg, Cyndia Susan | Distinguished Professor of English | Humanities/Teacher Education Division | 310.506.4435 | Email | C | Seaver College |
| Cloke, Kenneth | Adjunct Professor | Straus Institute | | Email | C | Caruso School of Law |
| Cloud, Douglas | Emeritus Professor of Accounting | Business Administration | | Email | C | Seaver College |
| Cobb, Gary Woodrow | Professor of Music | Fine Arts Division | 310.506.4335 | Email | C | Seaver College |
| Cochran, Robert | Professor Emeritus | | 310.506.4684 | Email | C | Caruso School of Law |
| Coe, Jack | Professor of Law | | 310.506.4626 | Email | C | Caruso School of Law |
| Coffee, Gina | Adjunct Professor | Online Psychology Division | | Email | C | Graduate School of Education and Psychology |
| Cohen, Anat | Senior Clinical Faculty Director | Psychology Division | | Email | C | Graduate School of Education and Psychology |
| Cohen Knaster, Alana | Adjunct Professor | Straus | | Email | C | Caruso School of Law |
| Colburn, Cynthia | Professor of Art History | Fine Arts Division | 310.506.6615 | Email | C | Seaver College |
| Colclough, Keith | Associate Professor of Vocal Studies | Fine Arts Division | 310.506.4971 | Email | C | Seaver College |
| Cole, Rick | Adjunct Faculty | | | Email | C | School of Public Policy |
| Collatos, Anthony | Professor of Education | Education Division | | Email | C | Graduate School of Education and Psychology |
| Colletti, Ned | Executive in Residence in Sports Administration | Communication Division | 310.506.4085 | Email | C | Seaver College |
| Collins, Christopher | Visiting Professor of Organizational Behavior | Business Administration | 310.506.7703 | Email | C | Seaver College |
| Collins, Rachel | Visiting Assistant Instructor of Religion | Religion & Philosophy | | Email | C | Seaver College |
| Conlin, Ronald P. | Assistant Professor of Marketing | Business Administration Division | 310.506.7756 | Email | C | Seaver College |
| Conti Elias, Carissa | Visiting Instructor of Hispanic Studies | International Studies and Languages | | Email | C | Seaver College |
| Contino, Paul | Distinguished Professor of Great Books | Humanities/Teacher Education Division | 310.506.4096 | Email | C | Seaver College |
| Cooper, Stephanie | Visiting Professor of Sports Medicine | Natural Science Division | 310.506.4420 | Email | C | Seaver College |
| Cooper, Christie | Adjunct Faculty | Education Division | 714-524-6606 | Email | C | Graduate School of Education and Psychology |
| Coronel, Jacobo | Adjunct Faculty | Education Division | | Email | C | Graduate School of Education and Psychology |
| Corrado, Sharyl | Associate Professor of History | Humanities/Teacher Education Division | 310.506.4549 | Email | C | Seaver College |
| Cortez, Isai | Adjunct Professor of Law | | 310.506.7081 | Email | C | Caruso School of Law |
| Cortez-Covarrubias, Elva | Adjunct Faculty | Education Division | | Email | C | Graduate School of Education and Psychology |
| Costello, Ronald | Adjunct Professor | Education Division | | Email | C | Graduate School of Education and Psychology |
| Cotton, Jennaca | Visiting Instructor | Education Division | | Email | C | Graduate School of Education and Psychology |
| Cotton, Susan | Adjunct Professor | Education Division | | Email | C | Graduate School of Education and Psychology |
| Coughlin, Melanie | Adjunct Faculty | Psychology Division | | Email | C | Graduate School of Education and Psychology |
| Covarrubias, Kathtleen | Adjunct Professor | | | Email | C | Caruso School of Law |
| Cox, Ronald R | Dean of International Programs | Religion and Philosophy Division | 310.506.4230 | Email | C | Seaver College |
| Cox, Larry | Associate Professor of Strategy and Entrepreneurship | | 310.568.5644 | Email | C | Graziadio Business School |
| Coyle, James | Adjunct Faculty | | 310.506.7691 | Email | C | School of Public Policy |
| Cozolino, Louis | Professor | Psychology Division | | Email | C | Graduate School of Education and Psychology |
| Crawford, Peggy | Professor Emerita of Finance | | 310.568.5732 | Email | C | Graziadio Business School |
| Crubaugh, Bryant | Associate Professor of Sociology | Social Science Division | 310.506.7487 | Email | C | Seaver College |
| Cuadra, Juan | | International Studies and Languages | 310.506.8571 | Email | C | Seaver College |
| Cumming, Nicholas | Assistant Professor of Humanities | Humanities and Teacher Education Division | 310.506.7729 | Email | C | Seaver College |
| Cunningham, Kelly | Adjunct Faculty | Education Division | 310.740.7069 | Email | C | Graduate School of Education and Psychology |
| Cupid, Jamila | Assistant Professor of Public Relations | Communication Division | 310.506.6314 | Email | C | Seaver College |
| Cupp, Bradley E. | Instructor of Teaching of Computer Science | Natural Science Division | 310.506.4315 | Email | C | Seaver College |
| Cupp, Richard | John W. Wade Professor of Law | | 310.506.4658 | Email | C | Caruso School of Law |
| Cutting, Curt | Adjunct Professor of Law | | 818.995.0800 | Email | C | Caruso School of Law |
| Darden, Clifford | Emeritus Professor of Organizational Theory and Management | | | Email | D | Graziadio Business School |
| Daughrity, Dyron B. | William S. Banowsky Chair in Religion | Religion and Philosophy Division | 310.506.4354 | Email | D | Seaver College |
| Daum, Gregory | Associate Instructor of Teaching of Communication | Communication Division | 310.506.4670 | Email | D | Seaver College |
| Davenport, Stewart | Professor of History | Humanities/Teacher Education Division | 310.506.4233 | Email | D | Seaver College |
| Davis, Courtney L. | Associate Professor of Mathematics | Natural Science Division | 310.506.4582 | Email | D | Seaver College |
| Davis, Stephen D. | Distinguished Professor of Biology | Natural Science Division | 310.506.4324 | Email | D | Seaver College |
| Davis, Kay | Senior Lecturer | Education Division | | Email | D | Graduate School of Education and Psychology |
| De Long, Kindalee "Kindy" Pfremmer | Professor of Religion | Religion and Philosophy Division | 310.506.6553 | Email | D | Seaver College |
| De Salvo, Mario | Adjunct Faculty | Psychology Division | | Email | D | Graduate School of Education and Psychology |
| DeLano, Sunnie | Assistant Professor of Teaching Nutritional Science | Natural Science Division | 310.506.7064 | Email | D | Seaver College |
| DeVillers, Linda | Adjunct Faculty | Psychology Division | | Email | D | Graduate School of Education and Psychology |
| DellaNeve, James | Adjunct Faculty | Education Division | | Email | D | Graduate School of Education and Psychology |
| Densmore, Betsy | Adjunct Faculty | Education Division | | Email | D | Graduate School of Education and Psychology |
| Dent, Laci | Assistant Professor of Screen Arts | Communication Division | 310.506.6027 | Email | D | Seaver College |
| Dern, Gregory | Adjunct Faculty | Education Division | | Email | D | Graduate School of Education and Psychology |
| Derrick, Roshawnda A. | Associate Professor of Hispanic Studies | International Studies and Languages Division | 310.506.7012 | Email | D | Seaver College |
| Dial, Kristen | Program Director for the Masters of Arts in Psychology and the Master of Arts in Clinical Psychology Online Programs | Psychology Division | | Email | D | Graduate School of Education and Psychology |
| Dilellio, James | Professor of Decision Sciences | | 714.403.0085 | Email | D | Graziadio Business School |
| Dillion, Jacqueline Marie | Assistant Professor of English | Humanities/Teacher Education Division | 310.506.6012 | Email | D | Seaver College |
| Dillon, Betty | Visiting Assistant Professor of Composition | Humanities/Teacher Education Division | 310.506.4123 | Email | D | Seaver College |
| Ditmore, Michael G. | Professor of English | Humanities/Teacher Education Division | 310.506.4182 | Email | D | Seaver College |
| Dodds, Catherine Kerr | Assistant Professor of Law | Harnish Law Library | 310.506.4641 | Email | D | Caruso School of Law |
| Dodge, Damon | Adjunct Professor | Online Psychology Division | | Email | D | Graduate School of Education and Psychology |
| Dombrowski, Elisa | Adjunct Faculty | Psychology Division | | Email | D | Graduate School of Education and Psychology |
| Donnelly, Stephanie | Visiting Instructor of English | Humanities and Teacher Education | 310.506.4254 | Email | D | Seaver College |
| Doran, Chris D. | Professor of Religion | Religion and Philosophy Division | 310.506.4179 | Email | D | Seaver College |
| Dorian, Edrick | Adjunct Faculty | Psychology Division | | Email | D | Graduate School of Education and Psychology |
| Doto, David | Adjunct Professor | Straus Institute | | Email | D | Caruso School of Law |
| Dowdey, David | Professor Emeritus | International Studies and Languages Division | 310.506.4273 | Email | D | Seaver College |
| Drai, Remi | Visiting Associate Professor of Mathematics | Natural Science | 310.506.4683 | Email | D | Seaver College |
| Drake, Jordan | Practitioner of Accounting | | 310.568.5745 | Email | D | Graziadio Business School |
| Dufresne, Paul | Visiting Professor of Theatre Design / Production Management | Fine Arts | 310.506.4067 | Email | D | Seaver College |
| Dunphy, Marvin | Head Coach | Natural Science Division | 310.506.4517 | Email | D | Seaver College |
| Duron, Christina | Assistant Professor of Mathematics | Natural Science | | Email | D | Seaver College |
| de los Santos, Theresa M. | Associate Professor | Communication Division | 310.506.4342 | Email | D | Seaver College |
| deMayo, Robert | Associate Dean | Psychology Division, Online Psychology Division | | Email | D | Graduate School of Education and Psychology |
| Efremidze, Levan | Assistant Professor of Finance | | 909.437.8260 | Email | E | Graziadio Business School |
| Egan, Terri | Associate Professor Emeritus of Applied Behavioral Science | | 949.223.2564 | Email | E | Graziadio Business School |
| Elder, Beth | Adjunct Professor | Online Psychology Division | | Email | E | Graduate School of Education and Psychology |
| Eldridge, Kathleen | Professor and Program Director for the Master of Arts in Clinical Psychology (Daytime Format) | Psychology Division | | Email | E | Graduate School of Education and Psychology |
| Elishis, Yona | Adjunct Professor of Law | | | Email | E | Caruso School of Law |
| Elkins, David | Emeritus Professor of Psychology | Psychology Division | | Email | E | Graduate School of Education and Psychology |
| Ellis, Ashton | Adjunct Faculty | | | Email | E | School of Public Policy |
| Ellzey, Max | Practitioner of Applied Behavioral Sciences | | 310.568.5725 | Email | E | Graziadio Business School |
| Emelio, Melanie | Professor Emerita | Fine Arts | | Email | E | Seaver College |
| Emison, John | Visiting Assistant Professor of Studio Art | Fine Arts | 310.506.7767 | Email | E | Seaver College |
| Enriquez, Colin | Visiting Assistant Professor of English | Humanities and Teacher Education | 310.506.7771 | Email | E | Seaver College |
| Erbes, Stella | Divisional Dean (Humanities and Teacher Education Division) | Humanities/Teacher Education Division | 310.506.4271 | Email | E | Seaver College |
| Erhardt, Drew | Professor of Psychology | Psychology Division | | Email | E | Graduate School of Education and Psychology |
| Estes, Derek | Faculty Fellow at Seaver College | Religion - Philosophy | | Email | E | Seaver College |
| Estes, Laura Locke | Assistant Professor of Religion | Religion and Philosophy | 310.506.6815 | Email | E | Seaver College |
| Everett, Craig | Assistant Professor of Finance | | 310.506.8543 | Email | E | Graziadio Business School |
| Eyo, Veronica | Adjunct Professor | Online Psychology | | Email | E | Graduate School of Education and Psychology |
| Falender, Carol | Adjunct Faculty | Psychology Division | | Email | F | Graduate School of Education and Psychology |
| Falkner, Avery | Emeritus Professor of Art | Fine Arts Division | 310.506.4155 | Email | F | Seaver College |
| Fasel, Gerard | Associate Professor of Physics | Natural Science Division | 310.506.7745 | Email | F | Seaver College |
| Faulconer, Kevin | Visiting Professor of Community Leadership and Government Innovation | | | Email | F | School of Public Policy |
| Featherstone, James | Executive Director at Homeland Security Advisory Council | | | Email | F | School of Public Policy |
| Feltner, Michael E. | Dean of Academic Initiatives | Natural Science Division | | Email | F | Seaver College |
| Fendel, Peter | Executive Director of Externship and Pro Bono Programs | | 310.506.4801 | Email | F | Caruso School of Law |
| Ferraro, Steven | Professor of Finance | | | Email | F | Graziadio Business School |
| Ferri, Sean | Adjunct Professor | Online Psychology | | Email | F | Graduate School of Education and Psychology |
| Fetzer, Joel S. | Distinguished Professor of Political Science | Social Science Division | 310.506.6250 | Email | F | Seaver College |
| Feyerherm, Ann | Professor of Organizational Theory and Management | | 949.223.2534 | Email | F | Graziadio Business School |
| Filer, Janice | Adjunct Faculty | Education Division | | Email | F | Graduate School of Education and Psychology |
| Finch, Cindy | Adjunct Professor | Online Psychology Division | | Email | F | Graduate School of Education and Psychology |
| Finley, Emily | Adjunct Faculty | | | Email | F | School of Public Policy |
| Finley, Susan | Adjunct Professor | Online Psychology Division | | Email | F | Graduate School of Education and Psychology |
| Firemark, Gordon | Adjunct Professor | | | Email | F | Caruso School of Law |
| Fischbach, Sarah | Associate Professor of Integrated Marketing Communication | Communication | 310.506.6745 | Email | F | Seaver College |
| Flynn, Theresa M. | Professor of Teaching of Composition | Humanities/Teacher Education Division | 310.506.4803 | Email | F | Seaver College |
| Fojtik, Charles | Emeritus Professor of Marketing | | | Email | F | Graziadio Business School |
| Folkerts, Michael M. | Professor of Psychology | Social Science Division | 310.506.6487 | Email | F | Seaver College |
| Fong, Elizabeth | Associate Director Online MSABA Program | Online Psychology | | Email | F | Graduate School of Education and Psychology |
| Forsyth, Joetta | Associate Professor of Finance | | 310.568.5633 | Email | F | Graziadio Business School |
| Fox, Joel | Adjunct Faculty | | | Email | F | School of Public Policy |
| Fraizer, Lani | Associate Professor and Chair of International Learning Global Partnerships | Education Division | | Email | F | Graduate School of Education and Psychology |
| Fraley, David | | Fine Arts | | Email | F | Seaver College |
| Franczak, Jennifer | Associate Professor of Organization Theory and Management | | | Email | F | Graziadio Business School |
| Frankfurt, JoAnne | Adjunct Professor of Law | | 310.506.4655 | Email | F | Caruso School of Law |
| Franzen, Jessica | Adjunct Faculty | Education Division | | Email | F | Graduate School of Education and Psychology |
| Frates, Steven | Senior Fellow | Davenport Institute | 949.500.3513 | Email | F | School of Public Policy |
| Freeman, Philip | Fletcher Jones Chair of Western Culture | Humanities/Teacher Education Division | 310.506.6456 | Email | F | Seaver College |
| Friedenthal, Jaclyn | Adjunct Professor | Online Psychology Division | | Email | F | Graduate School of Education and Psychology |
| Fritsch, Joseph | Divisional Dean of Natural Science Division | Natural Science Division | 310.506.6705 | Email | F | Seaver College |
| Front, Jerome | Adjunct Faculty | Psychology Division | | Email | F | Graduate School of Education and Psychology |
| Frye, Katie | Assistant Professor of English | Humanities/Teacher Education Division | 310.506.4135 | Email | F | Seaver College |
| Gailey, Adam | Adjunct Faculty | | | Email | G | School of Public Policy |
| Galantine, Carolyn | Associate Professor | Business Administration Division | 310.506.7469 | Email | G | Seaver College |
| Galaviz, Lorena | Adjunct Professor | Online Psychology Division | | Email | G | Graduate School of Education and Psychology |
| Gallardo, Miguel | Professor and Program Director of Aliento | Psychology Division | | Email | G | Graduate School of Education and Psychology |
| Galles, Gary M. | Professor of Economics | Social Science Division | 310.506.4250 | Email | G | Seaver College |
| Gandhi, Shreyas | Core Faculty | Education Division | | Email | G | Graduate School of Education and Psychology |
| Ganske, Jane A. | Professor of Chemistry | Natural Science Division | 310.506.4054 | Email | G | Seaver College |
| Garcia, Cara | Emerita Professor of Education | Education Division | | Email | G | Graduate School of Education and Psychology |
| Garcia-Ramos, Reyna | Professor of Education | Education Division | 310-568-2306 | Email | G | Graduate School of Education and Psychology |
| Garnica, Christian | Adjunct Professor | Online Psychology | | Email | G | Graduate School of Education and Psychology |
| Gean, Farrell | Associate Professor of Accounting | Business Administration Division | 310.506.4539 | Email | G | Seaver College |
| Gelhart, Robert | Emeritus Professor of Psychology | Psychology Division | | Email | G | Graduate School of Education and Psychology |
| Gellis, Yvette | Visiting Assistant Professor of Art | Fine Arts | 818.631.8237 | Email | G | Seaver College |
| George, Robert | Ronald Reagan Honorary Distinguished Professor | | | Email | G | School of Public Policy |
| George, Robert | Visiting Professor | | | Email | G | Caruso School of Law |
| Gertmenian, Wayne | Professor of Economics | | 310.568.2303 | Email | G | Graziadio Business School |
| Gharapetian, Lusineh | Assistant Program Director of MS in Applied Behavior Analysis | Psychology Division, Online Psychology Division | | Email | G | Graduate School of Education and Psychology |
| Gibbs, Heather | Adjunct Professor | Online Psychology Division | | Email | G | Graduate School of Education and Psychology |
| Gibson, Cristina | University Professor | | | Email | G | Graziadio Business School |
| Gift, Paul | Associate Professor of Economics | | 310.507.9779 | Email | G | Graziadio Business School |
| Gilbert, LaCrisia | Adjunct Professor | Straus Institute | | Email | G | Caruso School of Law |
| Gilhuis, Nicole | Assistant Professor of History | Humanities and Teacher Education Division | 310.506.7708 | Email | G | Seaver College |
| Givens, Bryan | Associate Professor of History | Humanities/Teacher Education Division | 310.506.4533 | Email | G | Seaver College |
| Gladys, Ann | Adjunct Faculty | Education Division | 858-392-6852 | Email | G | Graduate School of Education and Psychology |
| Glasser Das, Andria | Adjunct Professor | Online Psychology Division | | Email | G | Graduate School of Education and Psychology |
| Glucksman, Jacob | Adjunct Professor | | | Email | G | Caruso School of Law |
| Goebel, Brian | Adjunct Faculty | | 310.506.7490 | Email | G | School of Public Policy |
| Goldsmith, Joan | Adjunct Professor | | | Email | G | Caruso School of Law |
| Gomez, J. Antonio | Assistant Professor of Biology | Natural Science | 310.506.4874 | Email | G | Seaver College |
| Gonzalez, Jeremiah | Adjunct Faculty | Education Division | | Email | G | Graduate School of Education and Psychology |
| Good, Darren | Associate Professor of Applied Behavioral Science | | | Email | G | Graziadio Business School |
| Goodale, Monica | Adjunct Faculty | Education Division | | Email | G | Graduate School of Education and Psychology |
| Goodman, Lorie J. | Associate Professor of English | Humanities/Teacher Education Division | 310.506.4098 | Email | G | Seaver College |
| Goodman, Christine Chambers | Professor of Law | | 310.506.6605 | Email | G | Caruso School of Law |
| Goodman, Marc | Adjunct Professor | | | Email | G | Caruso School of Law |
| Goodno, Naomi Harlin | Professor of Law | | 310.506.4623 | Email | G | Caruso School of Law |
| Gose, Michael D. | Professor of Education | Humanities/Teacher Education Division | 310.506.4183 | Email | G | Seaver College |
| Goukasian, Levon | Singleton Chair in Finance | Business Administration Division | 310.506.4425 | Email | G | Seaver College |
| Gould, Rachel | Assistant Professor of English | Humanities and Teacher Education | 310.506.4098 | Email | G | Seaver College |
| Graf, Marlon | Adjunct Faculty | | | Email | G | School of Public Policy |
| Graffy, Colleen | Director of the London Semester Associate Professor of Law | | | Email | G | School of Public Policy |
| Graffy, Colleen | Associate Professor of Law | | 310.506.6352 | Email | G | Caruso School of Law |
| Graham, Wade | Adjunct Faculty | | 310.506.7691 | Email | G | School of Public Policy |
| Granados, Nelson | Professor of Information Systems and Technology Management | | 949.923.9871 | Email | G | Graziadio Business School |
| Grant, Donald | Adjunct Faculty | Psychology Division | | Email | G | Graduate School of Education and Psychology |
| Gray, Jasmine | Assistant Professor of Communication Studies | Communication | 310.506.7642 | Email | G | Seaver College |
| Greco, David | Adjunct Faculty | Education Division | | Email | G | Graduate School of Education and Psychology |
| Green, Joseph | Adjunct Faculty | Education Division | | Email | G | Graduate School of Education and Psychology |
| Green, David B. | Professor of Chemistry | Natural Science Division | 310.506.4355 | Email | G | Seaver College |
| Green, Jonathan | Visiting Professor | Communication | | Email | G | Seaver College |
| Green, Jack | Emeritus Professor of Strategy | | 626.215.8406 | Email | G | Graziadio Business School |
| Green, Virginia | Practitioner of Applied Behavioral Science | | 415.577.1400 | Email | G | Graziadio Business School |
| Greenhalgh, Matthew Carey | Visiting Assistant Professor of Hispanic Studies | International Studies and Languages Division | 310.506.7234 | Email | G | Seaver College |
| Griffin, Bradley | Divisional Dean and Professor of Theatre | Fine Arts Division | 310.506.7443 | Email | G | Seaver College |
| Groves, Kevin | Professor of Organizational Theory and Management | | 310.568.5729 | Email | G | Graziadio Business School |
| Gustafson, Carissa | Adjunct Professor | Online Psychology Division | | Email | G | Graduate School of Education and Psychology |
| Haas, Jack | Visiting Professor of Sports Medicine | Natural Science Division | 310.506.4683 | Email | H | Seaver College |
| Haavind, Sarah | Adjunct Faculty | Education Division | 978-303-7650 | Email | H | Graduate School of Education and Psychology |
| Hagan, Alfred | Professor of Economics and International Business | | | Email | H | Graziadio Business School |
| Hall, Charles F. | Associate Professor of Sociology | Social Science Division | 310.506.4185 | Email | H | Seaver College |
| Hall, Susan | Associate Professor | Psychology Division | | Email | H | Graduate School of Education and Psychology |
| Hamilton, Sophia | Adjunct Professor of Law | | 310.506.4758 | Email | H | Caruso School of Law |
| Hamilton, Eric | Jan and Robert Davidson Endowed Professor of Education and Technology | Education Division | | Email | H | Graduate School of Education and Psychology |
| Han, David | Associate Dean for Faculty and Research | | 310.506.6274 | Email | H | Caruso School of Law |
| Hancock, Don L. | Professor of Mathematics | Natural Science Division | 310.506.4241 | Email | H | Seaver College |
| Haniya, Samaa | Assistant Professor | Education Division | | Email | H | Graduate School of Education and Psychology |
| Hanks, N. Lincoln | Professor of Music | Fine Arts Division | 310.506.7644 | Email | H | Seaver College |
| Hanson, Victor Davis | Inaugural Terry Giles and Kalli O'Malley Distinguished Visiting Professor | | | Email | H | School of Public Policy |
| Hardaway, Yas (Djadali) | Adjunct Professor | Online Psychology Division | | Email | H | Graduate School of Education and Psychology |
| Harjoto, Maretno | Professor of Finance | | 310.506.8542 | Email | H | Graziadio Business School |
| Harmell, Pamela | Senior Lecturer | Psychology Division, Online Psychology Division | | Email | H | Graduate School of Education and Psychology |
| Harrell, Shelly | Psy.D. Research Coordinator | Psychology Division, Online Psychology Division | | Email | H | Graduate School of Education and Psychology |
| Harriger, Jennifer | Professor of Psychology | Social Science Division | 310.506.4128 | Email | H | Seaver College |
| Harris, Mary Katherine | Adjunct Professor | Online Psychology Division | | Email | H | Graduate School of Education and Psychology |
| Hart, Gary W. | Professor of English and Academic Coordinator for International Programs | Humanities/Teacher Education Division | | Email | H | Seaver College |
| Harvey, Andrew | Education and EDOL Program Adjunct Faculty | Education Division | | Email | H | Graduate School of Education and Psychology |
| Hayward, Steven | Edward L. Gaylord Visiting Professor of Public Policy | | | Email | H | School of Public Policy |
| Heard, R. Christopher | Professor of Religion | Religion and Philosophy Division | 310.506.4299 | Email | H | Seaver College |
| Helfand, Michael | Brenden Mann Foundation Chair in Law and Religion | | 310.506.7694 | Email | H | Caruso School of Law |
| Helgoe, Sherry | Adjunct Professor | Online Psychology Division | | Email | H | Graduate School of Education and Psychology |
| Helm, Susan Edgar | Professor of Nutritional Science | Natural Science Division | 310.506.4325 | Email | H | Seaver College |
| Hendricks, Karen | Visiting Instructor of Teacher Education | Humanities/Teacher Education Division | 310.506.7327 | Email | H | Seaver College |
| Hendricks, Dawn | Core Faculty | Education Division | | Email | H | Graduate School of Education and Psychology |
| Herrera-Yee, Ingrid | Adjunct Professor | Online Psychology Division | | Email | H | Graduate School of Education and Psychology |
| Herschensohn (In Memoriam), Bruce | Henry Salvatori Fellow (Spring 2003) | | | Email | H | School of Public Policy |
| Herzog, Lisa | Practitioner of Business Law | | 310.210.8025 | Email | H | Graziadio Business School |
| Hesse, Rick | Professor Emeritus of Decision Sciences | | | Email | H | Graziadio Business School |
| Hiatt-Michael, Diana | Emeritus Professor of Education | Education Division | | Email | H | Graduate School of Education and Psychology |
| Hibbs, Clarence | Emeritus Professor of Psychology | Psychology Division | | Email | H | Graduate School of Education and Psychology |
| Highfield, Ronald C. | Professor of Religion | Religion and Philosophy Division | 310.506.4511 | Email | H | Seaver College |
| Himelstein, Susan | Senior Lecturer | Psychology Division | | Email | H | Graduate School of Education and Psychology |
| Ho Gavazza, Judy | Associate Professor and IRB Chair | Psychology Division | 310.568.5604 | Email | H | Graduate School of Education and Psychology |
| Hoang, Tuan | Blanche E. Seaver Professor of Humanities and Teacher Education | Humanities/Teacher Education Division | 310.506.4225 | Email | H | Seaver College |
| Holakouee, Parham | Core Faculty | Education Division | | Email | H | Graduate School of Education and Psychology |
| Holden, Mary | Assistant Instructor of Teaching of Physics | Natural Science Division | 310.506.4595 | Email | H | Seaver College |
| Holmlund, Helen Irene | Assistant Professor of Biology | Natural Science | 310.506.6503 | Email | H | Seaver College |
| Honeycutt, Rodney | Emeritus Professor of Biology | Natural Science Division | 310.506.4879 | Email | H | Seaver College |
| Honnen-Weisdorn, Gia | Practitioner of Business Law | | 310.804.2535 | Email | H | Graziadio Business School |
| Hook, Courtney | Assistant Professor of Communication | Communication Division | 310.506.4284 | Email | H | Seaver College |
| Hoopes, Mary | Associate Professor of Law | | | Email | H | Caruso School of Law |
| House, Karen | Spring 2014 William E. Simon Distinguished Visiting Professor | | | Email | H | School of Public Policy |
| Hunnicutt, Loretta | Professor of History | Humanities/Teacher Education Division | 310.506.4232 | Email | H | Seaver College |
| Hunt, Nancy | Professor of Law and Practice | | 202.412.1189 | Email | H | Caruso School of Law |
| Huy, Melissa | Visiting Clinical Professor | Psychology Division | | Email | H | Graduate School of Education and Psychology |
| Hyatt, Laura | Professor | Education Division | | Email | H | Graduate School of Education and Psychology |
| Iga, Kevin M. | Professor of Mathematics | Natural Science Division | 310.506.4313 | Email | I | Seaver College |
| Ingram, Barbara | Professor | Psychology Division, Online Psychology Division | | Email | I | Graduate School of Education and Psychology |
| Iwertz Duffy, Chad | Assistant Professor of English | Humanities and Teacher Education | 310.506.4625 | Email | I | Seaver College |
| Jacobs, Brian | Professor of Decision Sciences | | 310.506.4875 | Email | J | Graziadio Business School |
| Jago, Martine | Professor of Education | Education Division | | Email | J | Graduate School of Education and Psychology |
| James, Constance R. | Professor of Management | Business Administration Division | 310.506.4514 | Email | J | Seaver College |
| James, Bernard | Professor of Law | | 310.506.4689 | Email | J | Caruso School of Law |
| Jarvis, Jason | Associate Dean of Academic Affairs | | 310.506.7110 | Email | J | Caruso School of Law |
| Jasperse, Jeffrey L. | Professor of Sports Medicine | Natural Science Division | 310.506.4949 | Email | J | Seaver College |
| Jasso, Sean | Practitioner Faculty of Economics | | | Email | J | Graziadio Business School |
| Jasso, Sean | Practitioner of Economics | | 818.317.8033 | Email | J | Graziadio Business School |
| Javanfard, Elan | Adjunct Professor | Online Psychology Division | | Email | J | Graduate School of Education and Psychology |
| Jean-Denis, Howard | Assistant Professor of Strategic Management | Business Administration | 310.506.7208 | Email | J | Seaver College |
| Jennings Davis, O. | Emeritus Professor of Education | Education Division | | Email | J | Graduate School of Education and Psychology |
| Jessop, Alicia | Associate Professor of Sport Administration | Communication Division | 310.506.7795 | Email | J | Seaver College |
| Jimenez, Carlos | Manager of Writing Support | Education Division | | Email | J | Graduate School of Education and Psychology |
| Johns, Joseph | Adjunct Faculty; Environmental and Urban Planning Policy | | 310.506.7691 | Email | J | School of Public Policy |
| Johnson, Joel | Associate Professor of Law | | 310.506.7531 | Email | J | Caruso School of Law |
| Johnson, Amy | Executive in Residence of Business | Business Administration Division | 310.506.4576 | Email | J | Seaver College |
| Johnson, Clark | Assistant Professor of Marketing | | 818.702.1323 | Email | J | Graziadio Business School |
| Johnson, Rhema | Visiting Assistant Professor of Biology | Natural Science | | Email | J | Seaver College |
| Johnson, Byron | Distinguished Visiting Professor of Religious Studies and the Common Good | | | Email | J | School of Public Policy |
| Jolivet, Ira J. | Emeritus Associate Professor of Religion | Religion and Philosophy Division | 310.506.4736 | Email | J | Seaver College |
| Joseph, Nataria Tennille | Associate Professor of Psychology | Social Science Division | 310.506.4257 | Email | J | Seaver College |
| Joyner, Matt | Professor of Biochemistry | Natural Science Division | 310.506.4921 | Email | J | Seaver College |
| Jungwirth, Linda | Adjunct Faculty | Education Division | | Email | J | Graduate School of Education and Psychology |
| Kalaj, Jozefina | Assistant Professor of Economics | | | Email | K | Graziadio Business School |
| Kane, Elizabeth | Adjunct Professor | Online Psychology Division | | Email | K | Graduate School of Education and Psychology |
| Kaneda, Hiromi | Visiting Instructor of Italian Studies | International Studies and Languages | 310.506.8571 | Email | K | Seaver College |
| Kapoor, Komal Shah | Assistant Visiting Professor of Public Relations | Communication Division | 310.506.7537 | Email | K | Seaver College |
| Kats, Lee | Interim Dean of Seaver College | Natural Science Division | 310.506.4501 | Email | K | Seaver College |
| Kaufman, Robert | Robert and Katheryn Dockson Professor of Public Policy | | 310.506.7601 | Email | K | School of Public Policy |
| Keatinge, Carolyn | Senior Lecturer | Psychology Division | | Email | K | Graduate School of Education and Psychology |
| Kelly, Candace | Adjunct Faculty | Education Division | | Email | K | Graduate School of Education and Psychology |
| Kendrick, Megan | Visiting Assistant Professor of History | Humanities and Teacher Education | | Email | K | Seaver College |
| Kern, John | Visiting Assistant Professor of Religion and Great Books | Religion and Philosophy | 310.506.7210 | Email | K | Seaver College |
| Kerns, Charles | Professor of Applied Behavioral Science | | 626.577.2491 | Email | K | Graziadio Business School |
| Keshavarz, Alma | Adjunct Faculty | | | Email | K | School of Public Policy |
| Khajarian, Seta | Adjunct Faculty | Education Division | | Email | K | Graduate School of Education and Psychology |
| Khamo, Nanar | Visiting Assistant Professor of French | International Studies and Languages | 310.506.7234 | Email | K | Seaver College |
| Kilgore, Charles | Adjunct Professor | | | Email | K | Caruso School of Law |
| Killpatrick, Kendra | Senior Associate Dean of Seaver College | Natural Science Division | 310.506.7796 | Email | K | Seaver College |
| Kilroy-Ewbank, Lauren G. | Associate Professor of Art History | Fine Arts Division | 310.506.6230 | Email | K | Seaver College |
| Kim, Woo-Jung Amber | Adjunct Faculty | Education Division | | Email | K | Graduate School of Education and Psychology |
| Kim, Loan Pham | Professor of Nutritional Science | Natural Science Division | 310.506.6369 | Email | K | Seaver College |
| Kim, Rebecca Y. | Professor of Sociology | Social Science Division | 310.506.7481 | Email | K | Seaver College |
| Kim, Dongshin | Associate Professor of Finance and Real Estate | | 310.506.7406 | Email | K | Graziadio Business School |
| Kin, Judge Curtis | Adjunct Professor | | | Email | K | Caruso School of Law |
| Kingdon, Nathaniel | Visiting Instructor of Art History | Fine Arts | | Email | K | Seaver College |
| Kinsman, Michael | Emeritus Professor of Finance and Accounting | | 949.223.2533 | Email | K | Graziadio Business School |
| Kirk, Justin Ward | Visiting Instructor | Communication Division | 310.506.4284 | Email | K | Seaver College |
| Kirkley, James | Adjunct Professor | | | Email | K | Caruso School of Law |
| Kirnon, Stephen | Visiting Faculty | Education Division | | Email | K | Graduate School of Education and Psychology |
| Kite, Terence M. | Emeritus Associate Professor of Physics | Natural Science Division | 310.506.4364 | Email | K | Seaver College |
| Kmiec, Douglas | Professor Emeritus of Constitutional Law and Caruso Family Chair in Constitutional Law | | 310.506.4255 | Email | K | Caruso School of Law |
| Kmiec, Douglas | Caruso Family Chair in Constitutional Law | | 310.506.4255 | Email | K | School of Public Policy |
| Ko, Kenneth | Professor of Decision Sciences | | 310.568.5674 | Email | K | Graziadio Business School |
| Koch, Jonathan | Assistant Professor of English | Humanities and Teacher Education | 310.506.4435 | Email | K | Seaver College |
| Koh, Jennifer | Associate Professor of Law | | 310.506.4675 | Email | K | Caruso School of Law |
| Konstantinidis, Bianca | Adjunct Faculty | Online Psychology | | Email | K | Graduate School of Education and Psychology |
| Kownatzki, Clemens | Assistant Professor of Finance | | | Email | K | Graziadio Business School |
| Kreiner Wilson, Leslie | Professor of Creative Writing & Film | Humanities/Teacher Education Division | 310.506.7152 | Email | K | Seaver College |
| Kressel, Mark A. | Adjunct Professor of Law | | 818.995.0800 | Email | K | Caruso School of Law |
| Krogh, Erik | Practitioner of Information Systems Technology Management | | | Email | K | Graziadio Business School |
| Kubisch, Mark | Associate Professor of Legal Research and Writing | | 310.506.6683 | Email | K | Caruso School of Law |
| La Valle, Florybeth | Assistant Professor of Biology | Natural Science | 310.506.4961 | Email | L | Seaver College |
| Labban, Alice | Associate Professor of Marketing | Business Administration Division | 310.506.4903 | Email | L | Seaver College |
| Labosier, Ashley | Senior Fellow | Davenport Institute for Public Engagement and Civic Leadership | 310.506.6878 | Email | L | School of Public Policy |
| Lacey, Miriam | Professor of Applied Behavioral Sciences | | 949.552.4002 | Email | L | Graziadio Business School |
| Langford, Michele K. | Emerita Professor of French Language and Literature | International Studies and Languages Division | 310.506.4340 | Email | L | Seaver College |
| Lansbach, Dori | Adjunct Professor | Online Psychology | | Email | L | Graduate School of Education and Psychology |
| Lara, Eduardo | Adjunct Faculty | Education Division | | Email | L | Graduate School of Education and Psychology |
| Laris, Katherine | Visiting Professor of Art History | Fine Arts Division | | Email | L | Seaver College |
| Larson, Edward J. | University Professor of History | Humanities/Teacher Education Division | 310.506.7593 | Email | L | Seaver College |
| Larson, Edward | University Professor | | 310.506.4920 | Email | L | Caruso School of Law |
| Lasley, Michael | Visiting Professor of English | Humanities and Teacher Education | 310.506.4235 | Email | L | Seaver College |
| Lassu, Réka | Assistant Professor of Organizational Behavior | Business Administration | 310.506.6211 | Email | L | Seaver College |
| Ledbetter, Bernice | Practitioner of Organization Theory and Management | | 310.568.5712 | Email | L | Graziadio Business School |
| Lee, Seung B. | Assistant Professor of Education | Education Division | | Email | L | Graduate School of Education and Psychology |
| Lee, Jooho | Associate Professor of Business Ethics and Law | Business Administration Division | 310.506.6545 | Email | L | Seaver College |
| Lee, Robert | Associate Professor of Accounting | | | Email | L | Graziadio Business School |
| Lee, Kwangjin | Assistant Professor of Accounting | | | Email | L | Graziadio Business School |
| Leff, Cathryn | Adjunct Professor | Psychology Division | | Email | L | Graduate School of Education and Psychology |
| Lefko, Tami | Adjunct Professor | | | Email | L | Caruso School of Law |
| Lei, Zhike | Professor of Applied Behavioral Science | | 310.506.8537 | Email | L | Graziadio Business School |
| Leigh, Doug | Professor | Education Division | | Email | L | Graduate School of Education and Psychology |
| Leikam, Corrine | Adjunct Professor | Online Psychology Division | 213.927.6770 | Email | L | Graduate School of Education and Psychology |
| Lemley, David | Assistant Professor of Religion | Religion and Philosophy Division | 310.506.4281 | Email | L | Seaver College |
| Levine, Somer | Visiting Instructor of Teacher Education | Humanities and Teacher Education | 310.506.7327 | Email | L | Seaver College |
| Levy, David | Professor | Psychology Division, Online Psychology Division | | Email | L | Graduate School of Education and Psychology |
| Li, Anita | Adjunct Professor | Online Psychology Division | | Email | L | Graduate School of Education and Psychology |
| Lim, Dongkuk | Associate Professor of Accounting | Business Administration Division | 310.506.4662 | Email | L | Seaver College |
| Link, Brian A. | Assistant Professor of Teaching of Business Law | Business Administration Division | 310.506.4679 | Email | L | Seaver College |
| Little, Rich | | Education Division | | Email | L | Graduate School of Education and Psychology |
| Littlefield, Christina | Associate Professor of Communication and Religion | Communication and Religion and Philosophy Divisions | 310.506.7086 | Email | L | Seaver College |
| Lloyd, Gordon | Robert and Katheryn Dockson Professor of Public Policy | | | Email | L | School of Public Policy |
| Lofquist, Louise H. | Associate Professor of Music | Fine Arts Division | 310.506.4891 | Email | L | Seaver College |
| Lowe, Dennis | M. Norvel and Helen Young Endowed Chair in Family Life | Psychology Division, Online Psychology Division | | Email | L | Graduate School of Education and Psychology |
| Lucas, Krista | Visiting Assistant Professor of Biology | Natural Science | 310.506.6384 | Email | L | Seaver College |
| Lucas, Timothy | Professor of Mathematics | Natural Science Division | 310.506.4479 | Email | L | Seaver College |
| Lund, Christopher | Adjunct Faculty | Education Division | | Email | L | Graduate School of Education and Psychology |
| Lynch, Thomas | Adjunct Faculty | | | Email | L | School of Public Policy |
| Lyndon, Sarah | Adjunct Professor | Online Psychology Division | | Email | L | Graduate School of Education and Psychology |
| Mac, Gladys | Visiting Assistant Professor | International Studies and Languages | 310.506.7446 | Email | M | Seaver College |
| MacRae, Priscilla Gilliam | Professor of Sports Medicine | Natural Science Division | 310.506.4162 | Email | M | Seaver College |
| MacRae, Holden S. | Professor of Sports Medicine | Natural Science Division | 310.506.4278 | Email | M | Seaver College |
| Madden, David | Assistant Professor of Screen Arts | Communication | 310.506.4122 | Email | M | Seaver College |
| Madjidi, Farzin | Dean | | 310.568.5616 | Email | M | Graduate School of Education and Psychology |
| Madrid, Krystle | Adjunct Professor | Online Psychology Division | | Email | M | Graduate School of Education and Psychology |
| Magasin, Michael | Emeritus Professor of Business Law | | 310.506.4433 | Email | M | Graziadio Business School |
| Mahgerefteh, Hengameh | Adjunct Faculty | Psychology Division | | Email | M | Graduate School of Education and Psychology |
| Mahoney, Ed | Visiting Instructor of English | Humanities and Teacher Education | | Email | M | Seaver College |
| Mallette, Leo | Adjunct Faculty | Education Division | | Email | M | Graduate School of Education and Psychology |
| Mallinger, Mark | Emeritus Professor of Applied Behavioral Science | | | Email | M | Graziadio Business School |
| Mancuso, Elizabeth Krumrei | Professor of Psychology | Social Science Division | 310.506.4186 | Email | M | Seaver College |
| Mancuso, Bradley | Adjunct Professor | | | Email | M | Caruso School of Law |
| Mangiofico, Gary | Executive Professor of Organizational Theory and Management | | 310.568.2333 | Email | M | Graziadio Business School |
| Mann, John | Associate Professor of Physics | Natural Science Division | 310.506.4550 | Email | M | Seaver College |
| Mansdoerfer, David | Adjunct Faculty | | | Email | M | School of Public Policy |
| Marcela Weiss, María | Visiting Assistant Instructor of Sports Medicine | Natural Science | | Email | M | Seaver College |
| Margolis, Jaclyn | Associate Professor of Applied Behavioral Science | | 310.568.5506 | Email | M | Graziadio Business School |
| Marlett, David | Adjunct Professor | | | Email | M | Caruso School of Law |
| Marrs, Rick R. | | Religion and Philosophy Division | 310.506.7353 | Email | M | Seaver College |
| Marshall, Mason | Professor of Philosophy | Religion and Philosophy Division | 310.506.4071 | Email | M | Seaver College |
| Marshall, April D. | Professor of Hispanic Studies | International Studies and Languages Division | 310.506.4795 | Email | M | Seaver College |
| Marshall, Kelle L | Blanche E. Seaver Professor | International Studies and Languages Division | 310.506.7445 | Email | M | Seaver College |
| Martin, Karen Lynn | Distinguished Professor Emeritus of Biology | Natural Science Division | | Email | M | Seaver College |
| Martinez, Tomas | Seaver College Professor | Psychology Division | | Email | M | Graduate School of Education and Psychology |
| Martinez, Tomas | Professor of Psychology | Social Science Division | 310.506.4350 | Email | M | Seaver College |
| Martinez, Diana | Associate Professor of Communication | Communication Division | 310.506.6833 | Email | M | Seaver College |
| Mascolo, Richard | Adjunct Faculty | Psychology Division | | Email | M | Graduate School of Education and Psychology |
| Mayhall, Jack | Adjunct Professor | Psychology Division | | Email | M | Graduate School of Education and Psychology |
| McAllister, Ted | Edward L. Gaylord Chair 1998-2023 | Professor of Public Policy | | Email | M | School of Public Policy |
| McClay, Wilfred | 2019-2020 Ronald Reagan Professor of Public Policy | | 310.506.7490 | Email | M | School of Public Policy |
| McCluskey, Tom | Instructor of Organization Theory and Management | | | Email | M | Graziadio Business School |
| McCord, Linnea | Associate Professor Emerita of Business Law | | 818.802.8249 | Email | M | Graziadio Business School |
| McDonald, Barry | Professor of Law | | 310.506.4668 | Email | M | Caruso School of Law |
| McGilvray, Brian | Practitioner of Business Law | | | Email | M | Graziadio Business School |
| McGoldrick, James | Professor Emeritus | | | Email | M | Caruso School of Law |
| McGowan, Kevin | Adjunct Faculty | | | Email | M | School of Public Policy |
| McGuigan, Christian | Adjunct Faculty | | | Email | M | School of Public Policy |
| McMahon, Roger | Professor of Marketing | | 310.466.2874 | Email | M | Graziadio Business School |
| McNamee, Lonnie | Assistant Dean of Faculty Development & Administrative Affairs | Education Division | 310.568.5617 | Email | M | Graduate School of Education and Psychology |
| McNeal, Gregory | Professor of Law and Public Policy | | 310.506.7292 | Email | M | Caruso School of Law |
| McNeal, Gregory | Professor of Law and Public Policy | | 310.506.7292 | Email | M | School of Public Policy |
| McQuaid, Bob | Associate Professor of Decision Sciences | | 805.379.5808 | Email | M | Graziadio Business School |
| Meyer, Judith | Adjunct Professor | | | Email | M | Caruso School of Law |
| Mihailescu, Andrea | State Department Fellow in Residence 2019–2021 | | | Email | M | School of Public Policy |
| Miller, Anthony | Professor Emeritus | | 310.506.4650 | Email | M | Caruso School of Law |
| Miller-Perrin, Cindy L. | Distinguished Professor of Psychology | Social Science Division | 310.506.4027 | Email | M | Seaver College |
| Mills, Lawrence | Adjunct Professor | Straus Institute | | Email | M | Caruso School of Law |
| Miramontes, Gabriella | Assistant Clinical Professor | Education Division | | Email | M | Graduate School of Education and Psychology |
| Misch, Marilyn B. | Professor of Accounting | Business Administration Division | 310.506.7562 | Email | M | Seaver College |
| Mitchell, Hattie | Visiting Professor of Education and Policy | | | Email | M | School of Public Policy |
| Mitchell, Cary | Professor | Psychology Division | | Email | M | Graduate School of Education and Psychology |
| Mitrushina, Maura | Adjunct Faculty | Psychology Division | | Email | M | Graduate School of Education and Psychology |
| Miyake-Trapp, Jennifer | Program Chair MS Suite | Education Division | | Email | M | Graduate School of Education and Psychology |
| Monzón, Javier | Associate Professor of Biology | Natural Science Division | 310.506.4478 | Email | M | Seaver College |
| Mooney, John | Professor of Information Systems Technology Management | | 949.223.2538 | Email | M | Graziadio Business School |
| Mordechay, Kfir | Associate Professor of Education | Education Division | | Email | M | Graduate School of Education and Psychology |
| Morrissey, Charles | Emeritus Professor of Information Systems Technology Management | | | Email | M | Graziadio Business School |
| Moseley, William | Adjunct Faculty | Education Division | | Email | M | Graduate School of Education and Psychology |
| Motamedi, Kurt | Professor of Strategy and Leadership | | | Email | M | Graziadio Business School |
| Motter, Nicole | Adjunct Faculty | Education Division | | Email | M | Graduate School of Education and Psychology |
| Mullins, Maire | Blanche E. Seaver Chair of English Literature | Humanities/Teacher Education Division | 310.795.2327 | Email | M | Seaver College |
| Murphy, Kyle | Practitioner of Strategy | | 424.262.1901 | Email | M | Graziadio Business School |
| Myers, Cari | Assistant Professor of Teaching of Religion | Religion and Philosophy Division | 310.506.4917 | Email | M | Seaver College |
| Najdowski, Adel | MSABA Program Director | Psychology Division, Online Psychology Division | | Email | N | Graduate School of Education and Psychology |
| Nalbach, George | Adjunct Faculty | Psychology Division | | Email | N | Graduate School of Education and Psychology |
| Nash, Daniel | Visiting Assistant Professor of Mathematics | Natural Science Division | 310.506.6421 | Email | N | Seaver College |
| Ned, John Patrick | Visiting Assistant Professor of Finance | Business Administration | 310.506.4358 | Email | N | Seaver College |
| Neely, Frances | Emeritus Professor of Psychology | Psychology Division | | Email | N | Graduate School of Education and Psychology |
| Nelson, Laurie | Associate Professor of Physical Education | Natural Science Division | 310.506.4366 | Email | N | Seaver College |
| Nelson, Grant | Professor Emeritus | | | Email | N | Caruso School of Law |
| Newman, Lynn | Practitioner of Applied Behavioral Science | | | Email | N | Graziadio Business School |
| Newman, Brian | Professor of Political Science | Social Science Division | 310.506.7953 | Email | N | Seaver College |
| Newton, Deanna | Caruso Family Faculty Fellow | | | Email | N | Caruso School of Law |
| Newton, Grant | Emeritus Professor of Accounting | Business Administration | | Email | N | Seaver College |
| Nibecker, Brent | Adjunct Professor | | | Email | N | Caruso School of Law |
| Nickles, Marshall | Emeritus Professor of Economics | | 714.542.8332 | Email | N | Graziadio Business School |
| Nicolosi, Ida | Assistant Instructor of Teaching of Vocal Studies | Fine Arts | 310.506.7324 | Email | N | Seaver College |
| Nie, Dongfang (Andy) | Visiting Assistant Professor of Accounting | Business Administration | 310.506.4798 | Email | N | Seaver College |
| Niemeyer, John | Adjunct Professor | | | Email | N | Caruso School of Law |
| Nishizaki, Santor | Adjunct Professor | Education Division | | Email | N | Graduate School of Education and Psychology |
| Nissel, Alan | Geoffrey H. Palmer Distinguished Practitioner in Residence | | 310.506.4000 | Email | N | Caruso School of Law |
| Nissel, Sarah M. | Adjunct Professor of Law | | 310.770.6702 | Email | N | Caruso School of Law |
| Nix, William | Adjunct Professor | | | Email | N | Caruso School of Law |
| Njathi, Wangari | Assistant Professor of Integrated Marketing Communication | Communication | | Email | N | Seaver College |
| Nofziger Plank, Donna | Professor of Biology | Natural Science Division | 310.506.4193 | Email | N | Seaver College |
| Novak, Frank G. | Professor of English | Humanities/Teacher Education Division | 310.506.4427 | Email | N | Seaver College |
| Novell, Corinne | Visiting Assistant Professor of Marketing | Business Administration | 310.506.4910 | Email | N | Seaver College |
| Nowlin, Smita Reddy | Adjunct Professor | | | Email | N | Caruso School of Law |
| O'Keefe, Carolyn | Adjunct Professor | Online Psychology Division | | Email | O | Graduate School of Education and Psychology |
| O'Neal, Leslie | Adjunct Professor | Straus Institute | | Email | O | Caruso School of Law |
| O'Steen, Hayley | Assistant Professor of Finance | Business Administration | 310.506.6099 | Email | O | Seaver College |
| Ogas, Thomas J. | Adjunct Professor | | | Email | O | Caruso School of Law |
| Ogden, Gregory | Professor Emeritus | | 310.506.4671 | Email | O | Caruso School of Law |
| Oh, Klive (Soo-Kwang) | Associate Professor of Public Relations | Communication Division | 310.506.4074 | Email | O | Seaver College |
| Oh, Dayea | Assistant Professor of Public Policy | | | Email | O | School of Public Policy |
| Olson, Julie | Adjunct Professor | Online Psychology Division | | Email | O | Graduate School of Education and Psychology |
| Ong, Alyssa Sui Jing | Assistant Professor of Accounting | Business Administration Division | 310.506.6410 | Email | O | Seaver College |
| Orr, Paula | Visiting Assistant Professor of English | Humanities/Teacher Education Division | 310.506.4226 | Email | O | Seaver College |
| Ortbals, Candice | Professor of Political Science | Social Science Division | 310.506.6708 | Email | O | Seaver College |
| Ortega, Jose | Adjunct Faculty | Education Division | | Email | O | Graduate School of Education and Psychology |
| Otey, Brittany Stringfellow | Clinical Professor of Law | | 310.506.7081 | Email | O | Caruso School of Law |
| Overton, Daniel P. | Associate Professor of Communication | Communication Division | 310.506.7537 | Email | O | Seaver College |
| Padilla-Martinez, Viviana | Adjunct Professor | Online Psychology Division | | Email | P | Graduate School of Education and Psychology |
| Paglia, John | Professor of Finance | | 310.568.5590 | Email | P | Graziadio Business School |
| Palmer, Lynda | Practitioner of Marketing and Director of Education to Business (E2B) | | 310.927.7527 | Email | P | Graziadio Business School |
| Paniccia, Patti | Adjunct Professor | | | Email | P | Caruso School of Law |
| Pardee, Cambry G | Visiting Assistant Professor of Religion | Religion and Philosophy Division | 310.506.4049 | Email | P | Seaver College |
| Park, Wesley | Visiting Instructor of Music - Guitar | Fine Arts | 310.506.4048 | Email | P | Seaver College |
| Park, John H. | Associate Professor of Decision Science | Business Administration Division | 310.506.6540 | Email | P | Seaver College |
| Park, Alexander | Adjunct Professor of Music (Guitar) | Fine Arts | 310.506.4462 | Email | P | Seaver College |
| Park, Abraham | Senior Associate Dean Academic Affairs | | 310.506.8539 | Email | P | Graziadio Business School |
| Parkening, Christopher | Distinguished Professor of Music | Fine Arts Division | 310.506.4462 | Email | P | Seaver College |
| Parmelee, Stephen F. | Associate Professor of English and Film Studies | Humanities/Teacher Education Division | 310.506.4017 | Email | P | Seaver College |
| Parsons, Kate | Assistant Professor of Digital Art | Fine Art, Communication Studies | 406.788.1805 | Email | P | Seaver College |
| Parsons, Brandon | Practitioner of Economics | | | Email | P | Graziadio Business School |
| Paull, Robert | Emeritus Professor of Education | Education Division | | Email | P | Graduate School of Education and Psychology |
| Penderghast, Thomas | Adjunct Faculty | Education Division | | Email | P | Graduate School of Education and Psychology |
| Pendergraft, Garrett | Blanche E. Seaver Professor of Philosophy | Religion and Philosophy Division | 310.506.6289 | Email | P | Seaver College |
| Pennell, Adam | Assistant Professor of Sports Medicine | Natural Science | 310.506.4162 | Email | P | Seaver College |
| Penner, Anna | Assistant Professor of Sociology | Social Science | 310.506.7271 | Email | P | Seaver College |
| Peris, Wiiliam "Ajax" | Visiting Assistant Professor | Social Science | | Email | P | Seaver College |
| Perkins Storm, Cooker | Associate Professor of Sports Medicine | Natural Science Division | 310.506.7124 | Email | P | Seaver College |
| Perrin, Robin D. | Professor of Sociology | Social Science Division | 310.506.4885 | Email | P | Seaver College |
| Persicke, Angela | Adjunct Professor | Online Psychology Division | | Email | P | Graduate School of Education and Psychology |
| Peterson, Pete | Dean | | 310.506.8054 | Email | P | School of Public Policy |
| Peterson, John | Associate Professor of English | Humanities/Teacher Education Division | 310.506.7936 | Email | P | Seaver College |
| Petro, Fred | Professor of Accounting | | 310.560.0778 | Email | P | Graziadio Business School |
| Pfeiffer, Jon | Professor | Communication Division | 310.451.5800 | Email | P | Seaver College |
| Phillips, Ronald | Senior Vice Chancellor & | | 310.506.4951 | Email | P | Caruso School of Law |
| Phillips, Jennifer Akamine | Assistant Instructor of Teaching of Communication | Communication Division | 310.506.4912 | Email | P | Seaver College |
| Phillips, William B. | Emeritus Professor of Physics | Natural Science Division | 310.506.4000 | Email | P | Seaver College |
| Phillips, Margaret | Associate Professor Emerita of International Business | | 310.456.4089 | Email | P | Graziadio Business School |
| Phillips, Jasmine | Adjunct Professor | Online Psychology | | Email | P | Graduate School of Education and Psychology |
| Philp, Raleigh | Adjunct Faculty | Education Division | | Email | P | Graduate School of Education and Psychology |
| Philpott, Brian | Adjunct Professor | | | Email | P | Caruso School of Law |
| Piasentin, Joseph | Professor of Art | Fine Arts Division | 310.506.4774 | Email | P | Seaver College |
| Pilat, Ben | Assistant Professor of Theatre | Fine Arts Division | | Email | P | Seaver College |
| Pisman, Maegan | Adjunct Professor | Online Psychology Division | | Email | P | Graduate School of Education and Psychology |
| Plinske, Kathleen | Education and EDOL Program Adjunct Faculty | Education Division | | Email | P | Graduate School of Education and Psychology |
| Plumberg, Christopher | Assistant Professor of Physics | Natural Science | 310.506.4978 | Email | P | Seaver College |
| Polesetsky, Gina | Adjunct Professor | Online Psychology | | Email | P | Graduate School of Education and Psychology |
| Polin, Linda | Adjunct Faculty | Education Division | | Email | P | Graduate School of Education and Psychology |
| Popovich, Robert | Professor Emeritus of Law | | | Email | P | Caruso School of Law |
| Posey, Alison | Visiting Assistant Professor of Hispanic Studies | International Studies and Languages | 310.506.7446 | Email | P | Seaver College |
| Postlethwaite, Bennett E. | Professor of Organizational Behavior and Management | Business Administration Division | 310.506.7239 | Email | P | Seaver College |
| Powell, Jem | Adjunct Professor | Online Psychology Division | | Email | P | Graduate School of Education and Psychology |
| Pownall, Ty | Associate Professor of Studio Art | Fine Arts Division | 310.506.4902 | Email | P | Seaver College |
| Premoli, Martin | Assistant Professor of English | Humanities and Teacher Education | | Email | P | Seaver College |
| Price, Henry | Professor of Music | Fine Arts Division | 310.506.4589 | Email | P | Seaver College |
| Prieger, James | Professor of Public Policy | | 310.506.7150 | Email | P | School of Public Policy |
| Privitt, Bob H. | Emeritus Professor of Art | Fine Arts Division | 310.506.4512 | Email | P | Seaver College |
| Purrington, Linda | Lecturer | Education Division | | Email | P | Graduate School of Education and Psychology |
| Pushaw, Robert | James Wilson Endowed Professor of Law | | 310.506.6318 | Email | P | Caruso School of Law |
| Quarles, Julie T. | Assistant Instructor of Teaching of English | Humanities/Teacher Education Division | 310.506.7708 | Email | Q | Seaver College |
| Rahdari, Yasmin | Adjunct Professor | Online Psychology Division | | Email | R | Graduate School of Education and Psychology |
| Rainey, Michael | Practitioner of Business Law | | 818.592.0680 | Email | R | Graziadio Business School |
| Ralph, David | Professor Emeritus of Marketing | | | Email | R | Graziadio Business School |
| Ralph, Steve | Practitioner of Organization Theory Management | | | Email | R | Graziadio Business School |
| Ramirez, Bedilia | Adjunct Faculty | Online Psychology | | Email | R | Graduate School of Education and Psychology |
| Rapier, Stephen | Assistant Professor of Marketing | | 310.403.8271 | Email | R | Graziadio Business School |
| Rassbach, Eric | Director Hugh and Hazel Darling Religious Liberty Clinic | | | Email | R | Caruso School of Law |
| Reaves, Teag | French Horn Instructor | Fine Arts | | Email | R | Seaver College |
| Reed, Hilary | Adjunct Professor | | | Email | R | Caruso School of Law |
| Reichental, Jonathan | Adjunct Faculty | | | Email | R | School of Public Policy |
| Reilly, Thomas H. | Professor of Asian History | International Studies and Languages Division | 310.506.4198 | Email | R | Seaver College |
| Rhodes, Kent | Clinical Professor | Education Division | | Email | R | Graduate School of Education and Psychology |
| Rhodes, Kent | Practitioner of Applied Behavioral Science | | 949.223.2554 | Email | R | Graziadio Business School |
| Rice, Susan | EdD - Adjunct Faculty | Education Division | | Email | R | Graduate School of Education and Psychology |
| Riddle, Jonathan | Assistant Professor of History | Humanities and Teacher Education Division | 310.506.4469 | Email | R | Seaver College |
| Riddle, Karie | Assistant Professor of Political Science | Social Science | | Email | R | Seaver College |
| Rivas, Darlene S. | Professor of History | Humanities/Teacher Education Division | 310.506.4025 | Email | R | Seaver College |
| Rizkallah, Amanda Therese | Assistant Professor of International Studies | International Studies and Languages Division | 310.506.7652 | Email | R | Seaver College |
| Roberson, Kendrick | Assistant Professor of Political Science | Social Science | | Email | R | Seaver College |
| Roberts, Shaphan | Adjunct Professor | Straus Institute | | Email | R | Caruso School of Law |
| Robinson, Peter | Professor Emeritus | Straus | 310.506.4655 | Email | R | Caruso School of Law |
| Rodriguez, Daniel A. | Divisional Dean (Religion and Philosophy Division) | Religion and Philosophy Division | 310.506.4767 | Email | R | Seaver College |
| Rogers, Gimel | Faculty/Associate Director Online MAP/MACLP Programs | Online Psychology Division | 310-568-5564 | Email | R | Graduate School of Education and Psychology |
| Romero, Gloria | Adjunct Faculty | | | Email | R | School of Public Policy |
| Rose, Millicent | Adjunct Professor | Online Psychology Division | | Email | R | Graduate School of Education and Psychology |
| Rosenkrans, Ginger | Professor Emerita of Advertising | Communication Division | 310.506.6111 | Email | R | Seaver College |
| Rosensitto, Michelle | Adjunct Faculty | Education Division | | Email | R | Graduate School of Education and Psychology |
| Ross, Zack | Adjunct Faculty | Online Psychology | | Email | R | Graduate School of Education and Psychology |
| Rouse, Steven V. | Professor of Psychology | Social Science Division | 310.506.7959 | Email | R | Seaver College |
| Rowe, Brad | Adjunct Faculty | | | Email | R | School of Public Policy |
| Rowe, Daryl | Emeritus Professor of Psychology | Psychology Division | | Email | R | Graduate School of Education and Psychology |
| Ruby, Nanci Carol | Visiting Assistant Professor of Theatre | Theatre | | Email | R | Seaver College |
| Russell, Cristel | Professor of Marketing | | 240.330.2302 | Email | R | Graziadio Business School |
| Saade, Elias | Instructional Designer | Education Division | | Email | S | Graduate School of Education and Psychology |
| Sagynbekov, Ken | Adjunct Faculty | | | Email | S | School of Public Policy |
| Salas, Jaime | Practitioner of Marketing | | 310.506.4119 | Email | S | Graziadio Business School |
| Sales, Terrelle | Assistant Professor of Teacher Education | Humanities and Teacher Education | 310.506.4804 | Email | S | Seaver College |
| Samler, Leah | Adjunct Professor | Online Psychology Division | | Email | S | Graduate School of Education and Psychology |
| Samudio, Mercedes | Adjunct Professor | Online Psychology Division | | Email | S | Graduate School of Education and Psychology |
| Sanchez, Alix | Visiting Clinical Professor | Psychology Division | | Email | S | Graduate School of Education and Psychology |
| Santos, Jose | Associate Professor | Education Division | | Email | S | Graduate School of Education and Psychology |
| Santos, Cecile S. | Assistant Instructor of Chemistry | Natural Science Division | 310.506.7317 | Email | S | Seaver College |
| Satchel, Roslyn M. | Blanche E. Seaver Professor of Communication | Communication Division | 310.506.7531 | Email | S | Seaver College |
| Saxer, Shelley Ross | Laure Sudreau Endowed Professor of Law | | 310.506.4657 | Email | S | Caruso School of Law |
| Sayah-Pedram, Sandy | Adjunct Professor | Online Psychology Division | | Email | S | Graduate School of Education and Psychology |
| Scalzo, Fabien | Associate Professor of Computer Science | Natural Science | 310.506.4974 | Email | S | Seaver College |
| Scarberry, Mark | Professor of Law | | 310.506.4667 | Email | S | Caruso School of Law |
| Schaffer, Regan Harwell | Divisional Dean (Business Administration Division) | Business Administration Division | 310.506.4237 | Email | S | Seaver College |
| Scheckel, Benita | Adjunct Professor | Education Division | | Email | S | Graduate School of Education and Psychology |
| Schieberl, Jeff | Practitioner of Business Law | | 714.642.7383 | Email | S | Graziadio Business School |
| Schmieder-Ramirez, June | Program Director For PhD in Global Leadership and Change | Education Division | | Email | S | Graduate School of Education and Psychology |
| Schnur, Dan | Adjunct Faculty | | | Email | S | School of Public Policy |
| Schoellkopf, Laurie | Adjunct Faculty | Psychology Division | | Email | S | Graduate School of Education and Psychology |
| Schreiner, Barrett | Assistant Director of Academic Excellence | | | Email | S | Caruso School of Law |
| Schuchardt, Brianna | Adjunct Professor | Psychology Division | | Email | S | Graduate School of Education and Psychology |
| Schultz, Steven | Assistant Professor of Law | | 310.506.6906 | Email | S | Caruso School of Law |
| Schwartz, Victoria | Professor of Law | | 310.506.6277 | Email | S | Caruso School of Law |
| Scott, Tomeiko | Adjunct Professor | Online Psychology | | Email | S | Graduate School of Education and Psychology |
| Scott-Lowe, Emily | Associate Professor Emerita of Social Work | Social Science Division | | Email | S | Seaver College |
| Seaman, Samuel | Professor of Decision Sciences | | 310.506.4401 | Email | S | Graziadio Business School |
| Secrest, Tiffany | Adjunct Professor | Online Psychology Division | | Email | S | Graduate School of Education and Psychology |
| Sellers, Abbylin | Adjunct Faculty | | | Email | S | School of Public Policy |
| Seshan, V | Emeritus Professor of Management | Business Administration | | Email | S | Seaver College |
| Sevareid, Eric Eben | Visiting Assistant Professor of Sociology | Social Science | | Email | S | Seaver College |
| Sexton, Robert | Distinguished Professor | | 310.506.4345 | Email | S | School of Public Policy |
| Sexton, Robert | Distinguished Professor of Economics | Social Science Division | 310.506.4345 | Email | S | Seaver College |
| Shafranske, Edward | Professor and PsyD Program Director | Psychology Division | | Email | S | Graduate School of Education and Psychology |
| Shamim, Brandon | Instructor | Education Division | | Email | S | Graduate School of Education and Psychology |
| Shanahan, Doreen | Assistant Professor of Marketing | | 949.933.7571 | Email | S | Graziadio Business School |
| Shearer, Rob | Professor of Decision Science | Business Administration Division | 310.506.4075 | Email | S | Seaver College |
| Sherbetjian, Alex | Visiting Assistant Professor of Mathematics | Natural Science | 310.506.7099 | Email | S | Seaver College |
| Sherwin, Judith | Adjunct Faculty | Psychology Division | | Email | S | Graduate School of Education and Psychology |
| Shevchenko, Alexei | Adjunct Professor | | 310.506.7691 | Email | S | School of Public Policy |
| Shewfelt, Kira Maria | Adjunct Professor | Fine Arts | | Email | S | Seaver College |
| Shields, Claudia | Adjunct Faculty | Psychology Division | | Email | S | Graduate School of Education and Psychology |
| Shires, Michael | Vice Dean for Strategy and Online Programs | | 310.506.7692 | Email | S | School of Public Policy |
| Shores, Donald | Professor of Broadcasting | Communication Division | 310.506.4570 | Email | S | Seaver College |
| Short, Cole | Assistant Professor of Strategy | | 818.702.1315 | Email | S | Graziadio Business School |
| Sikkenga, Jeffrey | Spring 2018 William E. Simon Distinguished Visiting Professor | | | Email | S | School of Public Policy |
| Simonowitz, David | Associate Professor of Middle East Studies | International Studies and Languages Division | 310.506.4218 | Email | S | Seaver College |
| Singh, Sukhsimranjit | Danny Weinstein Managing Director | Straus Institute | 310.506.4781 | Email | S | Caruso School of Law |
| Skaff, Richard | Adjunct Professor | Online Psychology Division | | Email | S | Graduate School of Education and Psychology |
| Skandera, Hanna | Visiting Professor of Education Policy and Impact | | | Email | S | School of Public Policy |
| Skinner, Kiron | Taube Professor of International Relations and Politics | | 310.506.8048 | Email | S | School of Public Policy |
| Smith, David | Professor of Economics | Senior Associate Provost in IT and Online Learning and International Program Facilities | | 310.568.5538 | Email | S | Graziadio Business School |
| Smith, Michael | Associate Professor of Media Production | Communication Division | 310.506.6833 | Email | S | Seaver College |
| Smith, J.A.T. | Associate Provost | Humanities/Teacher Education Division | 310.506.6265 | Email | S | Seaver College |
| Smith, Lisa | Assistant Professor of Teaching of English | Humanities/Teacher Education Division | 310.506.7232 | Email | S | Seaver College |
| Smith, Elizabeth R. | Assistant Professor of Communication | Communication Division | 310.506.4568 | Email | S | Seaver College |
| Smith, Julianne | Professor of English | Humanities/Teacher Education Division | 310.506.4625 | Email | S | Seaver College |
| Smith, Scott Allen | Visiting Assistant Professor of Theatre | Fine Arts Division | 310.506.4783 | Email | S | Seaver College |
| Snyder, Betty | Adjunct Professor | Straus Institute | | Email | S | Caruso School of Law |
| Song, Abraham | Assistant Professor | Education Division | | Email | S | Graduate School of Education and Psychology |
| Soper, J. Christopher | Distinguished Professor of Political Science | Social Science Division | 310.506.4792 | Email | S | Seaver College |
| Sorrell, Sonia | Emerita Professor of Art History | Fine Arts Division | 310.506.4462 | Email | S | Seaver College |
| Soucy, Michael | Visiting Instructor of Sports Medicine | Natural Science Division | 310.506.4286 | Email | S | Seaver College |
| Spalding, Elizabeth | Senior Fellow | | | Email | S | School of Public Policy |
| Sparks, Paul | Associate Professor | Education Division | | Email | S | Graduate School of Education and Psychology |
| Spinello, Elio | Adjunct Faculty | Education Division | | Email | S | Graduate School of Education and Psychology |
| Spitzer, Daniel A. | Adjunct Professor | | | Email | S | Caruso School of Law |
| Stallworth, Jessica | Visiting Instructor of Sport Administration | Natural Science | | Email | S | Seaver College |
| Stanley, Darrol | Luckman Distinguished Professor of Finance and Accounting | | 818.501.1629 | Email | S | Graziadio Business School |
| Starr, Hollace | Associate Professor of Theatre | Fine Arts Division | 310.506.4377 | Email | S | Seaver College |
| Steinfeld, Andrea | Adjunct Faculty | Education Division | | Email | S | Graduate School of Education and Psychology |
| Stephens, Ronald | Emeritus Professor of Education | Education Division | | Email | S | Graduate School of Education and Psychology |
| Sterrett, Edward | Visiting Assistant Professor of Art History | Fine Arts | 310.506.4090 | Email | S | Seaver College |
| Stewart, Fiona M. | Associate Professor of Italian Studies | International Studies and Languages Division | 310.506.7319 | Email | S | Seaver College |
| Stewart, Alison L. | Associate Professor of Teaching of Hispanic Studies | International Studies and Languages Division | 310.506.4219 | Email | S | Seaver College |
| Stiemsma, Leah | Assistant Professor of Biology | Natural Science Division | 310.506.4855 | Email | S | Seaver College |
| Stimac, Michele | Emeritus Professor of Education | Education Division | | Email | S | Graduate School of Education and Psychology |
| Stimmel, Joanna K | Associate Professor of Teaching of German | International Studies and Languages Division | 310.506.6671 | Email | S | Seaver College |
| Stipanowich, Thomas | William H. Webster Chair in Dispute Resolution | Straus Institute | 310.506.4389 | Email | S | Caruso School of Law |
| Stivers, Chris | Visiting Assistant Professor of Communication | Communication Division | 310.506.4137 | Email | S | Seaver College |
| Stock, M. James | Visiting Assistant Professor of English and Film | Humanities and Teacher Education | 310.506.4095 | Email | S | Seaver College |
| Stone-Watt, Sarah | Professor of Communication | Communication Division | 310.506.6804 | Email | S | Seaver College |
| Storm, Colin | Assistant Professor of Communication | Communication | | Email | S | Seaver College |
| Streeter, Ryan | | | | Email | S | School of Public Policy |
| Strong, David M. | Professor of Mathematics | Natural Science Division | 310.506.6069 | Email | S | Seaver College |
| Struloeff, John | Professor of Creative Writing and English | Humanities/Teacher Education Division | 310.506.7702 | Email | S | Seaver College |
| Sublett, Cameron | Adjunct Faculty | Education Division | | Email | S | Graduate School of Education and Psychology |
| Sublett, Cameron | Adjunct Faculty | | | Email | S | School of Public Policy |
| Sugimoto, Mike | Professor of Asian Studies | International Studies and Languages Division | 310.506.7958 | Email | S | Seaver College |
| Sultanoff, Steven | Adjunct Faculty | Psychology Division | | Email | S | Graduate School of Education and Psychology |
| Sumpter, Dana | Associate Professor of Organization Theory and Management | | | Email | S | Graziadio Business School |
| Sush, Darren | Adjunct Professor | Online Psychology Division | | Email | S | Graduate School of Education and Psychology |
| Sutherland, Andrew | Visiting Assistant Professor of Religion | Religion-Philosophy | | Email | S | Seaver College |
| Swafford, Steven | Lecturer of Organization Theory and Management | | 310.428.6795 | Email | S | Graziadio Business School |
| Swartzendruber, Douglas | Faculty Research Associate | Natural Science Division | 303.565.7180 | Email | S | Seaver College |
| Tacha, Deanell Reese | Dean Emeritus | | 310.506.4676 | Email | T | Caruso School of Law |
| Taden, John | Assistant Professor of International Studies | International Studies and Languages | | Email | T | Seaver College |
| Taha, Ahmed | Professor of Law | | 310.506.4870 | Email | T | Caruso School of Law |
| Talbert, Stanley | Assistant Professor of Religion | Religion and Philosophy Division | 310.506.4144 | Email | T | Seaver College |
| Talbot, David | Adjunct Professor | Straus Institute | | Email | T | Caruso School of Law |
| Tamari, Shai | Adjunct Professor | | | Email | T | Caruso School of Law |
| Tamura, Robert | Spring 2011 William E. Simon Distinguished Visiting Professor | | | Email | T | School of Public Policy |
| Tan, Rachel | Assistant Professor of Sport Medicine | Natural Science | 310.506.7041 | Email | T | Seaver College |
| Tang, Jessica | Adjunct Professor | Online Psychology Division | | Email | T | Graduate School of Education and Psychology |
| Tang, Pierre | Assistant Professor of Music | Fine Arts | 310.506.7931 | Email | T | Seaver College |
| Tapia, Primo | Adjunct Faculty | | | Email | T | School of Public Policy |
| Tareen, Abeera | Adjunct Professor | Online Psychology | | Email | T | Graduate School of Education and Psychology |
| Tarighat Feller, Mojdeh | Visiting Assistant Professor | Natural Science Division | | Email | T | Seaver College |
| Teton, Andrew | Adjunct Faculty | Online Psychology | | Email | T | Graduate School of Education and Psychology |
| Thapar-Olmos, Natasha | Associate Professor | Psychology Division, Online Psychology Division | | Email | T | Graduate School of Education and Psychology |
| Thomas, James W. | Professor of English | Humanities/Teacher Education Division | 310.506.4222 | Email | T | Seaver College |
| Thomas, Ben | Adjunct Professor | Online Psychology Division | | Email | T | Graduate School of Education and Psychology |
| Thomas-Grant, Cathy | Professor of Theatre | Fine Arts Division | 310.506.7468 | Email | T | Seaver College |
| Thomason, Phillip | Emeritus Professor of Hispanic Studies | International Studies and Languages Division | 310.506.4219 | Email | T | Seaver College |
| Thomason, Bobbi | Assistant Professor of Applied Behavioral Science | | | Email | T | Graziadio Business School |
| Thompson, Don | Professor of Mathematics | Natural Science Division | 310.506.4831 | Email | T | Seaver College |
| Thompson, Philippe | Visiting Instructor of Humanities | Humanities and Teacher Education | 310.506.6235 | Email | T | Seaver College |
| Thompson, Paula | Adjunct Faculty | Education Division | | Email | T | Graduate School of Education and Psychology |
| Thomson-Bunn, Heather | Associate Professor of English | Humanities/Teacher Education Division | 310.506.4172 | Email | T | Seaver College |
| Thoren Gagliardo, Elizabeth | Assistant Professor of Teaching of Mathematics | Natural Science Division | 310.506.7452 | Email | T | Seaver College |
| Tian, Fang | Associate Professor of Decision Science | Business Administration Division | 310.506.4486 | Email | T | Seaver College |
| Tobin, John | Education and EDOL Program Adjunct Faculty | Education Division | | Email | T | Graduate School of Education and Psychology |
| Todd, Greta | Adjunct Professor | Online Psychology Division | | Email | T | Graduate School of Education and Psychology |
| Todd, Kelly | Visiting Full-Time Professor | Fine Arts Division | 310.506.7040 | Email | T | Seaver College |
| Tompkins, Teresa | Professor of Applied Behavioral Science | | 310.568.5723 | Email | T | Graziadio Business School |
| Toney, Deric | Adjunct Professor | Online Psychology Division | | Email | T | Graduate School of Education and Psychology |
| Trammell, Janet | Associate Professor of Psychology | Social Science Division | 310.506.6947 | Email | T | Seaver College |
| Travis, Mark | Adjunct Professor | | | Email | T | Caruso School of Law |
| Tredinnick, Michael | Adjunct Faculty | Psychology Division | | Email | T | Graduate School of Education and Psychology |
| Tribbitt, Mark | Associate Professor of Strategy | | 310.506.8537 | Email | T | Graziadio Business School |
| Truschke, Linda | Visiting Professor | Religion and Philosophy | | Email | T | Seaver College |
| Tschudi, Susan | Adjunct Faculty | Psychology Division | | Email | T | Graduate School of Education and Psychology |
| Turner, Erlanger | Associate Professor of Psychology | Psychology Division | | Email | T | Graduate School of Education and Psychology |
| Tuttle, Amy | Director of Clinical Training | Psychology Division, Online Psychology Division | | Email | T | Graduate School of Education and Psychology |
| Udall, Lena | Visiting Assistant Professor of French | International Studies and Languages | 310.506.4993 | Email | U | Seaver College |
| Uhl, Robert | Adjunct Professor of Law | | 310.506.4676 | Email | U | Caruso School of Law |
| Vabulas, Felicity | Associate Professor of International Studies | International Studies and Languages Division | 310.506.4865 | Email | V | Seaver College |
| Vandergon, Thomas L. | Professor of Biology | Natural Science Division | 310.506.4326 | Email | V | Seaver College |
| Varadarajan, Tunku | Adjunct Faculty | | | Email | V | School of Public Policy |
| Vardiabasis, Demosthenes | Professor of Economics and International Business | | | Email | V | Graziadio Business School |
| Vasconcellos, Marcio | Adjunct Professor | Straus Institute | | Email | V | Caruso School of Law |
| Vasquez, Carlos | Adjunct Professor | Online Psychology Division | | Email | V | Graduate School of Education and Psychology |
| Vaughn, Jennifer Medina | Assistant Professor | Psychology Division | | Email | V | Graduate School of Education and Psychology |
| Vazira-Bhullar, Nazanein Nazzi | Adjunct Professor | Online Psychology Division | | Email | V | Graduate School of Education and Psychology |
| Viesca, Veronica | Assistant Professor | Psychology Division | | Email | V | Graduate School of Education and Psychology |
| Vigil, Ricardo | Director of Field Experience | Education Division | | Email | V | Graduate School of Education and Psychology |
| Villanueva, LeRoy | Adjunct Voice Professor | Fine Arts | 310.506.4462 | Email | V | Seaver College |
| Vodicka, Devin | Adjunct Faculty | Education Division | | Email | V | Graduate School of Education and Psychology |
| Vos Strache, Carolyn | Professor of Physical Education & Director London Program | Natural Science Division | 310.506.4321 | Email | V | Seaver College |
| Votino, Tori | Adjunct Professor of Law | | 310.506.4758 | Email | V | Caruso School of Law |
| Wagner, Danielle | Visiting Instructor of English | Humanities | 310.506.4226 | Email | W | Seaver College |
| Walker, Juanie N. | Associate Professor of Communication | Communication Division | 310.506.4036 | Email | W | Seaver College |
| Wall, Carrie | Associate Professor of Teacher Education | Humanities/Teacher Education Division | 310.506.4438 | Email | W | Seaver College |
| Wallace, Michele | Adjunct Professor | Online Psychology Division | | Email | W | Graduate School of Education and Psychology |
| Walsh, Princess | Assistant Director of the GSEP Psychology Online Programs | Online Psychology Division | | Email | W | Graduate School of Education and Psychology |
| Walton, Rick | Assistant Professor of Finance | | | Email | W | Graziadio Business School |
| Wan, Hoi Lun Helen | Visiting Assistant Professor of Chinese Language and Literature | International Studies and Languages | 310.506.6607 | Email | W | Seaver College |
| Warford, J. Stanley | Professor of Computer Science and Physics | Natural Science Division | 310.506.4332 | Email | W | Seaver College |
| Wasilewski, Nikolai | Associate Professor Emeritus of Strategy | | 310.568.5743 | Email | W | Graziadio Business School |
| Wasserman, Melissa | Assistant Professor of Psychology | Psychology Division | | Email | W | Graduate School of Education and Psychology |
| Waters, Ken | Professor of Journalism | Communication Division | 310.506.4245 | Email | W | Seaver College |
| Watson, Jeremy | Adjunct Professor | Online Psychology Division | | Email | W | Graduate School of Education and Psychology |
| Watson, John G. | Professor of Education | Communication Division | 310.506.4242 | Email | W | Seaver College |
| Watts, Steven | Adjunct Faculty | | | Email | W | School of Public Policy |
| Weber, Margaret | Professor of Education | Education Division | | Email | W | Graduate School of Education and Psychology |
| Weiner, Ahndrea | Adjunct Professor | Online Psychology Division | | Email | W | Graduate School of Education and Psychology |
| Wendel, Peter | Professor of Law | | 310.506.4651 | Email | W | Caruso School of Law |
| Wendel, Peter | Professor of Law | | | Email | W | School of Public Policy |
| Wenger, Kathleen | Adjunct Faculty | Psychology Division | | Email | W | Graduate School of Education and Psychology |
| Wertheimer, Beverly | Adjunct Professor | Online Psychology | | Email | W | Graduate School of Education and Psychology |
| Weston, Maureen Arellano | Professor of Law | | 310.506.6313 | Email | W | Caruso School of Law |
| Wetter, Michael | Adjunct Professor | Online Psychology Division | | Email | W | Graduate School of Education and Psychology |
| White, James B. | Professor of Chemistry | Natural Science Division | 310.506.4832 | Email | W | Seaver College |
| White, Stephen | Assistant Professor of Legal Research and Writing | | 310.506.6721 | Email | W | Caruso School of Law |
| Whitney, L. Keith | Emeritus Associate Professor of Business Law | Business Administration | | Email | W | Seaver College |
| Whittemore, Paul | Adjunct Faculty | Psychology Division | | Email | W | Graduate School of Education and Psychology |
| Wickramasinghe, Amanda | Visiting Professor | Education Division | | Email | W | Graduate School of Education and Psychology |
| Wideroe, Debbie | Instructor of Teaching of Communication | Communication Division | 310.506.4888 | Email | W | Seaver College |
| Wigg, Duncan | Senior Clinical Professor | Psychology Division, Online Psychology Division | | Email | W | Graduate School of Education and Psychology |
| Wilburn, James | Dean Emeritus | | 310.506.7490 | Email | W | School of Public Policy |
| Wilcox, Heather | Adjunct Professor | Online Psychology | | Email | W | Graduate School of Education and Psychology |
| Wilkinson, David | Professor | Fine Arts Division | 310.506.4386 | Email | W | Seaver College |
| Williams, Stephanie | Associate Professor of Legal Research and Writing | | 818.312.0796 | Email | W | Caruso School of Law |
| Williams, Robert E. | Divisional Dean (Social Science Division) | Social Science Division | 310.506.4175 | Email | W | Seaver College |
| Williams, Helen | Former Dean and Professor of GSEP | Education Division | | Email | W | Graduate School of Education and Psychology |
| Williams, Risa | Adjunct Faculty | Online Psychology | | Email | W | Graduate School of Education and Psychology |
| Williams, Michael | Associate Professor of Information Systems Technology Management | | 818.702.1353 | Email | W | Graziadio Business School |
| Willis, Timothy M. | Professor of Religion | Religion and Philosophy Division | 310.506.4513 | Email | W | Seaver College |
| Wilson, Ben | Visiting Assistant Professor of Chemistry | Natural Science Division | | Email | W | Seaver College |
| Wilson, James Q. | Ronald Reagan Professor of Public Policy | | | Email | W | School of Public Policy |
| Wilson, Kurt | Adjunct Faculty | | | Email | W | School of Public Policy |
| Wilson, Sharita Kyles | Visiting Instructor of Communication | Communication Division | 310.406.4026 | Email | W | Seaver College |
| Winter, Helen | Assistant Professor of Law and Practice | Straus Institute for Dispute Resolution | 310.506.7250 | Email | W | Caruso School of Law |
| Wong, Kevin M. | Program Chair For MA in TESOL | Education Division | | Email | W | Graduate School of Education and Psychology |
| Woo, Stephanie | Professor and Program Director for the Master of Arts in Clinical Psychology (Daytime Format) | Psychology Division | | Email | W | Graduate School of Education and Psychology |
| Worley, Christopher | Research Professor of Management | | 310.568.5548 | Email | W | Graziadio Business School |
| Wright, Maria | Director of Talent Management | Education Division | | Email | W | Graduate School of Education and Psychology |
| Wu, Samuel | Adjunct Professor of Law | | 310.506.4991 | Email | W | Caruso School of Law |
| Yates, Jere | Emeritus Professor of Organizational Behavior and Management | Business Administration | | Email | Y | Seaver College |
| Yau, Priscilla | Visiting Assistant Professor of Psychology | Social Science | | Email | Y | Seaver College |
| Yaymadjian, Irene | Adjunct Professor | Online Psychology Division | | Email | Y | Graduate School of Education and Psychology |
| Yomantas, Elizabeth | Assistant Professor of Teaching | Humanities/Teacher Education Division | 310.506.4826 | Email | Y | Seaver College |
| Yoshimura, Rachel | Visiting Assistant Professor of Communication | Communication | 310.506.6004 | Email | Y | Seaver College |
| Young, Terry | Professor Emerita of Economics | | 310.568.2333 | Email | Y | Graziadio Business School |
| Yuengert, Andrew M. | Professor of Economics | Social Science Division | 310.506.4380 | Email | Y | Seaver College |
| Yulo, Edmundo | Adjunct Professor | Online Psychology Division | | Email | Y | Graduate School of Education and Psychology |
| Zazzi, Amy | Visiting Instructor of Mathematics | Natural Science | | Email | Z | Seaver College |
| Zola, Nicholas J. | Associate Professor of Religion | Religion and Philosophy Division | 310.506.4736 | Email | Z | Seaver College |
| Zumeta, Zena | Adjunct Professor | | | Email | Z | Caruso School of Law |