Undergraduate Shiloh Rainwater Publishes Research on "China's Arctic Strategy"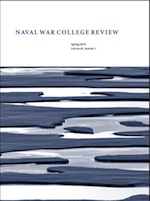 In November of 2012, senior political science and international relations student Shiloh Rainwater presented his research paper, "China's Arctic Strategy: Implications for Sino-Arctic Relations," to the Pepperdine community.
And in March of this year, Rainwater's paper was published in the Naval War College Review, whose cover design even referenced Rainwater's topic.
Rainwater has conducted extensive research projects for various organizations, including policy analysis of democratic movements in the Middle East for Pepperdine's Communication Division and research into the geopolitical and logistical implications of operating nonprofit abroad. He has also served as a correspondence associate at the White House.
A senior honors student studying political science and international relations, Rainwater plans to pursue his interest in international trade issues by obtaining a law degree in international law as well as a master's in international relations.
---
Image caption from Naval College War College Review: "Open water in the Arctic ice cap, in a U.S. Coast Guard image posted on the website of the U.S. Geological Survey. This 2009 image, which the photographer titles Reflections, was taken in August, but open water is appearing in ever-greater expanses of the region and for ever-larger proportions of the year--a fact that has drawn the attention of nations far from the pole. In this issue, Shiloh Rainwater explores the Arctic interests of one important non-Arctic nation, the People's Republic of China."

U.S. Coast Guard photograph, by Patrick Kelley.
April 2013