Pepperdine Seaver Students Sweep Sigma Tau Delta's Annual Conference
In the spring of 2013, eight Seaver students were selected to read their work at the Sigma Tau Delta (the International English Honor Society) conference in Portland, OR. Students who read papers or creative works included Kristina McClendon, Ruth Book, Aaron Schott, Brita Lundberg, Danielle Accovelli, Kathryn Mogk, Kealy Jaynes, and Becca Stankis.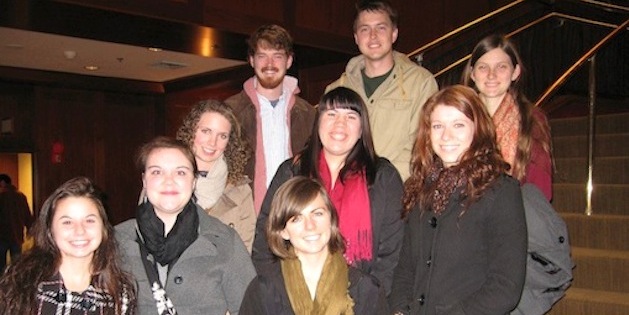 The Sigma Tau Delta International Conference is an annual event attracting nearly a thousand student participants. This past year's conference was held March 20-23rd, featuring keynote speakers such as Ursula Le Guin, Timothy Egan, and Anne Fadiman.
All eight Pepperdine students participated by reading his or her work in a panel session. The University has been sending members of Sigma Tau Delta to this conference for the last several years, but this past year's was the largest group yet. Kristina McClendon received the top paper award in the alumni category for the paper she read based on her senior thesis on George Eliot's Middlemarch.
Below is the abstract for McClendon's paper, "'Not Ideally Beautiful': Visions of Reality and Vocation."
As possibly the most widely read female author of the nineteenth century, George Eliot's work was influential in its emphasis of realism in the Victorian novel. Recently, Eliot's female characters have created discord among modern critics as they challenge the accepted paradigm of the traditional Victorian woman. If Middlemarch is to be interpreted as a realistic study, Dorothea Brooke displays characteristics that ultimately make her into a real-life Victorian woman. She is not simply a nineteenth century idealization; rather, her complexity reveals the intricate nature of feminism as her decisions challenge society's expectations. Dorothea makes a choice for marriage and love that both the novel's characters and critics feel was the wrong one. With that choice comes Eliot's acknowledgment that as a woman Dorothea has the capacity to create change in the undercurrent of society through the vocation of marriage and family. The conclusion to Middlemarch and Dorothea's story thus speaks to Eliot's power in creating "not [an] ideally beautiful" character but rather a strong, passionate, and realistic Victorian heroine (Eliot 514).

---
Kristina attended Pepperdine University from 2009 to 2012, majoring in English Literature. She studied abroad for the 2010 academic year in Lausanne, Switzerland. She also participated in the London English Major Program in the summer of 2010, completing research at the University of London's Senate House Library. While at Pepperdine, Kristina worked as a research intern for Dr. Julie Smith, was involved in the English Honor Society Sigma Tau Delta, served as the Community Engagement and Service Las Vegas Team Leader, and represented the Department of Athletics as the mascot Willie the Wave. Kristina was awarded the Howard A. White Spirit Award and graduated magna cum laude in 2012.
She currently works at International Programs as the office coordinator. This Fall Kristina is applying for graduate programs in the United Kingdom for Victorian Studies. Her research interests include Victorian literature, feminist literary theory, and historicism.
Thanks to Kristina McClendon and Julianne Smith for their help with this post.
August, 2013