Professor David Holmes Wins the Theresa Enos Anniversary Award Rhetoric Review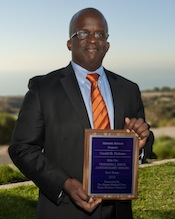 This past December, Seaver's David Holmes won the Theresa Enos Anniversary Award for his essay "'Hear Me Tonight': Ralph Abernathy and the Sermonic Pedagogy of the Birmingham Mass Meeting." The Rhetoric Review Editorial Board voted Holmes work the best essay of the year and presented him with the award last month.
The abstract for his essay is below, followed by two brief excerpts from his introduction.
Abstract: This article reconstructs the Birmingham civil rights mass meetings of 1963 as one setting for reengaging the theoretical tensions between canonized and marginalized rhetorics. I consider how Ralph Abernathy's May 3rd speech epitomizes one way blacks used religious oratory to destabilize the boundaries that proponents of standardized writing have traditionally attributed to African-American discursive strategies. After summarizing the history of the mass meetings from Montgomery to Birmingham, I advance the claim that during his speech Abernathy functions as a folk preacher and a "revisionist historian."
Introduction Excerpts: This essay introduces the Birmingham civil rights mass meetings of 1963 as one site for revisiting how marginalized oratory can be used to challenge the authority of mainstream rhetorical traditions.1 While most studies of civil rights rhetoric understandably focus on Martin Luther King, Jr., I examine his lesser-known, oratorical partner, Ralph David Abernathy.
Considering Abernathy's mass meeting speech of May 3, 1963, I illustrate how Birmingham mass-meeting rhetoric ironically empowered black preachers and parishioners to meet the sociopolitical demands of standard written literacy often using nonstandard rhetorical strategies. I contend that with his speech Abernathy combines the role of a black folk preacher with one comparable to that of a revisionist historian. Abernathy's well-established role as preacher preserved his spiritual and cultural authority before black congregants while his latter role projected a secular and rational ethos before the white police officers and reporters present. For African-American churchgoers, the two roles were usually inseparable. From slavery through segregation, black audiences had grown accustomed to a preacher invoking a position similar to a cultural historian both to tell their story and advance the contemporary relevance of African-Americans' struggle for justice. The blacks attending the May 3 meeting were likely no different. Perhaps these combined roles evolved from the West African Griot, who functioned as a storyteller and guardian of truth. On the other hand, given the venerable and indispensable tradition of African-Americans teaching about their culture outside of mainstream venues, including churches, one might call Abernathy a phronimos or pedagogue of practical wisdom, as Vorris L. Nunley uses the term.2 While one rhetor and one meeting are hardly representative of the rich range of rhetorical strategies at play in the Birmingham mass meetings, this study nevertheless suggests a network of counterhegemonic communication not unlike the Underground Railroad.
Since civil rights mass-meeting rhetoric remains a relatively untapped field, this article offers a bit of context. Therefore, before engaging in a closer reading of Abernathy's speech, I will (1) review the history surrounding the mass meetings in Birmingham, (2) note a few stylistic differences between King's and Abernathy's homiletic rhetoric, and (3) summarize their respective May 3 speeches.
You can view or download the full essay here.


David G. Holmes is Professor of English and Director of African American Studies at Pepperdine University. The author of Revisiting Racialized Voice: African American Ethos in Language and Literature, some of his articles have appeared in College English, Rhetoric Review, and the award-winning anthology Calling Cards. His current interests include African American expressive culture, political rhetoric, political theology, religious rhetoric, and rhetorics of racism. His major project focuses on remapping the rhetorical narratives of the Birmingham mass meetings of 1963. A frequent presenter at the CCC and RSA, he has held offices in the Conference on College Composition and Communication and has served on the editorial board for the CCC journal. He recently received the Howard A. White Award for teaching excellence at Pepperdine.
January 2014