Nicole Nakamatsu Presents Research at National Park Service Symposium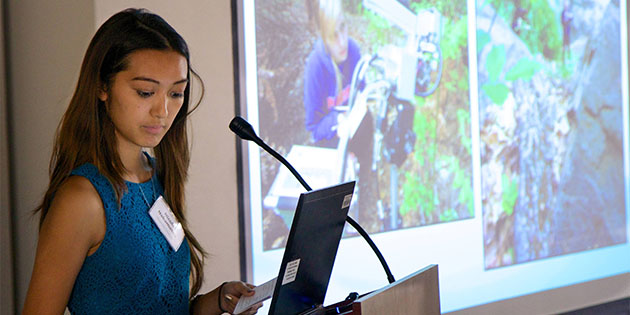 Sophomore Nicole Nakamatsu was the only undergraduate student among 20 presenters in the day long National Park Service Symposium on September 9th.
PR: You recently attended and presented at the National Parks Service symposium. How did your presentation and research project come about?
Nicole Nakamatsu: The idea for the project was first proposed and submitted for funding as part of the final exam to my first year seminar with Dr. Stephen Davis. Not very much research was previously performed on ferns, therefore making ferns a topic of interest and exploration. The research that I presented at the NPS symposium was the result of my Keck Mini Grant project that was completed during the last spring semester, as well as some of some of the research performed by Victoria Lekson and Helen Holmlund for Pepperdine's Summer Undergraduate Research in Biology (SURB). My research project focused on the performance rates of five native ferns to the Santa Monica Mountains. I was given the opportunity to speak the the NPS symposium by Dr. Davis who also delivered a speech at the symposium as well.
PR: Please tell us about your specific research project and scholarly process? What question did you hope to address with your research?
NN: My research project focused on comparing the photosynthetic performance among five different ferns native to the Santa Monica mountains: Adiantum cappilus-veneris, Polypodium californicum, Pellaea Andromeda folia, Dryopteris arguta, and Pentagramma triangularis triangularis. Photosynthesis, stomatal conductance to water vapor diffusion, water potential, and electron transport rate were measured and analyzed to better understand differences in physiological traits in fern species. My research suggests that ferns have lower gas exchange rates than flowering plants. It was shown that gas exchange rates varied three-fold among the five species, suggesting that ferns adopt different strategies and ecological niches in order to co-exist in the same habitat. One of the species, Polypodium camlifornicum, had the highest photosynthesis per unit mass rate suggesting efficient carbon investment in this fern species. Water potential rates were significantly lowest for Dryopteris arguta than other fern species. Polypodium californicum was the most hydrated and most efficient, Dryopteris arguta was the driest and least efficient, and all other species fell in between in terms of performance, thus exhibiting the diversity of physiological performance in the five fern species. Such different rates in species are likely a result of niche segregation and varied life strategies. The processed entailed reading literature, collecting data, and analyzing data in order to make sense of what the numbers were trying to tell me. This process also allowed me to develop my scientific writing skills by requiring me to write a final paper. I was hoping to address the following question: What can the ferns' performance tell us about these five ferns?
PR: Tell us about your larger research interests in general - - where do your interests lie?
NN: I am very interested to continue my research on ferns. There is ongoing research in order to delve deeper into the biology of these native ferns that I am currently involved in. I am generally interested in research in science. Science has always interested me, and to have the opportunity to study or uncover how things work and why is so interesting to me.
PR:How has your participation in the Keck Scholars Program and this symposium impacted you?
NN: The Keck Scholars Program has helped me to become a better thinker and student. Research challenges a person to think outside of the box, and to put pieces together in order to understand something new. Therefore, critical thinking is necessary and has sharpened my thinking skills and has taught me how to reason through the data that I have collected. It has taught me how to become a better student by challenging me to balance research and my studies. My project was done during the spring semester of my freshman year so balance was key in maintaining good grades.
I was nervous in presenting at the symposium because I knew that professionals were present and wanted to share their research with others, as well as hear about what others have been researching. It was crazy to think that they were willing to hear what I, as an undergraduate student, had to say. It was great to know that people who are professionals in their field were interested in what I had to say. I have also gained an experience that I can learn from.