Seaver Faculty Research News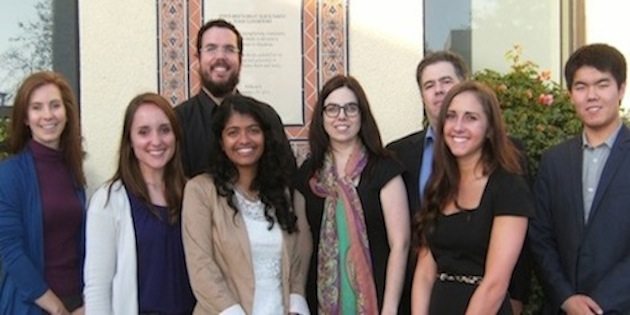 Pictured left to right: Elizabeth Krumrei, Rosemond Travis, Dan Morrison, Nancy Kannampuzha, Candice Ortbals, Ben Postlethwaite, Allora Dubay, and Steven Zhou.
Seaver Students and Professors Collaborate on an Interdisciplinary Study of Prostitution
Seaver faculty Elizabeth Krumrei, Dan Morrison, Candice Ortbals, and Ben Postlethwaite are in the midst of a two-year research project, bringing together their four areas of expertise to conduct a more well-rounded study of prostitution. Together with a team of undergraduate students, this group is conducting research to explore various angles and issues surrounding prostitution.
Their work will be published and shared in a variety of ways – first, they are working together on a short-form manuscript exploring the four areas of research they explore collectively: psychological, business, political, health, and sociological. Each chapter will focus on summaries of individual literature about prostitution, with breakout sections about other disciplines, theories, case studies, and global or local foci. They are looking at the "why" of prostitution and the response (psychology and business) as well as the "how" (political science and sociology).
Next, they are each working with their undergraduates to publish more specialized "spin-off" research projects and articles wherein they focus more heavily on exploring prostitution through the lens of their individual fields.
PR: Please tell us a little bit about the book project you are all working on. How does it marry your individual interests and research?
Liz Krumrei: I grew up in the Netherlands, where prostitution has never been a criminal offense. I was exposed to issues around prostitution as the legal status of brothels and pimping was changing. This raised a lot of discussion in society about prostitution as a profession.
I did background research work on this project in 2010, when I met with a variety of individuals including police task forces on prostitution in Dutch cities, a politician and former prostitute who runs a prostitution information center in Amsterdam, a historian of prostitution, and members of the World Health Organization/United Nations program on HIV/AIDS, and International Organization for Migration with a focus on human trafficking in Geneva, Switzerland. My interest was in the psychological, emotional, and spiritual implications of prostitution for the individual, but it quickly became clear that the perspective of other disciplines was also necessary for a well-rounded study.
PR: And this led you to your Seaver colleagues?
LK: Yes, I first talked to Candice [Ortbals] and then was connected with Ben [Postlethwaite] through another colleague. We developed an interdisciplinary study to go back to the Netherlands and collect data – looking at the psychological, political, and business side of prostitution. One of my research questions is about understanding how women who prostitute view religion and how their spirituality might impact their experience of prostitution. For example, if women sanctify their bodies or view sex as sacred to any extent, how does that impact their levels of anxiety, depression, or other psychological variables when engaging in prostitution?
Ben Postlethwaite: For the business side, I have been looking at the data we collected. Prostitutes view themselves as entrepreneurs – and the data is showing this. There are scales for entrepreneurship. We are also looking at negotiations –the strategies women use and the thought behind those strategies. There is a lot of anecdotal talk of prostitutes' being trapped and not being able to migrate to another industry without transferable skills. But because most prostitutes are independent contractors, they negotiate on a per customer/per transaction basis. Our data is looking at measuring the ways in which prostitutes negotiate with their clients. If data supports it, this might be a skill you could take with you to leave the profession and go into something like sales.
Candice Ortbals: Then I joined in as the political scientist – and although I hadn't worked with this topic before, I wanted to join and knew resources to tap from Europe, as I had previously been in a research network there working on policies related to gender violence, employment, and prostitution. I'm looking at how the state responds to prostitution (the policy side) and also how women's groups do. Often, prostitution is automatically linked to human trafficking. There is this tendency to think it is all exploitation, in an alarmist and negative fashion, looking at prostitutes as a social problem. So part of my work is exploring a different side, looking at how governmental and non-governmental institutions respond to prostitutes and how the prostitutes themselves respond to their political environment.
Dan Morrison: I bring the sociologist angle, looking at the social responses to prostitution. I wanted to take a local angle, conducting qualitative, ethnographic interviews in person and looking at responses to prostitution in the American context.
I found an anti-sex work group in the San Fernando Valley. It is a faith-based group and they were conducting a two-day training in the LA area. I attended with a student and Candice to understand how that organization and affiliate partners look at prostitution as a social problem. It was way more gendered than we expected and we will be comparing the framing in a social movement – from this group's and its affiliate's perspectives versus a pro-sex-work group [now defunct]. This on-the-ground micro work will shed light on the broader framing of this issue. We are focusing our writing more heavily on this group and its affiliates, looking at interpretation and the way they conceptualize God, sexuality, and workers.
PR: It is great that you are all working closely with your Seaver undergraduates as well. Could you tell me more about their involvement and your collaborative process?
LK: We received an interdisciplinary grant from the Office of the Associate Dean for Research last summer and then called for interested students in each of our majors. We were able to select top students to work with us, who also earned a stipend through the grant. Working with students made this project more dynamic and fun. Last summer, our students researched and cowrote chapters for our book. This summer, we will be working with a new set of students on other projects that have developed on this topic.
CO: For the upcoming academic year, students are helping us plan public forums and student discussion groups at Seaver about prostitution and trafficking. We see a lot of value in our interdisciplinary approach to understanding prostitution. At this point, it has really become a longer-term investment in studying this topic.
---
April 2014