Ginger Rosenkrans Receives Grants to Explore Mobile and Social Media Ad Effectiveness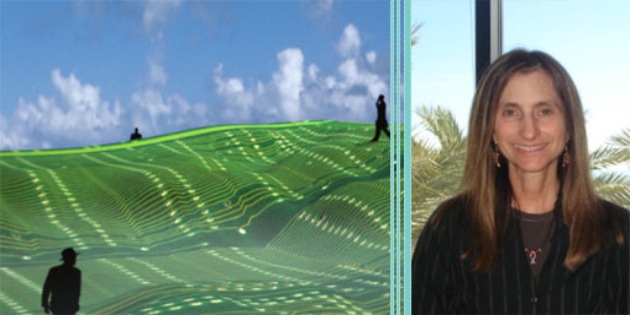 After earning a Seaver Research Council Grant and Wood-Claeyssens Foundation Research Grant, Seaver faculty Ginger Rosenkrans has been publishing cutting-edge studies of digital marketing effectiveness in peer-reviewed journals, in addition to sharing them with the Pepperdine community through curriculum and classroom activities.
According to Rosenkrans, "This current, relevant research gives Pepperdine students an advantage in the tools, designs, concepts, and metrics used in the advertising industry. These shared experiences are years away from textbook publications. And this is the value that an advertising degree from Pepperdine gives students – a degree that is ahead of the curve."
Below, please explore Rosenkrans' summary of her research in addition to the abstracts from her coauthored articles with Keli Myers in Newspaper Research Journal and International Journal of Mobile Marketing.
About this Project, by Ginger Rosenkrans
This multifaceted, ongoing study involves maximizing digital ads for mobile, non-mobile, and social media to discover optimal effectiveness, increased user engagement, and enhanced revenue. Internet use has reached saturation in the United States. eMarketer forecasts that 76.9% of the U.S. population will use the Internet through any device at least once per month in 2013; however, access from smartphones and tablets will drive increased usage frequency. There are 123.1 million tablet users in the U.S. in 2013, totaling more than half of all Internet users, and by 2017 it is estimated to reach 178 million. More smartphone and tablet owners, greater consumer confidence in the security of mobile commerce, and better mobile websites and apps are expected to contribute to this growth. Additionally, the number of social network users around the world will rise from 1.47 billion in 2012 to 1.73 billion by the end of 2013, which is an 18% increase. By 2017, eMarketer estimates the global social network audience will total 2.55 billion with Facebook alone surpassing one billion users worldwide.
Combining Online, Print Increases Ad Effectiveness
Ginger Rosenkrans and Keli Myers, 2013

Abstract: This field experiment found the synergy effect occurs when combining print ads with online ads on a local newspaper's online and print venues by significantly increasing website visits when compared to a print-only ad campaign.
Mobile Advertising Effectiveness
Ginger Rosenkrans and Keli Myers, 2012

Abstract: This field experiment research study explore the effectiveness of the Technology Acceptance Model (TAM) and the uses and gratifications theory by comparing mobile banner ads to non-mobile banner ads on a local newspaper's website. Findings from this research indicate mobile banner ads had significantly higher click-through rates than the non-mobile banner ads and there were significantly more Apple devices than non-Apple devices used to access mobile ads.
---
Rosenkrans is an associate professor in the Communication Division at Pepperdine University. This research was supported by a Wood-Claeyssens Foundation Research Grant and a Seaver Research Council Grant.
April 2014