International Alumni
Alumna Honored by Association of Latino Professionals for America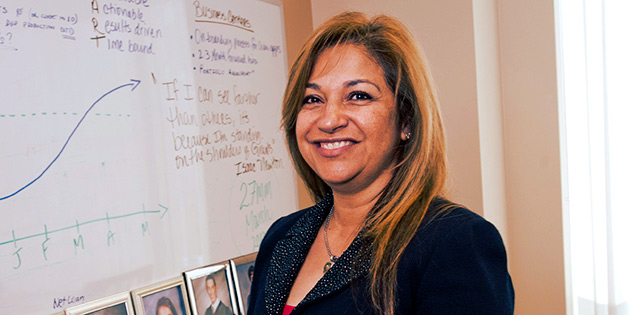 Dr. Betty Uribe (MBA '00, EDD '12) was recently honored by the Association of Latino Professionals for America as one of the 50 Most Powerful Latina Women in Business.
Dr. Uribe has three decades of experience in the financial industry. In her current role as the Executive Vice President at California Bank & Trust (CB&T), she leads Commercial and Personal Banking throughout Southern California. Under her leadership, CB&T has been named the best bank in Orange County for the past four years, according to the Orange County Register.
Her work as a speaker, consultant, and coach specializing in the area of "Values Based Leadership" has been recognized around the world, and her work has been published in four continents. She recently published the bestselling book #Values: The Secret to Top-Level Performance in Business and Life.
In addition to being the parent of a current student at Seaver College, she chairs the Board of Visitors for Pepperdine's Graduate School of Education and Psychology. Dr. Uribe will be honored as the 2018 Education Distinguished alumnus for the Graduate School of Education and Psychology.
Dr. Uribe shared some of the most helpful advice she's received in her career: "Become a life learner (of yourself) with humility and grace, and give it away to the people who will make this world a better place."
Visit Fortune.com to see where she ranked and explore the rest of the list.
Pepperdine Alumna Selected as Director of Seaver College London Program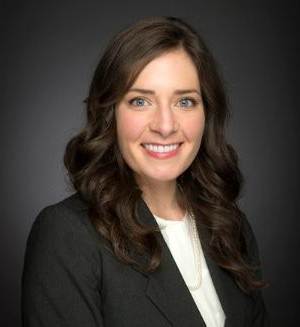 Pepperdine alumna Heather Pardee ('08) was selected as the Program Director for the London Campus operated by Seaver College International Programs. She will move to London this summer with her husband, Dr. Cambry Pardee ('07), professor of Religion at Pepperdine.
The university's Dean of International Programs Charles Hall announced Pardee's appointment on March 22, saying, "Among the 82 applicants for the London director position, Heather stood out from the very beginning of the search process."
"I am so proud of the ways that Pepperdine is leading in the field of international education, and I am honored to continue building this legacy of Pepperdine students living and learning abroad," said Pardee. "I have had the opportunity to contribute to a wide variety of international programs and to work closely with dozens of faculty directors who have been leading study abroad programs for decades."
Before beginning her current position as Associate Director of Travel Study programs in the UCLA International Education Office, Pardee earned a master's degree in Linguistics at Northeastern Illinois University in Chicago to complement her BA in French and International Studies from Seaver College. As a Pepperdine student, she studied abroad through International Programs' previous French language program in Lyon, France.
Pardee said one thing she is most excited about is being able to share the study abroad experience with the students.
"There is something magical about living abroad for the first time, and I am looking forward to witnessing those moments of magic," Pardee said. "Living abroad can also be surprisingly challenging, and I hope to be a guide for Pepperdine students as they learn to navigate a new country and culture."
Read more at the website for the Graphic, Seaver College's student newspaper.
New York Times Profiles Caroline MacDonald (MBA '13)
This April, the New York Times profiled Caroline MacDonald (MBA '13), Rosewood Hotel Group's vice president of sales and marketing for the Americas and Europe.
After graduating from high school, MacDonald enlisted in the Air Force and served for six years, attaining the rank of Staff Sergeant while stationed in Germany and Spain. The Air Force quickly identified her strong aptitude for leadership and developed her skills in programming and systems alongside less tangible--but equally important--talents and abilities.
"The military refined my critical assessment and leadership skills, and taught me discipline and teamwork," says MacDonald. While in Europe, she also earned a degree in systems management from the University of Maryland overseas extension programs.
In the following years, she explored various programming jobs before advancing her career through increasingly prominent positions at major resorts and boutique hotels, eventually earning her executive MBA in the same year she became Chief Marketing Officer for Auberge Resorts.
Today, she stays connected to her own values through service to the community, volunteering for the nonprofit Share a Meal and serving on the board of Chrysalis.
To learn more about MacDonald's unique story and career path, visit the New York Times online.
Graziadio Business School Presents the Most Fundable Companies Survey
Startups and early-stage companies are invited to take the Most Fundable Companies survey, presented by the Pepperdine Graziadio Business School to help these companies assess and improve their readiness for funding. Top startups deemed the most investment-worthy will be selected this fall and included in the first annual list of the Most Fundable Companies.
Upon completion of the qualifier survey, all companies will receive the following:
Private, no-risk analysis and feedback, customized for each company
A unique snapshot benchmarking each company against an ideal competitor
General guidance on the company's likelihood for funding
The opportunity to participate as finalists in a fundability assessment phase
This survey is offered at no cost to participants. Interested companies are asked to complete the survey by May 15, 2018, to be eligible for selection as a finalist and for the chance to win complimentary services from partners Business Rockstars and GeoStrategies Inc.
For more information, visit the Graziadio Business School online.