Alumni News
Alumna Honored by Association of Latino Professionals for America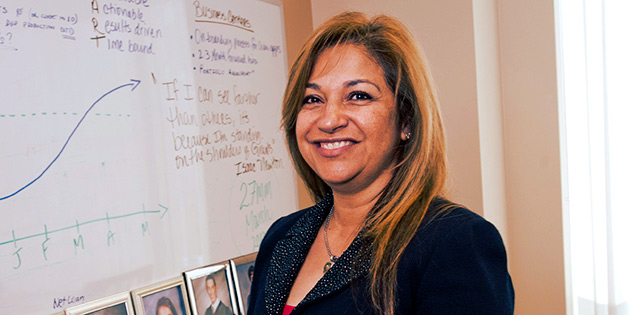 Dr. Betty Uribe (MBA '00, EDD '12) was recently honored by the Association of Latino Professionals for America as one of the 50 Most Powerful Latina Women in Business.
Dr. Uribe has three decades of experience in the financial industry. In her current role as the Executive Vice President at California Bank & Trust (CB&T), she leads Commercial and Personal Banking throughout Southern California. Under her leadership, CB&T has been named the best bank in Orange County for the past four years, according to the Orange County Register.
Her work as a speaker, consultant, and coach specializing in the area of "Values Based Leadership" has been recognized around the world, and her work has been published in four continents. She recently published the bestselling book #Values: The Secret to Top-Level Performance in Business and Life.
In addition to being the parent of a current student at Seaver College, she chairs the Board of Visitors for Pepperdine's Graduate School of Education and Psychology. Dr. Uribe will be honored as the 2018 Education Distinguished alumnus for the Graduate School of Education and Psychology.
Dr. Uribe shared some of the most helpful advice she's received in her career: "Become a life learner (of yourself) with humility and grace, and give it away to the people who will make this world a better place."
Visit Fortune.com to see where she ranked and explore the rest of the list.
Pepperdine Alumna Selected as Director of Seaver College London Program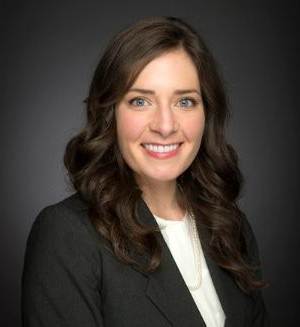 Pepperdine alumna Heather Pardee ('08) was selected as the Program Director for the London Campus operated by Seaver College International Programs. She will move to London this summer with her husband, Dr. Cambry Pardee ('07), professor of Religion at Pepperdine.
The university's Dean of International Programs Charles Hall announced Pardee's appointment on March 22, saying, "Among the 82 applicants for the London director position, Heather stood out from the very beginning of the search process."
"I am so proud of the ways that Pepperdine is leading in the field of international education, and I am honored to continue building this legacy of Pepperdine students living and learning abroad," said Pardee. "I have had the opportunity to contribute to a wide variety of international programs and to work closely with dozens of faculty directors who have been leading study abroad programs for decades."
Before beginning her current position as Associate Director of Travel Study programs in the UCLA International Education Office, Pardee earned a master's degree in Linguistics at Northeastern Illinois University in Chicago to complement her BA in French and International Studies from Seaver College. As a Pepperdine student, she studied abroad through International Programs' previous French language program in Lyon, France.
Pardee said one thing she is most excited about is being able to share the study abroad experience with the students.
"There is something magical about living abroad for the first time, and I am looking forward to witnessing those moments of magic," Pardee said. "Living abroad can also be surprisingly challenging, and I hope to be a guide for Pepperdine students as they learn to navigate a new country and culture."
Read more at the website for the Graphic, Seaver College's student newspaper.
New York Times Profiles Caroline MacDonald (MBA '13)
This April, the New York Times profiled Caroline MacDonald (MBA '13), Rosewood Hotel Group's vice president of sales and marketing for the Americas and Europe.
After graduating from high school, MacDonald enlisted in the Air Force and served for six years, attaining the rank of Staff Sergeant while stationed in Germany and Spain. The Air Force quickly identified her strong aptitude for leadership and developed her skills in programming and systems alongside less tangible--but equally important--talents and abilities.
"The military refined my critical assessment and leadership skills, and taught me discipline and teamwork," says MacDonald. While in Europe, she also earned a degree in systems management from the University of Maryland overseas extension programs.
In the following years, she explored various programming jobs before advancing her career through increasingly prominent positions at major resorts and boutique hotels, eventually earning her executive MBA in the same year she became Chief Marketing Officer for Auberge Resorts.
Today, she stays connected to her own values through service to the community, volunteering for the nonprofit Share a Meal and serving on the board of Chrysalis.
To learn more about MacDonald's unique story and career path, visit the New York Times online.
Graziadio Business School Presents the Most Fundable Companies Survey
Startups and early-stage companies are invited to take the Most Fundable Companies survey, presented by the Pepperdine Graziadio Business School to help these companies assess and improve their readiness for funding. Top startups deemed the most investment-worthy will be selected this fall and included in the first annual list of the Most Fundable Companies.
Upon completion of the qualifier survey, all companies will receive the following:
Private, no-risk analysis and feedback, customized for each company
A unique snapshot benchmarking each company against an ideal competitor
General guidance on the company's likelihood for funding
The opportunity to participate as finalists in a fundability assessment phase
This survey is offered at no cost to participants. Interested companies are asked to complete the survey by May 15, 2018, to be eligible for selection as a finalist and for the chance to win complimentary services from partners Business Rockstars and GeoStrategies Inc.
For more information, visit the Graziadio Business School online.
Pepperdine University President Andrew K. Benton to Conclude Presidency in 2019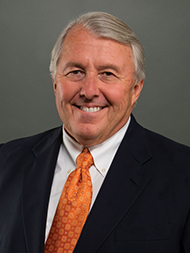 Pepperdine University president and chief executive officer Andrew K. Benton has announced his intent to conclude his presidency at the end of the 2018–2019 academic year. In a prepared statement to the University community, Benton said he and his wife have decided it is a good time for a change and that he has asked the Board of Regents to begin the process for selecting a new president.
"This is a significant change that, while difficult, we believe comes at just the right time - for Pepperdine, for our students, and for us," said Benton. "As president, I have always tried to make the hardest institutional decisions from a position of strength, and because of the talent and passion of our people throughout the last several decades, I can confidently say that Pepperdine has never been stronger academically, spiritually, and financially."
Read more at the Pepperdine Newsroom.

Alumni Profile: Natasha Kalimada (MBA '13), the Unlikely Ballerina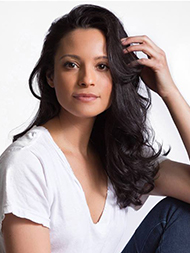 Pepperdine alumna Natasha Kalimada (MBA '13) has worked hard for her success as a professional actor and dancer, allowing her to both persevere through difficult times and capitalize on unique opportunities.
After moving to Los Angeles and working at an unfulfilling job for an entertainment agency, she suffered a major accident that left her with a broken foot and other injuries. She spent six months recovering and regaining strength, and was able to continue her career as a ballerina after several years out of the dance world.
Because of her passion and dedication to her work, she has been able to find consistent roles in major shows across the country and around the world, including the touring production of Broadway hit The Illusionists and musician Taylor Swift's well-known video for hit single "Shake it Off."
Alumni Profile: Denise Roberson (MBA '14), President and CEO of Jadi Communications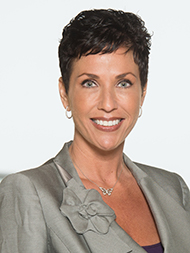 Denise Roberson (MBA '14) has already accomplished a lot, including serving as the president, CEO, and cofounder of Jadi Communications. But she's always looking for opportunities to improve--"Pepperdine reignited my passion for learning, and inspired me to continue on to a progressive doctoral program that has the capacity to empower me in creating true impact and change in this world," said Roberson.
A graduate of Pepperdine's Presidents and Key Executives (PKE) cohort 131, she often finds herself inspired by classmates, colleagues, and community figures. "[The program] exposed me to a group of brilliant students, professors and administrators that have become lifelong confidants, advisors, and friends," she said. "This community has proven to be a powerful force that constantly enriches me personally and professionally, while inspiring me to go further and try harder."
As a student and alumna, Roberson particularly identifies with Pepperdine's commitment to service. "I've always enjoyed bringing a voice and awareness to organizations and initiatives I believe in," she said. "The values based leadership style at Pepperdine was a perfect fit to reignite my passion for civic leadership and community involvement."
Roberson strives to look outwards for both inspiration and opportunities to make positive change in the world. "I am continually inspired by people who overcome adversity and live their life authentically and with a pure heart...It takes courage and strength to stand up and make change, but without it, we cater to the lowest common denominator and go backwards."
Leaving her fellow alumni with some inspiration of her own, Roberson gave this advice: "Always follow your passion! Dare to fail."
Last fall, Roberson was honored as one of Pepperdine's 40 over 40 alumni. Read more about her and the rest of the honorees here.
Office of the Provost Accepting Nominations for Howard A. White Award for Teaching Excellence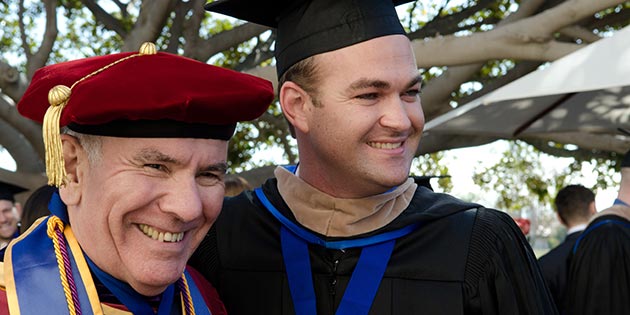 Through March 31, 2018, Pepperdine's Office of the Provost will be collecting nominations for the Howard A. White Award for Teaching Excellence, recognizing outstanding teachers who embody Pepperdine University's commitment to excellence.
Named for the fifth president of Pepperdine University, Dr. Howard A. White, the award honors teachers who inspire, stimulate, challenge, and motivate their students. Eight full-time faculty members will be honored, with both tenured and non-tenured professors from all five schools eligible for the award.
Nominations for the 2018 awards will be accepted through March 31, 2018, and the results will be announced in October.
Follow this link to learn more about the Howard A. White Award for Teaching Excellence and to nominate a deserving faculty member for the award.
Pepperdine's Peate Institute for Entrepreneurship Seeks Most Fundable Companies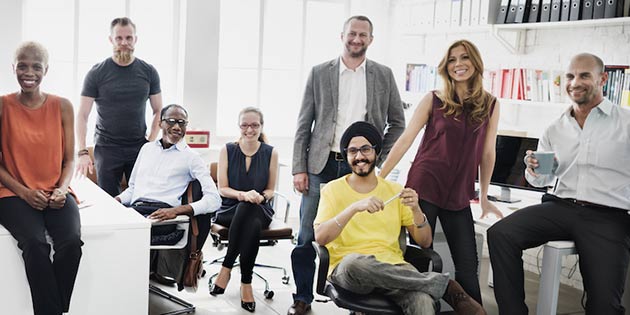 Pepperdine's Graziadio School of Business and Management (GSBM), in partnership with The Venture Alliance (TVA), recently launched the Most Fundable Companies List, a transformative experience for early-stage entrepreneurs to assess and improve their readiness for private investment. Entrepreneurs who participate will be provided a free, customized, data-driven roadmap to make their company investable. The Most Fundable Companies List will also assist investors in identifying fundable startups.
Qualified startups (less than five years old with less than $10 million in revenue) are invited to take a free, proprietary qualifier survey. After completing the survey, entrepreneurs will receive a customized report on their company and guidance about what they can do to attract investors. The report includes a Radar Graph from TVA which is a unique graphical snapshot benchmarking startups to an ideal competitor in their industry at a similar stage of development across 12 key dimensions.
"The vast majority of startups would benefit from data-driven company analysis that details how they stack up and what can be done to improve their chances of attracting investors," said Deryck J. van Rensburg, dean of GSBM. "We're aiming to bridge the widening gap between early-stage U.S. companies and the capital they need to succeed by helping entrepreneurs think about how to structure their business so they are valued as worthy of investment."
Learn more at the San Francisco Business Times and visit the GSBM website to participate in the survey.
Payson Library Featured in Report by Academic Impressions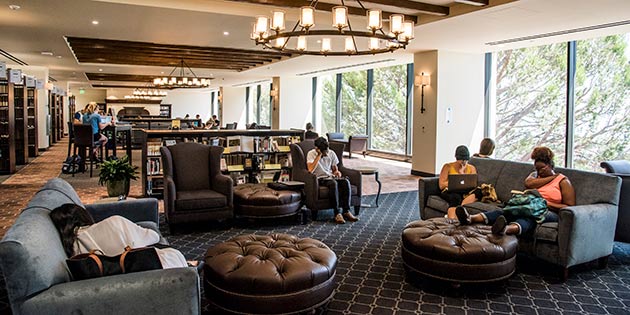 The re-envisioned Payson Library was featured in a report by Academic Impressions, a professional association for higher education. Dean of Libraries Mark Roosa described some of the most successful elements of the library's new design, including an open floorplan with natural light, a variety of study spaces and "living" rooms, and inviting features (such as a cafe) to make the building more welcoming to students.
Since opening in fall 2017, the library has enjoyed a dramatic increase in the number of visitors, received overwhelmingly positive feedback from the University community, and served as a stand-out example of library design within higher education.
"Among the more fascinating library revitalization projects we have seen recently, one that stands out is Payson Library at Pepperdine University," said Daniel Fusch with Academic Impressions. "As we took a closer look, we realized that much of the thinking that informs the Payson Library renovation is replicable and scalable for other institutions, even institutions with quite small library facilities."
According to Dean Roosa, "the idea [behind the design] is to expose students to the range of learning and social possibilities, and put them in touch directly with original materials."
Using the space strategically to promote socialization and collaborative learning was also important to Dean Roosa. "What we've done throughout is open up rooms that have traditionally been closed, so that the message that this is a place for discussion, learning, and social engagement radiates outside these walls," he said.
Read the interview in full at the Academic Impressions website for more of Dean Roosa's insights into the new library design.
Seaver Fraternity Teams Up with Greek Groups, Student Performers, and Alumni to "Conquer Paralysis Now"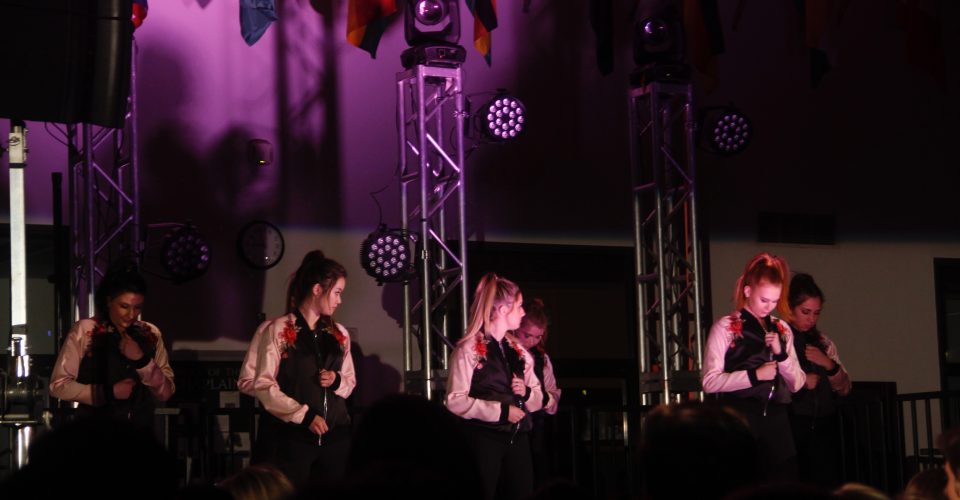 This January, Pepperdine undergraduate fraternity Psi Upsilon held their annual dance competition "Psi U Think You Can Dance," featuring 12 choreographed routines from Greek groups alongside special performances by Dance in Flight and the Pepperdine Step Team. Pepperdine students and alumni attended the event to support Conquer Paralysis Now, a charitable organization started by Psi Upsilon alumnus Sam Schmidt ('86) to find a cure for paralysis.
"Conquer Paralysis Now means helping out people who have had an unfortunate tragedy in their lives and have a particular situation where they might feel isolated from society," junior Psi Upsilon member Matthew Grindle said.
The event, a 12-year tradition for the Seaver College fraternity, includes a fundraising challenge in addition to the dance contest. Perennially popular among Seaver students, the event combines crowd-pleasing entertainment with the fulfillment of Pepperdine's service-oriented mission.
Read more about the competition at the online edition of the Pepperdine Graphic, Seaver College's student newspaper.
Honorable Judith Meyer (JD '93) to Receive Judicial Award
Pepperdine Law alumna, the Honorable Judith L. Meyer (JD '93), will be presented with the Justice Sandy Lucas Judicial Officer of the Year award at the Long Beach Bar Association's 101st Annual Installation of Officers and Governors, which will be held in early February.
Judge Meyer has enjoyed a distinguished judicial career, serving as a Superior Court Judge for Los Angeles County and presiding over criminal felony trial matters in the Long Beach Courthouse. Prior to taking the bench in 2006, she served for 13 years as a criminal prosecutor. During law school, she clerked for the United States Attorney's Office Organized Crime Strike Force and the Los Angeles County District Attorney's Office. Judge Meyer graduated magna cum laude from Pepperdine Law.
Now, after years of practicing law and teaching at other institutions, Judge Meyer will be returning to Pepperdine Law as a criminal law instructor for Pepperdine's Master of Legal Studies Program this summer. The program is focused on providing non-lawyer professionals the expertise they need to perform law-related job responsibilities and solve legal challenges.
Judge Meyer notes, "After serving as an adjunct professor for 15 years at various law schools, to have the opportunity to teach at my own alma mater is a dream come true."
More information on the Long Beach Bar Association Annual Installation and Award Program may be found at longbeachbar.org.