Alumni News

San Diego Alumni Offer Gratitude to Military Service Members
On Veteran's Day, major news organizations covered the San Diego Waves of Appreciation Bag assembly event. Founded in 2011 by Pepperdine parent Reed Reichert, this initiative aims to show appreciation to active duty service members that are traveling during the holidays.
The San Diego Waves of Service partnered with USO (United Service Organization Inc.) San Diego, fellow Pepperdine alumni, San Diego residents, local businesses, and recreational clubs to assemble 4,000 Waves of Appreciation bags. Volunteers arrived early in the morning to the San Diego International Airport Lindbergh Field to prepare bags with hearty snacks and thank you notes from community members.
NBC 7's Ramon Galindo visited Lindbergh Field at San Diego International Airport and interviewed Waves of Appreciation founder Reichert, to show viewers how and why the bags are prepared.
"It's a project that we started in 2011, so sometime just before Christmas, some Marine from Pendleton will be on the receiving end of bag number 24,000. And that's a lot of bags, a lot of handshakes, and a lot of hugs," said Reichert. "It's been a wonderful program. We do this because the USO lets us do it... This project totally relies on private funding and volunteers and it's an honor to be associated with [USO]."
The bags will be distributed throughout the month of December. Learn more, donate, or volunteer by visiting San Diego Waves of Appreciation or USO San Diego. View the footage from the event at the San Diego NBC 7 website.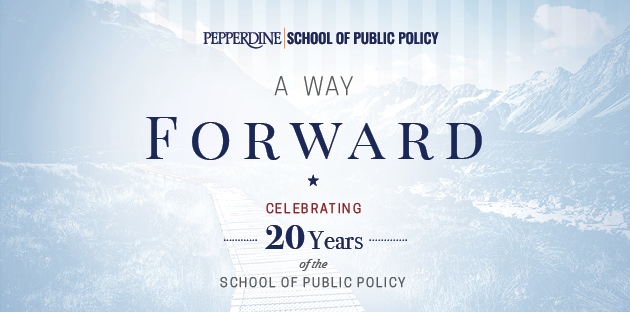 Pepperdine School of Public Policy Celebrates 20 Years 
The Pepperdine School of Public Policy celebrated its 20-year anniversary on November 4th, 2017, at the Ronald Reagan Presidential Library in Simi Valley, California. Members of the Pepperdine community—including administrators, faculty, staff, and alumni—spoke to attendees about the theme "A Way Forward."
Charity Wallace, a member of the Board of Visitors, provided the celebration's invocation. Following, Pepperdine School of Public Policy Dean Emeritus Pete Peterson (MPP '07) expounded on methods for developing "A Way Forward."
"In a time in our politics and on our campuses when the debate is squelched and opposing views—particularly conservative ones—are attacked, we will demonstrate the public virtues of civility and humility, as we welcome viewpoint diversity inside and outside the classroom," he noted. "And in a time when the American people distrust our public institutions, we will continue to prepare leaders who define every day what it means to be a 'public servant.'"
Pepperdine University President Andrew K. Benton spoke about the country's founding figures and Pepperdine School of Public Policy's pursuit to further education.
"One of the things that make our School of Public Policy unique is that it teaches its students to reward that faith, both through diligent study of our nation's founders and its history and through earnest applications of those lessons to the issues we face today."
At the celebration's conclusion, Dean Peterson expressed appreciation to the Pepperdine community.
Read more about the ceremony on the Pepperdine Newsroom.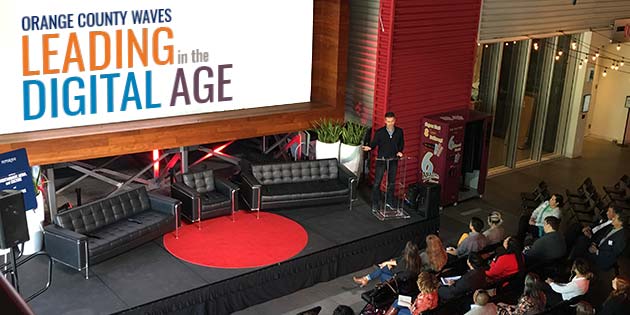 Orange County Waves Present "Leading in the Digital Age" Panel Featuring Alumni from the Graduate School of Education and Psychology
On November 9, 2017, Pepperdine held a critical panel discussion on leadership in the digital age at the graduate campus in Irvine, California. The discussion focused on a diverse range of perspectives to provide a learned examination of influential positions in the digital age. The four featured panelists provided insight on digital age leadership experience in their respective fields. Dr. Margaret Moodian and Dr. Amanda Wickramasinghe (Ed.D 2016) two graduates from the Ed.D program from Graduate School of Education and Psychology co-moderated the panel discussion.
Three of the four panelists held degrees from Pepperdine University. Each shared about their professional journeys after graduating Pepperdine and how digital media influences their roles. Panelist Tod A. Burnett (Ed.D. '05) presented strategies for developing beneficial relationships by using the dynamic tools afforded to professionals in the digital age. Lene Martin (Ed.D. '16, Ph.D. '18) discussed her work in designing communication and philanthropic strategies through the lens of cybersecurity. Lisa Perrine (MBA '92, Ed.D. '13) explained how she and fellow colleagues focus on the interplay between workplace culture and media experiences. The fifth panelist was Ron Levy, co-founder, and COO of The Crypto Company Inc. in Malibu. Levy discussed current issues surrounding the use of digital assets and cryptocurrency markets like Bitcoin.
The speakers' different perspectives led Kerri Heath, Assistant Vice Chancellor of the Graduate School of Education and Psychology, to consider the commutative and relational implications of the digital age. "The panelists did a great job explaining the current landscape of leadership in the digital age," said Heath. "Although technology is disrupting a lot of industries and artificial intelligence is replacing human labor, there was a consensus that there is an ongoing need for great leaders who can lead self-directed, decentralized teams."
Dr. Margaret Moodian (MA '08, EDD '11), moderator and Orange County Waves Chapter Leader, shared a similar observation that "the digital landscape across organizations is moving at a fast pace, thus adaptable and effective leaders are needed more than ever."

Introducing Pepperdine's 40 over 40 Alumni
Long after they have left the hallowed halls of their alma mater, Pepperdine graduates continue to pioneer groundbreaking advancements in their careers, promote goodwill and fellowship within their communities, and inspire the ever-growing global community of alumni to follow these same traditions while creating new ones of their own. Selected from hundreds of nominations these 40 alumni over the age of 40 are distinctly and successfully demonstrating the University's mission of purpose, service, and leadership through their personal passions and professional accomplishments. Follow this link  to check out the complete list of 40 over 40 Pepperdine alumni.

Pepperdine School of Law Announces $8 Million Endowment of Sudreau Global Justice Program
In September, the Pepperdine University School of Law announced the endowment of the Sudreau Global Justice Program made possible by the generosity of alumna Laure Sudreau (JD '97). The $8 million contribution is the largest single endowment gift ever to the School of Law and will help advance the profound impact of the Global Justice Program, which operates within the Herbert and Elinor Nootbaar Institute on Law, Religion, and Ethics at the School of Law.
Since 2007, the Global Justice Program has touched all corners of the globe through its initiatives in international human rights and religious freedom, advancement of the rule of law, and global development. The Sudreau Global Justice Program will support and enhance current programs while envisioning new and innovative initiatives that will create a lasting impact in the lives of the Pepperdine law community and those experiencing injustices in the world's most vulnerable places.
"We are humbled by Laure's generosity and confidence in the law school," says School of Law dean Paul L. Caron. "This gift will empower us to expand our important work bringing justice to those around the globe who desperately need the legal assistance of our students, alumni, and faculty.
Graziadio Professor and Huffington Post Contributor Shares Views on Gender Equality in the Workforce
Pepperdine faculty member Dr. Bernice Ledbetter, Chair of the Master of Science in Leadership and Management degree program at the Graziadio School of Business and Management, recently contributed to the Huffington Post, offering insights into the gender pay gap and a positive outlook on the future experience of women in the workplace.
Ledbetter recounts major shifts which have occurred for women in powerful roles over the last two years. In 2016 and 2017, many female CEOs of major companies such as, AVON, Johnson and Johnson, McCain Foods, Oreo, and Verizon stepped down and were replaced by male counterparts. Through the article, Ledbetter advocates for a greater volume of women in initiative-driven roles.
"Not only do we need to increase the number of women entering leadership positions, we need to make sure that when a woman steps down that she is replaced by an equally qualified woman," she states. "This is how we are going to shatter the glass ceiling once and for all."
Although disheartened by statistics regarding women in leadership positions, Ledbetter believes 2018 will bring forth positive changes.
"New organizations such as Leaders in Tech are being formed to make predominately male industries – such as the tech industry in Silicon Valley - more friendly to women. And there are several organizations that are working to get more women on corporate boards including 2020 Women on Boards, a national campaign dedicated to increasing the percentage of women on corporate boards to 20% by 2020. The Rockefeller Foundation is also doing important work through its 100×25 campaign to reach its goal of 100 women CEOs of Fortune 500 companies by 2025."
Ledbetter hopes the intentional pursuit of female CEO's and leadership by companies will allow women greater mobility and influence in the workplace, and that younger millenials will find greater success in business. Ledbetter believes education is key to helping women achieve career success and equality in the workplace.
Read Bernice Ledbetter's entire article at Pepperdine Newsroom and the Huffington Post.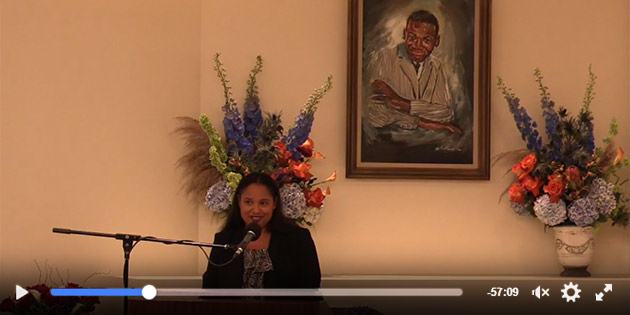 Pepperdine Rededicates Portrait of Youth Killed on Campus in 1969
On September 20, 2017, the Pepperdine community held a rededication ceremony of a portrait in Payson Library depicting Larry Donnell Kimmons, who was fatally shot on Pepperdine's South Los Angeles campus in 1969.
Kimmons was only 15 years old when he was tragically shot and killed by a George Pepperdine College security guard on March 12, 1969. A neighborhood resident, Kimmons was visiting the campus with a group of friends to use the gym when he was detained and shot by security guard William Charles Lane.
The incident brought turmoil to a campus located only a few miles from the Watts riots that occurred less than four years earlier. In 1971, Kimmons' portrait and an accompanying plaque were hung on the library wall; however, both were lost in the University's move to Malibu, and many institutional documents related to the racial tensions of the 1960s were left disorganized and unread, according to this 2016 article from the student newspaper Pepperdine Graphic.
The rededication ceremony served as an act of "critical remembrance" and featured heartfelt words from multiple speakers, including Candace Jones Mitchell ('99, MA '03), who dedicated her master's thesis to Kimmons, paving the way for his life to be enduringly commemorated on Pepperdine's Malibu campus." Larry Kimmons changed my life, as a student, as a Christian, even today as a mother of a young black son," said Mitchell during the dedication. "This memorial inspires us to continue our pursuits of justice. Black lives mattered in 1969, black lives matter in 2017, and with all that goes on today in our country, let this memorial serve as a reminder that we still have work to do." View the entire ceremony here.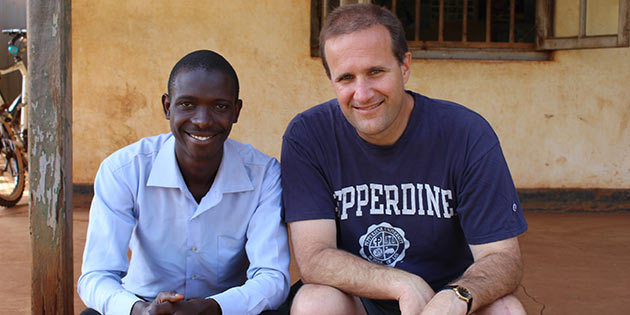 School of Law Alumnus Featured in Documentary about Groundbreaking Criminal Justice Reform in Uganda
Pepperdine alumnus, School of Law professor, and Associate Dean Jim Gash (JD '93) will be featured in the documentary REMAND, airing nationally on KCET this October.
Produced by Revolution Pictures and narrated by acclaimed actor Angela Bassett, REMAND follows the life of Tumusiime Henry, a Ugandan teenager, who served two years in prison for murders he didn't commit. Gash served as Henry's attorney in a case that helped reform the Ugandan criminal justice infrastructure. The documentary follows Gash, the first American lawyer ever to plead a case in a Ugandan court, and the impact of his work in helping tens of thousands of Ugandan prisoners.
"We believe God collided our lives in ways that changed us both and changed a system as well," says Gash.
REMAND airs nationally Wednesday, October 18 at 7 PM PT/10 PM ET on KCET (Southern California) and Link TV (DirecTV 375 and Dish Network 9410). Read the BBC's 2016 article for more background on Gash and Henry's story.
Graziadio Dean Hosts Dialogue with President of Dallas Fed on the Economy and Monetary Policy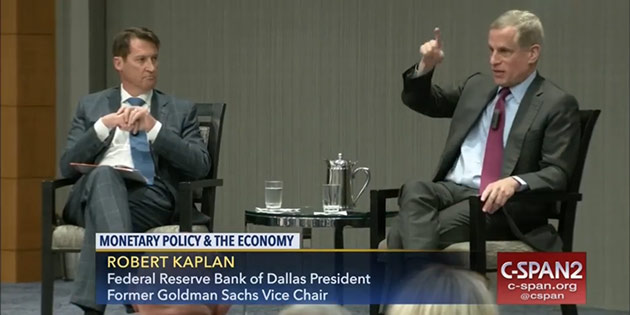 On September 5, 2017, C-SPAN broadcast a dialogue about Economic Conditions and the Role of Monetary Policy between Deryck van Rensburg, Dean of Pepperdine Graziadio School of Business and Management, and Robert Kaplan, the current President of the Federal Reserve Bank of Dallas and former Goldman Sachs Vice Chair.
Presented by the Dallas Business Club and sponsored by the Graziadio School, the discussion covered an array of topics, including the current state of global economy, monetary policy in the future of the global economy, and the intricacies of the US economy.
Advocating for policies that increase workforce participation to improve US productivity, Kaplan suggested as priorities "getting more women into the workforce" and "improving skills training," elaborating that "there are many more skilled job openings than the supply of workers." Additionally, Kaplan asserted that "immigration is an essential and distinctive competence of the United States and its one of the reasons we have been able to grow over many decades."
Watch Kaplan and van Rensburg's full discussion on C-SPAN here.
Waves Weekend 2017 set for October 13 to 15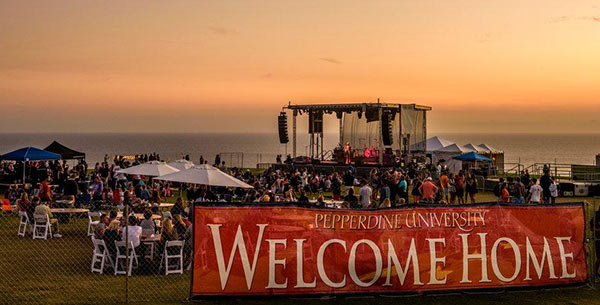 This October, Pepperdine will present the 8th annual Waves Weekend, celebrating 80 years of Waves by inviting alumni and their families to Malibu for homecoming festivities. Scheduled activities include Blue & Orange Madness, Waves sporting events, and lessons in surfing, kayaking, and stand-up paddleboarding. Alumni reunions will be hosted across Malibu for International Programs, Student Journalism, Pepperdine Sweethearts, Seaver classes of 1987, 1997, 2007, and 2012, and many more. The centerpiece of the weekend will be the Saturday evening concert in Alumni Park, featuring a headlining artist to be announced soon.
"We're so excited to welcome Pepperdine alumni and families back for this great tradition," says Matt Ebeling ('99), Executive Director of Alumni Relations for Seaver College and George Pepperdine College. "This year promises to be something special." Read more at the Waves Weekend website.
Renovated Payson Library brings New Technology and Design to Malibu Campus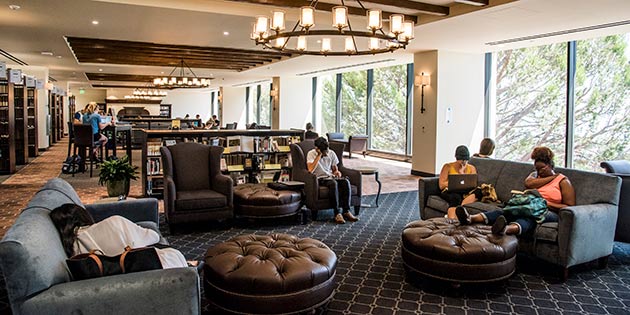 In August, Pepperdine celebrated the opening of the newly renovated Payson Library, designed to feature better technology, more resources, and increased communal learning spaces. Features include upgraded study spaces, an open floor plan with abundant natural light, and a brand new "maker space" with 3D printers and virtual reality technology. The library also houses a coffee shop with an outdoor patio, increased seating throughout the building, and a special collections area optimized for conservation, digitization, and research.
Pepperdine Alumni can access library resources, including special collections and online databases, by visiting campus in person and presenting an Alumni ID card.
The library renovations are part of the Campus Life Project, a multi-year initiative to upgrade campus facilities. Construction is currently underway on the School of Law auditorium and atrium, the 458-bed Seaside Residence Hall, and an enhanced outdoor student recreation area. Read more about the Campus Life Project here.
Weisman Museum to Celebrate 25th Anniversary with "California Dreaming" Exhibition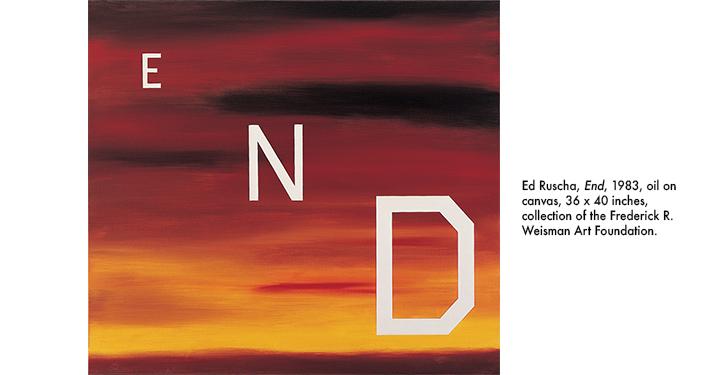 The Frederick R. Weisman Museum of Art at Pepperdine University will celebrate its 25th anniversary through the new exhibition, California Dreaming: Selections from the Frederick R. Weisman Art Foundation from August 29 through December 10. To mark the occasion, the museum will host a preview opening reception Sunday, August 27, from 4 to 6 PM, and a 25th anniversary party on Tuesday, September 26, from noon to 8 PM.
The exhibit will focus on California art from the 1960s to the present, with an emphasis of the historic period of the 60s through the 80s. California Dreaming was curated by Billie Milam Weisman and is supported by the Frederick R. Weisman Art Foundation and an anonymous donor.
The museum is open Tuesday through Sunday, from 11 AM to 5 PM, and admission is free. Read more at Pepperdine Newsroom.