Alumni News
Fox Sports West Highlights New Pepperdine Classroom at STAPLES Center in Downtown LA
Esteemed members of the AEG and Pepperdine University communities gathered at the STAPLES Center on October 18, 2018, to celebrate the grand opening of a branded classroom part of an innovative partnership designed to meet the demand for graduate and undergraduate level educational offerings in the sports and entertainment industries. As part of the October 18 presentation of LA Kings Live, Fox Sports West featured the classroom and its grand opening in an on-air spotlight. View the broadcast here on the Fox Sports website.
The first-of-its-kind classroom, located within the iconic sports and entertainment venue, will provide Pepperdine students enrolled in sports- and entertainment-focused programs the opportunity to gain hands-on experience through a series of courses and events, including an AEG "best-in-class" speaker series, as they are exposed to the inner workings of one of the world's most successful arenas. Read more about the classroom and Pepperdine's AEG partnership here.
Two Pepperdine Alumnae Honored by Forbes
Alumnae Elyse Burden ('10) and Megan Caywood ('12) were recently featured in the 2018 editions of Forbes "30 Under 30" and "30 Under 30 - Europe," two annual listings of notable individuals spanning multiple industries and continents.
After earning a degree in Political Science at Seaver College, Burden, 29, founded a non-profit e-commerce platform called Real World Scholars to help young, would-be entrepreneurs make their business dreams into reality. Read more about her at Forbes 30 Under 30 list for the education industry.
Caywood, 30, received her degree in Psychology at Seaver College. She now serves as the chief platform officer for Starling Bank, a UK-based institution working to disrupt the world of finance with unique mobile-first offerings. Read more about her at Forbes 30 Under 30 - Europe list for finance.
Alumni Profile: Shivaune Field (MBA '17),  Forbes Columnist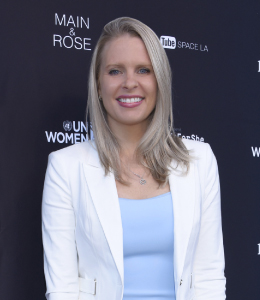 Shivaune Field (MBA '17) was recently published by Forbes, profiling model and entrepreneur Karlie Kloss and her mission to celebrate women in STEAM (Science Technology Engineering Art Math). Field's feature is part of her regular contribution to the column Women@Forbes.
A current doctoral student at the Graduate School of Education and Psychology, Field is fascinated by culture, leadership, behavioral economics, and entrepreneurship. She hosts a podcast on artificial intelligence and leadership skills required in the future, and was a 2016 co-chair of the UN Women L.A. Media Summit in support of HeForShe, an initiative focused on gender equality in the media. Field founded the Demeter Group in 2016 and is currently writing her first book.
New Seaver College Residence Hall to Open in August
Pepperdine student newspaper The Graphic recently featured the newest addition to Pepperdine's Malibu campus facilities, the Seaside Residence Hall. The hall is on schedule for completion in time for the start of the fall 2018 semester.
The 458-person, suite-style residence hall will consist of three connected buildings, each with their own entry and style. The new dorm is part of the university's strategic plan "Pepperdine 2020: Boundless Horizons," includes the goal to "improve residential life through the new Campus Life Project that will include the construction a new residence hall for juniors."
The new residence hall will include features such as a community kitchen, large outdoors spaces, and other areas dedicated to providing a platform for social connection. Construction of this new facility is part of Pepperdine's Campus Life Project. 
Pepperdine to Host California Teacher Summit in Los Angeles
The California Teachers Summit aims to give today's educators a voice in their own learning and an opportunity to share their ideas, and to connect them with a professional network to personalize learning for themselves and the students they serve. On July 27, Pepperdine's Graduate School for Education and Psychology will host the fourth annual "Better Together: California Teachers Summit" in Los Angeles.
The Summit brings new and seasoned teachers together at more than 30 locations across the state to provide personalized learning experiences designed to strengthen the regional teacher network. The Summit will feature keynote speaker Sir Ken Robinson along with presentations, panels, lectures, and discussions led by California teachers. Designed to foster learning through interaction, the format encourages peer-to-peer dialogue and direct engagement with the material.
Learn more and register for the Pepperdine-hosted summit in Los Angeles.
Ashley Campbell ('09) to Perform at Pepperdine with Jimmy Webb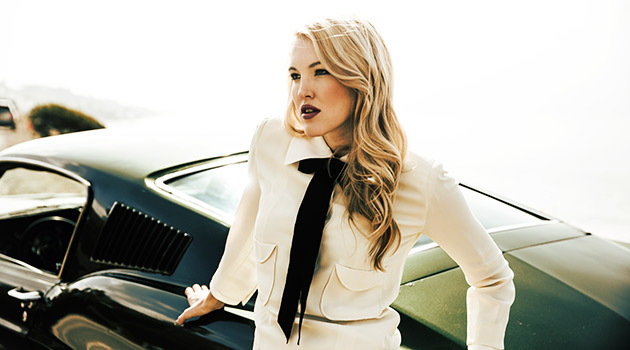 Ashley Campbell ('09) has followed a unique path leading up to the release of her debut album "The Lonely One." Released in the US on May 11, the album is the culmination of eight years in Nashville spent honing her banjo skills alongside country and bluegrass legends. This September, Ashley will perform with her father Glen Campbell's long-time collaborator Jimmy Webb to open the 2018-19 season for Pepperdine's Lisa Smith Wengler Center for the Arts.
Originally interested in acting, Ashley enrolled in Seaver College's Theatre Arts program in 2005. While she had sung, played the piano and guitar, and learned other instruments over the years, it was at Pepperdine that she first discovered her love for the banjo. She was tasked with learning the instrument for a role in The Kentucky Cycle at the Edinburgh Fringe Festival with the Pepperdine Theatre program in 2008.
After graduating, she continued to pursue acting, performing for a time with The Groundlings comedy group in Los Angeles. But she continued practicing the banjo and later accompanied her father on his 2011-12 tour.
She then moved to Nashville, where she's been performing at many different venues, including the Grand Ole Opry. Before performing at Pepperdine on September 22, she will embark on a European tour including dates in the UK, Spain, Germany, and the Netherlands.
The full 2018-19 season for the Lisa Smith Wengler Center for the Arts will be released on Monday, June 11, when tickets go on sale for season subscribers. Pepperdine alumni receive a 10% discount on select tickets when purchasing directly through the box office. For more information, visit the Center for the Arts online.
Pepperdine Accepting Nominations for Outstanding Alumni Abroad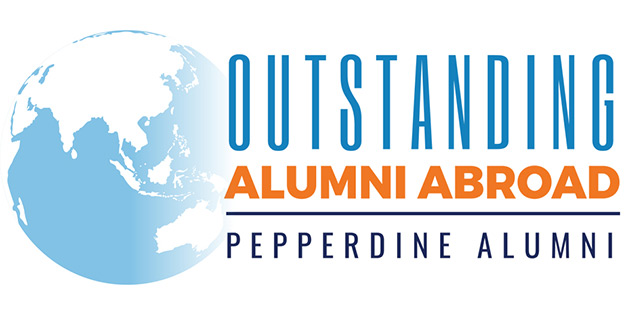 Pepperdine recently launched a new campaign titled Outstanding Alumni Abroad, searching for extraordinary alumni from all over the world. The entire Pepperdine community is invited to nominate alumni living outside the US and making remarkable achievements in vocation, service, or philanthropy. The campaign seeks "to find stories of incredible alumni living our mission as they cross boundaries and transform communities in every corner of the globe."
Nominations are now being accepted through June 26, 2018. To be considered, nominees must be a degreed alumnus from any Pepperdine school, a citizen or permanent resident of a country outside of the United States, and permanently reside in a country outside of the United States. Follow this link to nominate yourself or someone you know.
Graziadio Business School Announces New Executive Doctorate Program
Pepperdine Graziadio Business School recently announced the launch of the Executive Doctor of Business Administration (DBA) as the latest addition to the school's portfolio of advanced degree programs.
The Executive DBA is designed to deepen and sharpen students' professional knowledge and help them tackle challenging business issues through rigorous applied research. The program requires six residential sessions in the first two years, with the third year available for a focus on research and the completion of a dissertation or set of themed publishable papers to complete the degree.
The Graziadio School is seeking applicants with substantial work experience, graduate degrees in business or a related field, and a high level of intellectual curiosity. Admitted students will be provided with the opportunity to make significant contributions through practice-oriented research.
For more information about the new degree program, visit the Graziadio Business School's website.
Alumna Honored by Association of Latino Professionals for America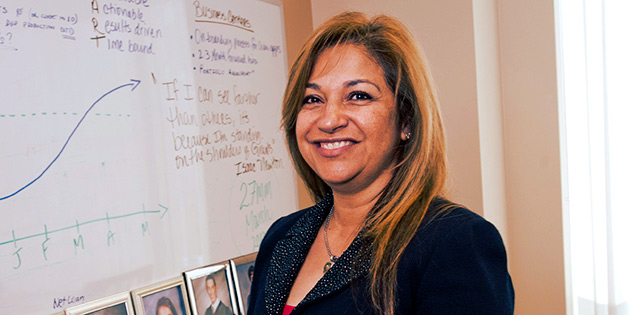 Dr. Betty Uribe (MBA '00, EDD '12) was recently honored by the Association of Latino Professionals for America as one of the 50 Most Powerful Latina Women in Business.
Dr. Uribe has three decades of experience in the financial industry. In her current role as the Executive Vice President at California Bank & Trust (CB&T), she leads Commercial and Personal Banking throughout Southern California. Under her leadership, CB&T has been named the best bank in Orange County for the past four years, according to the Orange County Register.
Her work as a speaker, consultant, and coach specializing in the area of "Values Based Leadership" has been recognized around the world, and her work has been published in four continents. She recently published the bestselling book #Values: The Secret to Top-Level Performance in Business and Life.
In addition to being the parent of a current student at Seaver College, she chairs the Board of Visitors for Pepperdine's Graduate School of Education and Psychology. Dr. Uribe will be honored as the 2018 Education Distinguished alumnus for the Graduate School of Education and Psychology.
Dr. Uribe shared some of the most helpful advice she's received in her career: "Become a life learner (of yourself) with humility and grace, and give it away to the people who will make this world a better place."
Visit Fortune.com to see where she ranked and explore the rest of the list.
Pepperdine Alumna Selected as Director of Seaver College London Program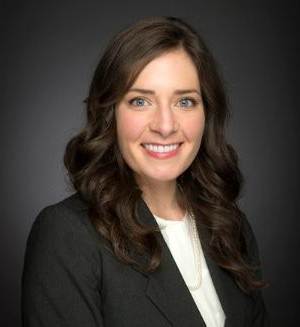 Pepperdine alumna Heather Pardee ('08) was selected as the Program Director for the London Campus operated by Seaver College International Programs. She will move to London this summer with her husband, Dr. Cambry Pardee ('07), professor of Religion at Pepperdine.
The university's Dean of International Programs Charles Hall announced Pardee's appointment on March 22, saying, "Among the 82 applicants for the London director position, Heather stood out from the very beginning of the search process."
"I am so proud of the ways that Pepperdine is leading in the field of international education, and I am honored to continue building this legacy of Pepperdine students living and learning abroad," said Pardee. "I have had the opportunity to contribute to a wide variety of international programs and to work closely with dozens of faculty directors who have been leading study abroad programs for decades."
Before beginning her current position as Associate Director of Travel Study programs in the UCLA International Education Office, Pardee earned a master's degree in Linguistics at Northeastern Illinois University in Chicago to complement her BA in French and International Studies from Seaver College. As a Pepperdine student, she studied abroad through International Programs' previous French language program in Lyon, France.
Pardee said one thing she is most excited about is being able to share the study abroad experience with the students.
"There is something magical about living abroad for the first time, and I am looking forward to witnessing those moments of magic," Pardee said. "Living abroad can also be surprisingly challenging, and I hope to be a guide for Pepperdine students as they learn to navigate a new country and culture."
Read more at the website for the Graphic, Seaver College's student newspaper.
New York Times Profiles Caroline MacDonald (MBA '13)
This April, the New York Times profiled Caroline MacDonald (MBA '13), Rosewood Hotel Group's vice president of sales and marketing for the Americas and Europe.
After graduating from high school, MacDonald enlisted in the Air Force and served for six years, attaining the rank of Staff Sergeant while stationed in Germany and Spain. The Air Force quickly identified her strong aptitude for leadership and developed her skills in programming and systems alongside less tangible--but equally important--talents and abilities.
"The military refined my critical assessment and leadership skills, and taught me discipline and teamwork," says MacDonald. While in Europe, she also earned a degree in systems management from the University of Maryland overseas extension programs.
In the following years, she explored various programming jobs before advancing her career through increasingly prominent positions at major resorts and boutique hotels, eventually earning her executive MBA in the same year she became Chief Marketing Officer for Auberge Resorts.
Today, she stays connected to her own values through service to the community, volunteering for the nonprofit Share a Meal and serving on the board of Chrysalis.
To learn more about MacDonald's unique story and career path, visit the New York Times online.