Alumni News
Pepperdine Holds Second Annual Give2Pepp Day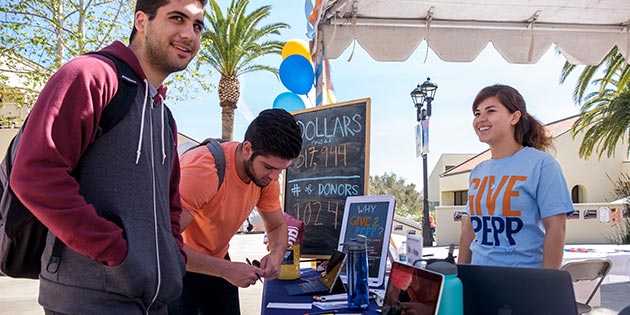 On March 7, 2018, Pepperdine will undertake Give2Pepp, the University's second annual giving day. Each of Pepperdine's five schools will be working to raise funds for areas of need, with the school that garners the best alumni participation winning an additional award to support student scholarships. Last year, School of Public Policy alumni brought home the prize with the highest participation rate.
Staff from the Pepperdine Fund will be visiting multiple campuses across the Los Angeles area to share the Give2Pepp experience. Highlights include the School of Public Policy Happy Hour Challenge, where faculty and staff will attempt to repeat their alumni participation victory, and therapy dogs visiting the West Los Angeles campus, coordinated by the Graduate School of Education and Psychology.
"I'm so excited to be able to invite the entire Waves family to join us for our second Give2Pepp," said Laura Fehlbaum, Assistant Director of Pepperdine Fund Programs. "I think everyone will love what we have in store for them to show our gratitude for their support and really celebrate what Pepperdine means to us."
On March 8, 2017, the Pepperdine Fund raised over $500,000 with the help of over 3,000 donors, including alumni, faculty, staff, students, parents, and friends. This year, the team hopes to exceed those numbers, with the aspirational slogan for Give2Pepp 2018 "bigger and better."
"We have our work cut out for us, but I'm confident we can do it," said Fehlbaum.
Give2Pepp starts Wednesday, March 7. Visit the Give2Pepp website to find out more.

Office of the Provost Accepting Nominations for Howard A. White Award for Teaching Excellence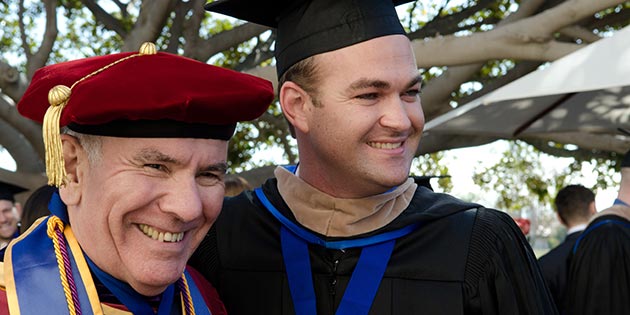 Through March 31, 2018, Pepperdine's Office of the Provost will be collecting nominations for the Howard A. White Award for Teaching Excellence, recognizing outstanding teachers who embody Pepperdine University's commitment to excellence.
Named for the fifth president of Pepperdine University, Dr. Howard A. White, the award honors teachers who inspire, stimulate, challenge, and motivate their students. Eight full-time faculty members will be honored, with both tenured and non-tenured professors from all five schools eligible for the award.
Nominations for the 2018 awards will be accepted through March 31, 2018, and the results will be announced in October.
Follow this link to learn more about the Howard A. White Award for Teaching Excellence and to nominate a deserving faculty member for the award.
Pepperdine's Peate Institute for Entrepreneurship Seeks Most Fundable Companies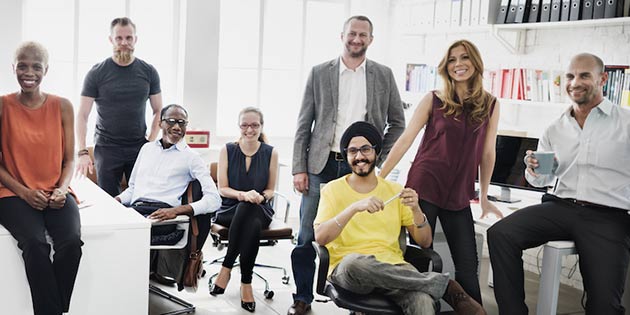 Pepperdine's Graziadio School of Business and Management (GSBM), in partnership with The Venture Alliance (TVA), recently launched the Most Fundable Companies List, a transformative experience for early-stage entrepreneurs to assess and improve their readiness for private investment. Entrepreneurs who participate will be provided a free, customized, data-driven roadmap to make their company investable. The Most Fundable Companies List will also assist investors in identifying fundable startups.
Qualified startups (less than five years old with less than $10 million in revenue) are invited to take a free, proprietary qualifier survey. After completing the survey, entrepreneurs will receive a customized report on their company and guidance about what they can do to attract investors. The report includes a Radar Graph from TVA which is a unique graphical snapshot benchmarking startups to an ideal competitor in their industry at a similar stage of development across 12 key dimensions.
"The vast majority of startups would benefit from data-driven company analysis that details how they stack up and what can be done to improve their chances of attracting investors," said Deryck J. van Rensburg, dean of GSBM. "We're aiming to bridge the widening gap between early-stage U.S. companies and the capital they need to succeed by helping entrepreneurs think about how to structure their business so they are valued as worthy of investment."
Learn more at the San Francisco Business Times and visit the GSBM website to participate in the survey.
Payson Library Featured in Report by Academic Impressions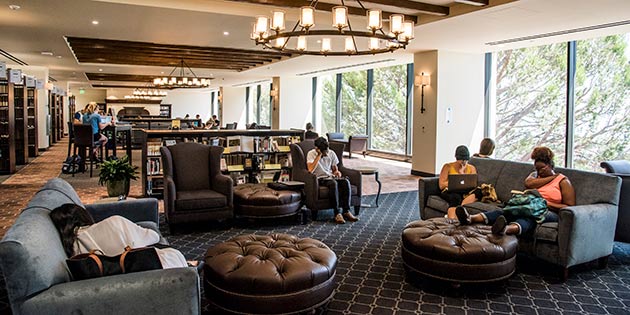 The re-envisioned Payson Library was featured in a report by Academic Impressions, a professional association for higher education. Dean of Libraries Mark Roosa described some of the most successful elements of the library's new design, including an open floorplan with natural light, a variety of study spaces and "living" rooms, and inviting features (such as a cafe) to make the building more welcoming to students.
Since opening in fall 2017, the library has enjoyed a dramatic increase in the number of visitors, received overwhelmingly positive feedback from the University community, and served as a stand-out example of library design within higher education.
"Among the more fascinating library revitalization projects we have seen recently, one that stands out is Payson Library at Pepperdine University," said Daniel Fusch with Academic Impressions. "As we took a closer look, we realized that much of the thinking that informs the Payson Library renovation is replicable and scalable for other institutions, even institutions with quite small library facilities."
According to Dean Roosa, "the idea [behind the design] is to expose students to the range of learning and social possibilities, and put them in touch directly with original materials."
Using the space strategically to promote socialization and collaborative learning was also important to Dean Roosa. "What we've done throughout is open up rooms that have traditionally been closed, so that the message that this is a place for discussion, learning, and social engagement radiates outside these walls," he said.
Read the interview in full at the Academic Impressions website for more of Dean Roosa's insights into the new library design.
Seaver Fraternity Teams Up with Greek Groups, Student Performers, and Alumni to "Conquer Paralysis Now"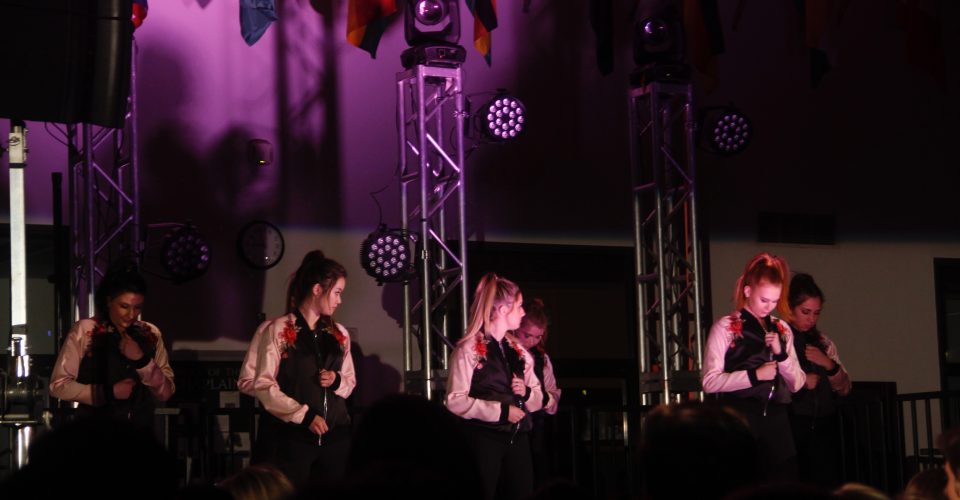 This January, Pepperdine undergraduate fraternity Psi Upsilon held their annual dance competition "Psi U Think You Can Dance," featuring 12 choreographed routines from Greek groups alongside special performances by Dance in Flight and the Pepperdine Step Team. Pepperdine students and alumni attended the event to support Conquer Paralysis Now, a charitable organization started by Psi Upsilon alumnus Sam Schmidt ('86) to find a cure for paralysis.
"Conquer Paralysis Now means helping out people who have had an unfortunate tragedy in their lives and have a particular situation where they might feel isolated from society," junior Psi Upsilon member Matthew Grindle said.
The event, a 12-year tradition for the Seaver College fraternity, includes a fundraising challenge in addition to the dance contest. Perennially popular among Seaver students, the event combines crowd-pleasing entertainment with the fulfillment of Pepperdine's service-oriented mission.
Read more about the competition at the online edition of the Pepperdine Graphic, Seaver College's student newspaper.
Honorable Judith Meyer (JD '93) to Receive Judicial Award
Pepperdine Law alumna, the Honorable Judith L. Meyer (JD '93), will be presented with the Justice Sandy Lucas Judicial Officer of the Year award at the Long Beach Bar Association's 101st Annual Installation of Officers and Governors, which will be held in early February.
Judge Meyer has enjoyed a distinguished judicial career, serving as a Superior Court Judge for Los Angeles County and presiding over criminal felony trial matters in the Long Beach Courthouse. Prior to taking the bench in 2006, she served for 13 years as a criminal prosecutor. During law school, she clerked for the United States Attorney's Office Organized Crime Strike Force and the Los Angeles County District Attorney's Office. Judge Meyer graduated magna cum laude from Pepperdine Law.
Now, after years of practicing law and teaching at other institutions, Judge Meyer will be returning to Pepperdine Law as a criminal law instructor for Pepperdine's Master of Legal Studies Program this summer. The program is focused on providing non-lawyer professionals the expertise they need to perform law-related job responsibilities and solve legal challenges.
Judge Meyer notes, "After serving as an adjunct professor for 15 years at various law schools, to have the opportunity to teach at my own alma mater is a dream come true."
More information on the Long Beach Bar Association Annual Installation and Award Program may be found at longbeachbar.org.
Alumni Spotlight: Lorraine Hill Brinton ('60), Volunteer and Community Leader
Alumna Lorraine Hill Brinton ('60) has always found inspiration from Pepperdine's motto "Freely ye received, freely give."
"I've had a very fulfilling life," Brinton says. "I've enjoyed all the organizations that I've been able to contribute to."
After spending four years at Pepperdine's original Vermont Avenue campus, Brinton graduated from George Pepperdine College with a degree in psychology. Since then, she has dedicated the majority of her time to nonprofits and other organizations in need. Her service included a two-year stint as president of Pepperdine's Alumni Board, part of a long history of support to her Alma Mater.
"We always kept a place for Pepperdine in our hearts," says Brinton.
When asked for her advice to other alumni, she had a simple recommendation: "Get involved in your community."
"I've had the pleasure of planning many special events for organizations I've been associated with," she elaborated. But she's not done yet--she's sticking by her commitment "to help organizations in ways that [she's] still able."
In 2017, Lorraine Hill Brinton was honored as part of Pepperdine's inaugural "40 over 40" campaign. Read more about her experience here, or learn about the other 39 honorees.
Dr. Cornel West to Present in 2018 as Part of Distinguished Lecture Series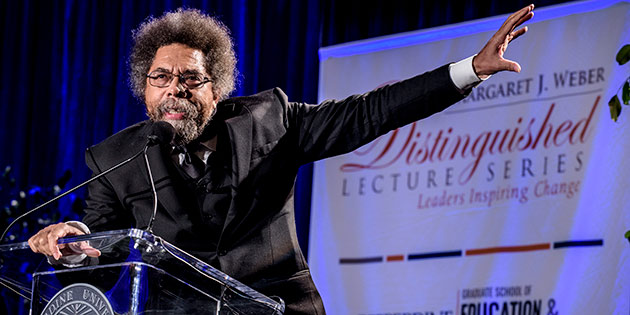 GSEP welcomes back Dr. Cornel West, professor, philosopher, author, and activist to speak at the Margaret J. Weber Distinguished Lecture Series for the second year in a row. On Friday, March 9, 2018, in Los Angeles, Dr. West will offer a lecture on the series' theme of "Civility: The Intersection of Faith, Intellect, and Culture" and how it distinctly relates to his work Prophetic Fire, a novel which examines the nineteenth and twentieth-century African American leader and the influence of their cultural bequests.
Dr. West is now a visiting professor at GSEP for the spring semester, teaching classes in the Doctorate of Philosophy in Global Leadership and Change and Doctorate of Education in Organizational Leadership programs. GSEP dean Helen Easterling Williams believes West will make a valuable addition to the faculty, saying, "It is the responsibility of higher education to serve as a facilitator of such conversations, and it [is] GSEP's pleasure to meet this need."
In pursuit of his public mission "to keep alive the legacy of Martin Luther King, Jr. -- a legacy of telling the truth and bearing witness to love and justice," Dr. West has published more than 20 books, including critically praised recent works The Black Prophetic Fire and The Radical King.
Dr. West has assumed many leadership roles in education and social justice. West was recently appointed Professor of Philosophy and Christian Practice at Union Theological Seminary. And he holds emeritus status at Princeton. In addition, West has been an instructor at the University of Paris, Harvard, and Yale.
Pepperdine alumni are invited to attend. To register and for more information, visit the Margaret J. Weber Distinguished Lecture Series webpage.
Pepperdine Seaver College Introduces Course in Philanthropy for Social Change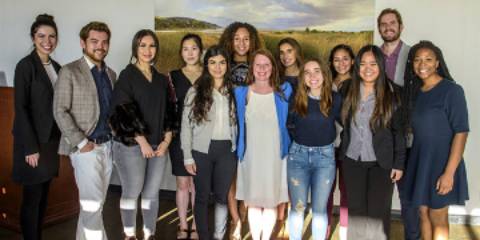 This past fall, Seaver College welcomed students to the inaugural Philanthropy for Social Change course. Throughout the course, students researched and selected four Philanthropic organizations to support by presenting funds at the end of the semester.
On December 6, 2017, students presented each organization with funds ranging from $6,000 to $8,500 during a ceremony and reception. Senior Lizzi Lowe presented funding to Food Forward, an organization that reduces food waste by redirecting unused produce to those in need. Junior Michelle Maemone funded Reid's Gift, a nonprofit which helps individuals with disabilities through a variety of therapeutic approaches. Senior Katrina Winnett presented a check to the Hospice of the Conejo, which supports families facing end-of-life matters. Junior Hannah Robert provided funding to the last nonprofit selected, Golden Heart Ranch, supporting children and young adults with intellectual and developmental disabilities.
Instructor Peter Thompson, who also serves as the director of the Pepperdine Volunteer Center, developed the class to concentrate on the principles behind philanthropy and the research required to identify and support organizations that make positive contributions to the communities they serve.
"The outcomes of this course became personal for the students. It went beyond getting a grade, and the connections in the community and with the amazing people at the organizations they researched became paramount," Thompson said. "The effort they put into the course was evident as they awarded real money to organizations and people making a real difference."
Funding for the Philanthropy for Social Change was provided by Dale ('64) and Rita Brown and facilitated through a partnership between Pepperdine University and the Philanthropy Lab. Read more about the Philanthropy for Social Change course and the charitable organizations mentioned above at Pepperdine Newsroom.
Alumni Spotlight: Stacey A. Gordon (MBA '07), Founder & CEO of Rework Work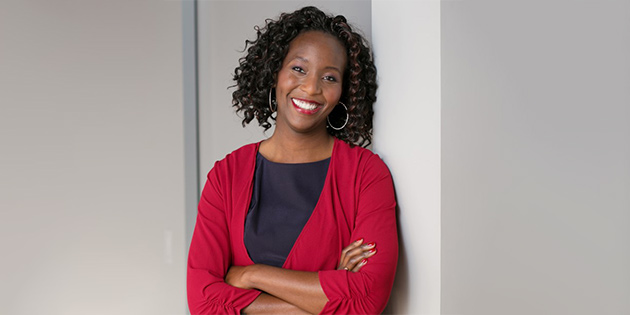 Alumna Stacey Gordon (MBA '07) isn't shy about her professional ambitions: "I'm going to change the world." Her confidence is understandable--for years, she has worked hard to improve the lives of women and professionals of color by offering both employers and job-seekers resources to make the workplace more equitable.
"One of the most significant accomplishments of my career is having the opportunity to impact people's lives by making unconscious bias [training] accessible online around the world," said Gordon. In addition to other training and consulting, her company Rework Work offers online courses on eliminating unconscious bias in recruitment practices. Other areas of focus include building retention programs and improving corporate culture to foster workplace diversity.
"What inspires me is how easily the right word or act can catch on and affect us," said Gordon. "I receive emails and messages every day from people who have watched the course online...[and] changed their behavior or their minds. It's humbling to know something so small can have such a large impact."
While she is confident she is on the right path to effect positive change, Gordon acknowledges that there are always opportunities for personal improvement. Her advice to fellow alumni? "Be humble enough to learn."
In 2017, Gordon was honored as part of Pepperdine's inaugural "40 over 40" campaign. She has recently joined the Alumni Leadership Council, representing the alumni community to advise the University on engagement and communication efforts. Read more about her work here and learn about her company at their website.

San Diego Alumni Offer Gratitude to Military Service Members
On Veteran's Day, major news organizations covered the San Diego Waves of Appreciation Bag assembly event. Founded in 2011 by Pepperdine parent Reed Reichert, this initiative aims to show appreciation to active duty service members that are traveling during the holidays.
The San Diego Waves of Service partnered with USO (United Service Organization Inc.) San Diego, fellow Pepperdine alumni, San Diego residents, local businesses, and recreational clubs to assemble 4,000 Waves of Appreciation bags. Volunteers arrived early in the morning to the San Diego International Airport Lindbergh Field to prepare bags with hearty snacks and thank you notes from community members.
NBC 7's Ramon Galindo visited Lindbergh Field at San Diego International Airport and interviewed Waves of Appreciation founder Reichert, to show viewers how and why the bags are prepared.
"It's a project that we started in 2011, so sometime just before Christmas, some Marine from Pendleton will be on the receiving end of bag number 24,000. And that's a lot of bags, a lot of handshakes, and a lot of hugs," said Reichert. "It's been a wonderful program. We do this because the USO lets us do it... This project totally relies on private funding and volunteers and it's an honor to be associated with [USO]."
The bags will be distributed throughout the month of December. Learn more, donate, or volunteer by visiting San Diego Waves of Appreciation or USO San Diego. View the footage from the event at the San Diego NBC 7 website.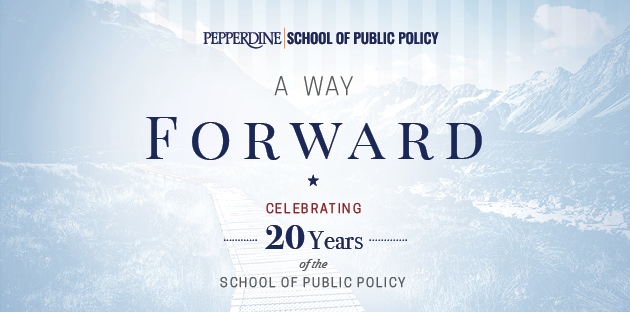 Pepperdine School of Public Policy Celebrates 20 Years 
The Pepperdine School of Public Policy celebrated its 20-year anniversary on November 4th, 2017, at the Ronald Reagan Presidential Library in Simi Valley, California. Members of the Pepperdine community—including administrators, faculty, staff, and alumni—spoke to attendees about the theme "A Way Forward."
Charity Wallace, a member of the Board of Visitors, provided the celebration's invocation. Following, Pepperdine School of Public Policy Dean Emeritus Pete Peterson (MPP '07) expounded on methods for developing "A Way Forward."
"In a time in our politics and on our campuses when the debate is squelched and opposing views—particularly conservative ones—are attacked, we will demonstrate the public virtues of civility and humility, as we welcome viewpoint diversity inside and outside the classroom," he noted. "And in a time when the American people distrust our public institutions, we will continue to prepare leaders who define every day what it means to be a 'public servant.'"
Pepperdine University President Andrew K. Benton spoke about the country's founding figures and Pepperdine School of Public Policy's pursuit to further education.
"One of the things that make our School of Public Policy unique is that it teaches its students to reward that faith, both through diligent study of our nation's founders and its history and through earnest applications of those lessons to the issues we face today."
At the celebration's conclusion, Dean Peterson expressed appreciation to the Pepperdine community.
Read more about the ceremony on the Pepperdine Newsroom.