Engage: Navigating Hollywood's Shifting Landscape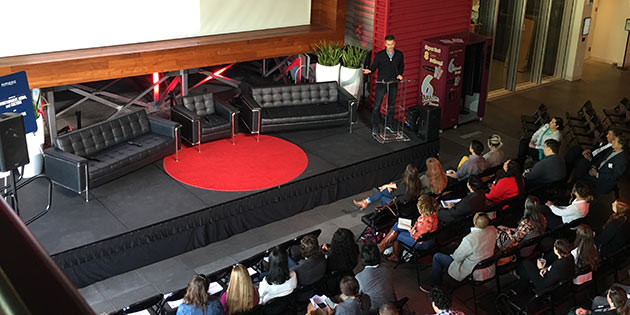 Friday, November 3, 2017 • 2:30 PM to 6:00 PM
Fairmont Miramar Hotel in the Starlight Ballroom, Santa Monica, CA
Join Pepperdine Alumni Affairs and Pepperdine's Institute for Entertainment, Media, and Culture (iEMC) for their signature diversity and inclusion event Engage, where creative entrepreneurs have the opportunity to learn from high profile industry professionals. On the occasion of the American Film Market, Pepperdine alumni are invited to attend a series of resourceful and interactive panels that will discuss invaluable insider information about film, television, and the new media landscape from a diverse group of prominent entertainment industry professionals.
---

Follow this link for full speaker biographies and panel information.

Symposium Topics
Inclusion Works
Insider Information: 21st Century Creative Engagement
Hollywood's Shifting Landscape
The Pitch
Featured Keynote Conversations​
Suzanne de Passe (Co-Chairman, de Passe Jones Entertainment Group)
Carmi Zlotnik (President of Programming, Starz)​
Panelists and Contributors
Edward Allen (COO, Pantelion Films)
Effie Brown (Film and Television Producer, Project Greenlight)
Deborah Calla (Principal, Calla Productions)
Joi Carr (Scholar/Author, Actor/Singer-Songwriter, Pepperdine University)
Keith Clinkscales (Founder and CEO, The Shadow League)
Madeline di Nonno (CEO, Geena Davis Institute on Gender in Media)
Jason George (Actor, Grey's Anatomy)
Tabatha L. Jones Jolivet (Educator, Azusa Pacific University)
James Lopez (Producer, Head of Motion Pictures, Will Packer Productions)
Courtney McCarthy (Lead Strategist and Producer, Google)
William Nix (Chairman, Creative Projects Group)
Christina Sibul (Development and Production Consultant)
Haylen Van Koppen (Chief Human Resources Officer, Legendary Entertainment)
Lisa Vidal (Actor, Being Mary Jane), Event Host
Dondre' Whitfield (Actor, Queen Sugar)
Marlon Young, (Actor, Survivor's Remorse)
Pepperdine's Institute for Entertainment, Media, and Culture
The Institute for Entertainment, Media, and Culture (iEMC) facilitates the education of a new generation of multi-disciplinary graduates who are uniquely positioned for impactful leadership roles and stewards of cultural and societal impact within the media and entertainment sectors.
About American Film Market and Conferences
This symposium is presented on the occasion of the American Film Market, the world's largest motion picture business event. Over 7,000 industry leaders converge in Santa Monica for eight days of deal-making, screenings, conferences, networking, and parties.