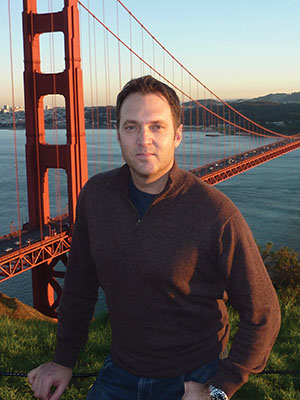 Adam Housley
Northern and Southern California
Title: Senior Correspondent
Company: Fox News
AT A GLANCE:
Seaver College Class of 1994
BA, Political Science
BA, Telecommunications
How has your Pepperdine experience impacted your personal and professional success?
It provided a solid foundation in every aspect of my life. Also I continue to stay in touch and work with Pepperdine alumni of all types and ages. It is amazing how many lines cross and truly how small our world is.
Describe a project or accomplishment that you consider to be the most significant in your career:
Covered news/history from the front row from 24 countries and 22 states. Emmy, AP, and RTNDA award winner. Most importantly, have met people from around the world and covered some of the most prolific news stories of our time. From the Chilean Miners, to war Zones, to tsunamis, and World Series.
Who or what inspires you? Tell us why.
My family always inspires. They support me in everything I do and every triumph and challenge I face. From my parents to my brother Arik and his family and now my wife Tamera and my children Aden and Ariah. Outside of that, everyday people who overcome odds to achieve. I love the underdog.
Are you where you thought you would be in life when you were in college?
I never thought about where I needed to be. I always just wanted a happy family, to be near my extended family, and to enjoy my job. That's what I dreamed of.
In five words or fewer, what career or life advice would you give a new college graduate?
Always stay in touch.
What profession other than your own would you have liked to attempt?
I always wanted to be a professional baseball player and got that opportunity for a few years. Outside of that, an Ambassador would be an amazing experience. Also, I've always wanted to develop new businesses and write articles & books.
What three things could you not live without?
My family...anything else is replaceable.
How do you unplug?
There are several ways. Working in my yards while listening to music. Traveling anywhere in the world with my family. Working at our winery in Northern California. Rebuilding homes. Watching baseball and sports.
Is there a particular quote, mantra, or philosophy that motivates you?
I have two. Be on time and do things right. Also, "The credit belongs to the man who is actually in the arena; whose face is marred by the dust and sweat and blood; who strives valiantly ... who, at worst, if he fails, at least fails while daring greatly; so that his place shall never be with those cold and timid souls who know neither victory or defeat."
What would your autobiography or memoir be called?
History from the front row.
What's one idea you think could change the world?
Respect.
What's next for you professionally?
More television. More wine.