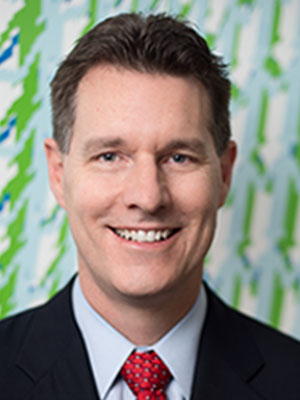 Andy Dunbar
La Cañada Flintridge, California
Title: General Counsel / Chief Compliance Officer
Company: Bel Air Investment Advisors LLC
AT A GLANCE:
School of Law Class of 1999
JD, Law
How has your Pepperdine experience impacted your personal and professional success?
In addition to a tremendous education, Pepperdine Law provided networking opportunities (with such great organizations as Bar Review), and instilled the notion and importance of giving back. Over that last few years, I've had the privilege to work with several great organizations such as Center for Law and Justice, Alliance for Children's Rights, L.A. Food Bank, Bet Tzedek, and Los Angeles County Museum of Art.
Describe a project or accomplishment that you consider to be the most significant in your career:
One of the very first investigations that I lead as an SEC enforcement lawyer, when I was still very green, turned out to be one of the largest Ponzi schemes in U.S. history at that time. As a government lawyer, where resources are often limited, I was thrown into this massive matter head first. As a result, I ended up getting some amazing and invaluable experience very early in my career. Plus, I had the fun experience of being on MSNBC's American Greed when they profiled the case. Heading up that case opened the door to many more significant and high-profile cases while at the SEC, and ultimately gave me the experience that helped me transition and succeed as a partner at a big firm. And, in an interesting twist of fate and luck, one of the lawyers I met during that early matter was instrumental to me many years later in getting the job I have now.
Who or what inspires you? Tell us why.
My wife and kids constantly inspire me with their love, support, and laughter. I've also found inspiration with each colleague, even at different jobs, who excel in their practice. I feel I have learned from each of them and have appreciated the mentoring they have provided.
Are you where you thought you would be in life when you were in college?
Not at all since I never really planned on being a lawyer or even going to law school for that matter. I graduated college without any clue of a career. I was a blackjack dealer in Lake Tahoe for a while, and while fun, I knew it wasn't a long-term career option. Not to mention that my parents were strongly suggesting the same. My oldest brother is a lawyer, and I figured having a law background would open additional career options and provide a bit more job security. Plus, it postponed committing to a specific career track for an additional three years.
In five words or fewer, what career or life advice would you give a new college graduate?
Be grateful for everything. Network.
What profession other than your own would you have liked to attempt?
I likely would have attempted being a stockbroker as my father was a stockbroker, and I love that industry and talking stocks with him. My interest in that industry is ultimately why I ended up spending nine years at the SEC right out of law school. I find it a bit ironic that I've ended up in the financial industry, just in a different role than a stockbroker.
What three things could you not live without?
Laughter, new experiences, whiskey.
How do you unplug?
Unplugging is the best, since it so rarely happens. For me, I'm completely "unplugged" when I'm coaching one of my kids sporting events or out surfing. I feel fully recharged after both of those activities.
Is there a particular quote, mantra, or philosophy that motivates you?
People that have quotes top of mind, and one seemingly for every occasion, have always impressed me. I'm not one of those people. Generally, I try to live simply, be grateful, practice mindfulness, and be present. It's not always easy, but I'm constantly trying. Like the shirt says: "Life is Good."
What would your autobiography or memoir be called?
Since I don't feel my autobiography would quite keep the interest of any reader, I guess it would be called Still Trying to Figure It Out (But Enjoying the Ride).
What's one idea you think could change the world?
More kindness.
What's next for you professionally?
Given this is a 40 over 40 category, I'd like to think the next step is retirement, knowing (or hoping!) that I have many more years in front of me. However, I doubt I'd be able to just stop everything, and I've recently had some interest in starting and running a real estate fund. But ask me tomorrow, and I might have a different answer.