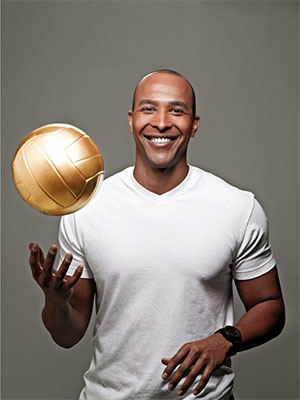 Dain Blanton
Santa Monica, California
Title: Broadcaster, Speaker, Coach
AT A GLANCE:
Seaver College Class of 1994
BA, Public Relations
How has your Pepperdine experience impacted your personal and professional success?
My time at Pepperdine was amazing because I learned so much from so many. Head Men's Volleyball coach Marv Dunphy was the biggest inspiration as he helped me develop character and skills that I have used throughout my life. I won a national championship in volleyball, earned my teaching credential, and received my degree in communications from Pepperdine.
Describe a project or accomplishment that you consider to be the most significant in your career:
2000 Olympic Gold Medalist in Beach Volleyball
First African American to win a Major Beach volleyball title (Hermosa Beach 1997)
1st US Male 2x Beach Volleyball Olympian (2000, 2004)
1992 NCAA Champion Men's Volleyball Pepperdine University
3x National Championship assistant coach (Beach Volleyball) at USC (2015, 2016, 2017)
Who or what inspires you? Tell us why.
Focus, discipline, and hard work.
Are you where you thought you would be in life when you were in college?
I take it day by day. I am happy where I am.
In five words or fewer, what career or life advice would you give a new college graduate?
Do You. Not someone else.
What profession other than your own would you have liked to attempt?
Political office.
What three things could you not live without?
Exercise, technology, toys.
How do you unplug?
Relax and listen to music, and I try to get in 10 minutes of meditation a day.
Is there a particular quote, mantra, or philosophy that motivates you?
Life is what you make it. Always has been. Always will be!
What would your autobiography or memoir be called?
Getting to Gold: The Life and Times of Dain Blanton.
What's one idea you think could change the world?
Help one person each day get closer to realizing their goals.
What's next for you professionally?
I hope to find as many ways as I can to inspire others.