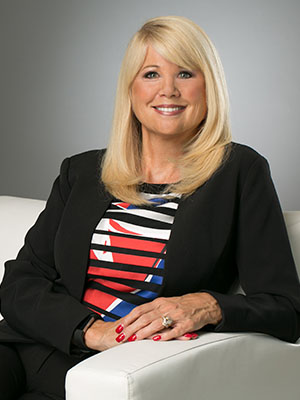 Danone Simpson
Woodland Hills, California
Title: CEO
Company: Montage Insurance Solutions
AT A GLANCE:
Graziadio School of Business and Management Class of 2012
MBA, Business Executive
How has your Pepperdine experience impacted your personal and professional success?
Pepperdine's, Graziadio School of Business was a reach as I turned fifty-six years old. Working long hours in a very busy company, as CEO, finding time for an MBA Program was difficult. Danone Simpson Insurance Services DBA Montage Insurance Solutions (DSI Solutions) was selected number four on the fastest growing companies list with the LA Business Journal. As excited as I was, I realized that we had reached a point that I needed to know more about business. A flyer for Pepperdine's MBA program was in my packet I took home. One day I called and was granted an interview. I left that meeting with tears of joy. Committing to this would be the hardest, yet most rewarding time of my life.
Those in my cohort, executives in Fortune 100 companies were strong, competitive, and brilliant. As the oldest and only CEO, I stepped in with the only experience I had, which was to lead. I learned that my telling style was not welcomed, so I began to listen more. In this first weekend, we were to pick our teams. I immediately identified the four wanted on our team. Before lunch, I walked up to Brian, our soon to be leader. Lifting the page, I wrote the names of our team, that came to fruition. Our team was hard charging, tough on each other as we gave honest feedback, while grading one another. We ended up winning the final simulation of operating a business. My professors would come in as Casey and I were battling out the HR and Sales portion and they would say, "Lighten up Danone, you guys are killing it." We learned how to win in this group from Organizational Studies, Statistics, Advertising, Legal, Finance and Strategy.
Professor Demos guided us through the exotic worlds of Beijing and Thailand, as we heard top business owners of airports, hospitals, hotels, entertainment and other industries share their stories of success. We traveled through temples to the great wall of China together. It was sightseeing with a truly unique perspective, which helped my business as I learned about Medical Tourism. We met with doctors who were building their first nursing homes for their Chinese elderly in a devastating time, as their youth traveled to America leaving aging parents to fend for themselves. As the Affordable Care Act was being pushed through in the US, I saw firsthand the medical world in these lands, many in America boasted about. China suffered from an aging population, as we are in the US. In Thailand, owners of hospitals served international patients from their airports, transported patients to their private island and hotel to recoup after surgeries.
The lessons learned from researching, organizational culture, finance, strategy are lessons I use every day in my business. Yet, I must say I learned we can do anything we put our minds to with the help of brilliant teams. At Montage we select employees, who fit our culture, values, and want to move our mission forward, so we can serve our clients with heart.
Describe a project or accomplishment that you consider to be the most significant in your career:
My most significant accomplishment in my current career, since 1998, was opening DSI Solutions in 2006. After being in the entertainment industry for over 20 years and then later fund development for non-profits, I was ready for a have-to-have industry and stumbled upon a career in the Insurance industry. I began with a small firm learning about commercial insurance: Employee Benefits, Property & Casualty (P&C) - including Workers' Compensation, Professional lines, and Legal Compliance. Through headhunters and learning about other agencies I worked at a few, some well versed in benefits and other firms, in all lines, as I was licensed in.
I found this industry a sincere challenge and went to work to find out what Human Resources did, and more importantly needed from their insurance broker, while learning about the various Employee Benefit plan designs and P&C programs. My previous work experience was most helpful in this career. Not having insurance at eighteen, being in a life-threatening accident gave me the passion for the importance of insurance, while working as a dental assistant at that time. I worked my way up to office manager and developed programs for health and maintenance and financial packages, including dental insurance. Working with many Non-Profits in event planning gave me the base knowledge needed for Directors & Officers Insurance. Also, I put on Festivals and multiple events over the course of my career, which aids the firm today, as we put on over 30 events monthly from Open Enrollments, Health Fairs, and Wellness events.
Selling 50 accounts in my first two years was record breaking at that time. Taking care of this many accounts with limited help was a challenge indeed, so I went on a search to find a brokerage firm that shared my values and commitment to service. Learning a lot from the various firms I worked with, as an Insurance Broker, lead to the title of Vice President and later a Business partner.
Upon the encouragement of clients, I spun out of the partnership and ventured out on my own to begin my firm. Clients found my furniture, helped me move in and these CFO's and Presidents, along with their Human Resources staff, are still clients, trusted advisors and friends.
When I began DSI, there were not many female CEOs in the Insurance industry. I truly believe the partnership with the LA and SFV Business Journals, HR Associations-EMA and PHIRA, FORBES Magazine and others helped me build the business. In my career in print and commercials I learned the importance of advertising. So, from my accident with no insurance, leading up to this business, I have seen a golden thread woven through these experiences making it the perfect business for me. My family has added their tremendous experience, enriching our abilities as a company to be named in the LABJ and SFVBJ as one of the Top Insurance Brokers, Employee Benefits Consultants, Top 10 Women Owned Firms, Trusted Advisors, and more.
Who or what inspires you? Tell us why.
What inspires me is reading a new book from a new business author, such as Jim Collins, John Maxwell, Ken Blanchard, and many others, and then getting together with my management team and discussing lessons learned. After I read a book I put it into a power point so I can teach it. I have found that by teaching what I learn it becomes a part of me and I don't forget it. I have learned from Brian Tracy how to read a book and break it down.
I learn from Convene, a CEO cohort I have been a part of since 2009, that success comes from having a counsel of many. We inspire one another as we discuss our business challenges and then we use biblical principles to unearth fresh ideas in leadership, business principals and giving back. We have many different leadership styles in this group in many industries such as farming, manufacturing, engineering, retail, and the service industry. Being in a group with other leaders helps us strengthen one another as we learn together.
I have just started an advisor committee that has a few of my clients on it. One from the past, a CEO who ran a software company out of the dot-com bubble years ago successfully. Another current client is a CFO of an aircraft manufacturer and he has worked at many other large companies. My son-in-law, our EVP, my husband, COO, and other leaders are invited in as the topics pertain to their areas they manage. We go through every area of our business to ensure we are moving forward towards our goals. Decisions to be made are discussed along with the day-to-day practices, principles, and goals of the employees and company.
I use consultants of various types to train our employees on Myers Briggs, StrengthsFinder, organizational techniques, and many other programs. These help us perform at better levels as teammates as we understand ourselves, how to work with others, and together. Our motto is Together we're Stronger.
We serve many different industries at Montage in Employee Benefits, Workers Compensation, Property and Casualty, Professional lines of insurance, such as E&O and D&O. We also assist our Human Resources Executives in compliance through a variety of ways, such as our Montage Minute, My HR Summit, and ThinkHR. There are many new laws passed annually or more often, so learning, educating oneself to teach, and then to do so are what we are about. We also put on multiple events throughout the year for our clients from monthly or quarterly safety trainings, wellness events, health fairs, and open enrollment meetings to train our clients employees on their benefits and how to lead healthier lives. These safety and wellness programs produce great savings on the bottom lines of our clients. We save our clients in other ways through our TPA department through COBRA, audits, ERISA, ACA filing, and claims management. Serving others is the ultimate inspiration for myself and my team
Are you where you thought you would be in life when you were in college?
When I was a young woman I had to work to help the family holding down two jobs. One during the day. I went to school half a day at 16 and then to work for a dentist. I was in a work program at school and learned to be a dental assistant. Then I fainted once, so I realized that was not the career for me. I became the office manager and tripled the income for this sweet dentist I still call my brother today.
Then I began doing side jobs to make ends meet working in the grocery store handing out samples that lead to a modeling career with Kim Dawson in Irving, Texas. My brother called me one day and asked me to go to the Irving Stadium to try out for the Dallas Cowboy Cheerleaders. I did and was selected and cheered with the team one year. I was in the Miss Dallas contest and Miss Texas contest, earning 2nd runner up. I went to New York and then went to work with Wilhelmina Models, ending up in Los Angeles. These are happenings lead by circumstance and a leap of faith. I worked on the TV show, Dallas for ten years, as JR and Bobby's secretary receptionist. It was a perfect position for a young wife and later mother of my beautiful Breana.
I began fundraising and event planning while on Dallas, along with starting my own business; making bibs and clothing for women and children. I was a Girl Scout leader and later taught Sunday School for nine years each. At 40 I was ready for a new career as my daughter was in the sixth grade. I read Mary Kay Ash's book and thought now if she can start her amazing company at 40, so can I. I had just been the Executive Producer of a large festival in Calabasas, the Pumpkin Festival, and worked on the Hands Across the Parklands for the National Park and Recreation. I was ready for a change. I found the current industry I am in. All I can say is that God had more to do with my life careers than I did. I have trusted Him and let Him lead the way. This was the same with my marriage of now 36 years. My husband almost ran me down when I was 25 and he has been my partner ever since that fall morning.
In five words or fewer, what career or life advice would you give a new college graduate?
Follow your heart and your dreams. Learn to love to learn and take chances. Make great friends and find your life partner and marry well.
What profession other than your own would you have liked to attempt?
Honestly, I have done everything I have ever wanted to do. I would like to see my mother's story on the big screen and am working on that now. She was born in Shanghai, China to a French Mother and American Naval Officer after World War 1. She was shipped off to convents from four years old to 15. She returned home to find she would have to wear an A on her chest or travel to America to live with an Aunt. So just before her 16th birthday her mother put her on the ship alone.
What three things could you not live without?
My husband, my daughter, and now my grandson.
How do you unplug?
I have learned all about myself and how I work. I push myself in everything I do. I hit the ground running every single morning. So, because of this nature of mine, I have to learn to prioritize everything I do. Mary Kay Ash said, you must have your top three. Hers were – God First, Family Second and Career Third. I have used these same values to help me prioritize my days, weeks, months, years, and I goal set for decades. I babysit once per week my new grandson, Kaius Kennedy, who is 15 months old. This has taken years of delegation. I made time for the rocks in my life, so the sand can shift in-between.
One of the hardest things to do is to delegate and yet, it is the most freeing and important things we can do. Find great people you can trust to hand your baton to so you can still win the race and not have to work yourself to death. Building a strong team has taken a lot of time and it is a beautiful thing to see your employees enjoying each other, helping one another accomplish all we do for our clients.
Also, my husband and I have a second home in Maui. We go every quarter for at least two weeks to rejuvenate our relationship, focus on our health, and learning. We have friends we play with and just relax. I cannot tell you enough how this is one of the most important things we do. I successfully finished my MBA with these respites, read two business books and one or so romantic books or something just for fun during these times. This trip I have almost finished my script.
In this decade, I am working on a script and book about my mother's life. I wrote screen plays for the stage many years ago and this is a joy of mine. Hobbies are most important. I joined a script class with a marvelous instructor to hold me accountable and assist in finishing my projects.
Taking time for yourself and what matters most is extremely important.
Is there a particular quote, mantra, or philosophy that motivates you?
"When you give, you receive," - Jesus Christ
"The value of a man (woman) resides in what he (or she) gives and not in what he (or she) is capable of receiving." - Albert Einstein
What would your autobiography or memoir be called?
Recipes of Love, Part II. My Mother's is Part I.
What's one idea you think could change the world?
Love your neighbor as you do yourself.
What's next for you professionally?
Grow our company to 50 employees and then pass the baton to my son-in-law Tobias Kennedy.
Produce Recipes of Love.