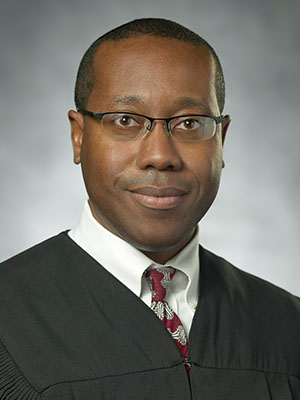 Dwayne K. Moring
Chula Vista, California
Title: Judge
Company: San Diego Superior Court
AT A GLANCE:
Seaver College Class of 1984
BA, Journalism
School of Law Class of 1991
JD, Law
How has your Pepperdine experience impacted your personal and professional success?
I developed lifelong friendships through my Pepperdine undergraduate and law school study. I group text or email daily with five colleagues from the Student Publications Program and even though we're spread out throughout California, we gather regularly for mini reunions or vacations. Further, we're all still in contact with Dr. Steve Ames who was our journalism adviser way back in 1980. Finally, the same strong bonds and frequency of contact exist with many of my School of Law classmates.
I've strived to lead a life of purpose, service and leadership consistent with Pepperdine's Christian mission. The careers I chose had a strong service component emphasizing helping others and improving society. As a public defender I represented indigent defendants charged with serious crimes. As a deputy district attorney I prosecuted individuals accused of committing sex crimes against children and adults. Finally, as a judge I view my role as a leader in the criminal justice system.
Describe a project or accomplishment that you consider to be the most significant in your career:
I played a significant role in writing, designing and editing the San Diego District Attorney Diversity Website in 2007. The website—which was primarily designed for recruitment purposes—is still in existence 10 years later. I am immensely proud to have helped increase and highlight diversity within the agency.
Who or what inspires you? Tell us why.
President Barack Obama. I have been inspired by his dignity, intelligence, and compassion for all people.
Are you where you thought you would be in life when you were in college?
"Yes" in regards to my personal life and "No" concerning my professional life. I envisioned being happily married with a child—and that dream came true. It wasn't until a friend urged me to attend law school that I learned to "dream bigger" professionally. That was the best advice I ever received.
In five words or fewer, what career or life advice would you give a new college graduate?
Failure prepares you for success.
What profession other than your own would you have liked to attempt?
If I hadn't attended law school, I would have applied to film school. I also still plan to put my journalism degree to use by pursuing a career as writer after I retire from the bench. I would love to write screenplays, graphic novels or create a website dedicated to legal analysis, entertainment and politics.
What three things could you not live without?
My family, beer, and The Rolling Stones.
How do you unplug?
At the end of a long day or week, nothing relaxes me more than listening to music, watching a movie, exercising or reading (usually about music, politics or entertainment).
Is there a particular quote, mantra, or philosophy that motivates you?
I regularly tell students I mentor that when you genuinely enjoy your profession the long hours will often not even feel like "work." In that regard, my father taught me not to worry about pursuing a particular career path based solely on financial concerns because "if you're the best at what you do, the money will come."
What would your autobiography or memoir be called?
Zest For Life.
What's one idea you think could change the world?
A society-wide concerted effort to improve civility and respect for differing opinions with the goal of eliminating the belief that "compromise" is a negative word.
What's next for you professionally?
Ideally, a leadership role in our San Diego Juvenile Justice Court system where I can implement programs that will reduce juvenile delinquency and recidivism.