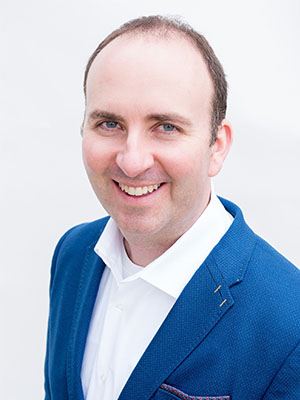 Geoffrey Koboldt
Corona Hills, California
Title: Architectural Technical Sales Manager
Company: Acuity Brands
AT A GLANCE:
Graziadio School of Business and Management Class of 2003
MBA, Business Management
How has your Pepperdine experience impacted your personal and professional success?
The experience was instrumental towards inspiring my growth in the corporate world. I remember a professor saying to us MBA students, "If you aren't moving laterally or up continuously in the company, get out! Don't let a company hold you back from growing professionally." Since then, I have consistently had advancement in a series of increasingly accountable leadership roles and wasn't afraid to leave environments that I felt were limiting my potential.
Describe a project or accomplishment that you consider to be the most significant in your career:
As a business owner, I built a multi-million dollar company from scratch, along with two other business partners. There is no doubt that seeing our product that we created in a Fortune 500 mass retailer for the first time was an incredible feeling of accomplishment, but more so was our ability to give a percentage of our profits to a myriad of deserving charities, and make a positive impact on the skateboarding youth and the 125 college interns we've mentored.
Who or what inspires you? Tell us why.
From a business perspective, Elon Musk inspires me greatly through his passion for leading an ecological revolution and more so, by putting his own money into his projects. Within music, it would be hardcore punk legend Ian MacKaye who has always operated from the highest levels of integrity. Outside of that, I continuously find inspiration from the ordinary person in everyday life who overcomes all obstacles.
Are you where you thought you would be in life when you were in college?
Thinking back to when I was in college at Michigan State University, I am not sure I gave much thought of where I'd be 20+ years later. I was busy playing guitar in my band 4-5 nights per week and working on my chemistry degree. Looking back now, I can say that I never could have imagined the incredible life I've been able to have in California and I am forever grateful to those who helped me succeed, especially my wife Catherine.
In five words or fewer, what career or life advice would you give a new college graduate?
Live life boldly every day.
What profession other than your own would you have liked to attempt?
Acting! I would have loved to be a successful actor, without all the Hollywood drama. Just watching the blooper outtakes of major movies or TV series makes me laugh and think that acting would never feel like a job; especially if you were surrounded with funny people all day.
What three things could you not live without?
My PRS guitar, my MacBook Pro, and my book collection.
How do you unplug?
I meditate and have done so for over 12 years. Meditation has allowed me to silence the noise of the world and open up a direct connection to God. I also enjoy riding my bike along the ocean or hiking in the mountains – both activities I find very nourishing for recharging my spirit.
Is there a particular quote, mantra, or philosophy that motivates you?
Gandhi's "Be the change you want to see in the world" has always conjured up a deep emotion in me, and more so, two years ago when I became a father. I am a firm believer that if you want to change the world, you must change yourself. Every day, we must strive to become better than the person we were the day before and all the while, being ambassadors of positive change through action.
What would your autobiography or memoir be called?
The rebellious spiritual warrior who fell asleep while meditating.
What's one idea you think could change the world?
If every single person picked one other person to mentor/coach/be a friend to for life, I feel the world would change in unimaginable ways and ensure the highest level of happiness. Imagine entire communities committed to this pursuit while inspiring one another to act accordingly to their highest self.
What's next for you professionally?
I believe we are masters of what is behind us and apprentices for what is ahead. I would like to master my current architectural sales position, drive world-class results, grow future leaders, and climb the corporate ladder. Along with this, I would like to become a master black-belt in lean/six sigma methodologies, finish my PMP certification, and continue to read one new book per week.