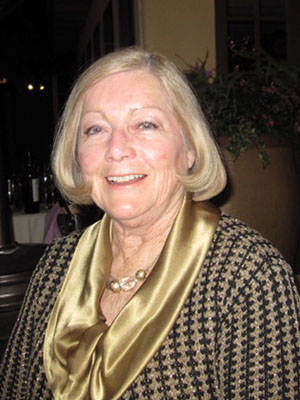 Lorraine Hill Brinton
Palm Desert, California
Glenbrook, Nevada
Title: Semi-retired volunteer
AT A GLANCE:
George Pepperdine College Class of 1960
BA, Psychology
How has your Pepperdine experience impacted your personal and professional success?
The Christian values continued with my experiences at Pepperdine College - the people, the attitudes, the friendships made. I wouldn't trade that experience for any other institution of higher learning.
Describe a project or accomplishment that you consider to be the most significant in your career:
President of Pepperdine Alumni Board for two years. Also, 18 years producing a flag raising ceremony to teach patriotism for our Glenbrook community.
Who or what inspires you? Tell us why.
My mother; a softball coach who gave me a chance and taught me to be a good third baseman for our church team; the man who gave me my first job at age 15 and where I worked for five years; Clara Marble our Zeta Kappa sponsor/mentor; Helen Young who was at Pepperdine for three of my years and who has always been an inspiration to me.
Are you where you thought you would be in life when you were in college?
I've had a very fulfilling life. I married my best friend, had two wonderful children, and I've enjoyed all the organizations that I've been able to contribute to. As a family, we enjoyed the youth sports they played, vacations, special events, and travels to many places. We always kept a place for Pepperdine in our hearts. I am very satisfied with where I am today.
In five words or fewer, what career or life advice would you give a new college graduate?
Get involved in your community.
What profession other than your own would you have liked to attempt?
I probably would have enjoyed being an event planner. I've had the pleasure of planning many special events for organizations I've been associated with.
What three things could you not live without?
Freedom and my family and my faith.
How do you unplug?
Probably through sports and music and friends.
Is there a particular quote, mantra, or philosophy that motivates you?
Our Pepperdine College motto "Freely ye received, freely give."
What would your autobiography or memoir be called?
A Life Well Lived and Shared.
What's one idea you think could change the world?
God.
What's next for you professionally?
To help organizations in ways that I'm still able.