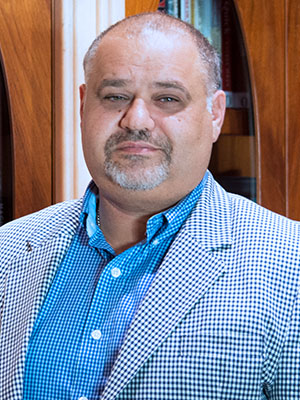 Michael S. Saddik
Laguna Nigel, California
Title: CEO, Built On Vision/Co-Founder at Myndsi.com
Company: Built On Vision/Myndsi.com
AT A GLANCE:
Graziadio School of Business and Management Class of 2008
MBA, Business Management
PKE 120
How has your Pepperdine experience impacted your personal and professional success?
My cohort and professors are my mastermind team and remain a critical part of both my personal and professional life. Beyond my degree, I am thankful to all of them for sharing this experience with me and for always being available to help me with anything that comes up. We stand together.
Describe a project or accomplishment that you consider to be the most significant in your career:
The most significant accomplishment of my career revolves around the members of the teams that come to me for mentoring. I continue those relationships even after they or I leave the organization we met at. When I see their careers and personal lives develop and they work on becoming the best version of themselves they can be, I am honored to have played a small part in that.
Who or what inspires you? Tell us why.
My Goddaughter, Bernadette, inspires me. She has chronic Lyme disease and also one of the best attitudes and outlooks on life. She saw how, despite her having this chronic life-changing disease, she can make a difference in the world by starting The Glass Ball Foundation. This foundation helps others suffering with chronic health conditions when they are out of options.
From my personal life, one of the things I find most inspiring at this stage of my career is witnessing others' lives truly transform, and having the opportunity to coach them personally and professionally along this path. This is one of my life's greatest satisfactions.
Are you where you thought you would be in life when you were in college?
Yes and no. I accomplished what I set out to accomplish in corporate America but during my time at Pepperdine and with Dr. Strom, I realized I have a bigger purpose that I would like to use my education to accomplish. I have a thought on how we can eliminate homelessness; if Elon Musk wants to go to Mars then surely ending homelessness in this day and age should be a very achievable goal and I have a plan to reach that goal. Things I learned from my time at Pepperdine and the connections with classmates and professors will be put to good use in the near future to work on this and make this my PKE legacy.
In five words or fewer, what career or life advice would you give a new college graduate?
Change yourself, the world changes.
What profession other than your own would you have liked to attempt?
A diplomat and I still hope to do that one day! It would be a great way to bring together all the various skills I have learned and continue to learn for a greater good.
What three things could you not live without?
God (purpose), family/friends, and a great book (knowledge).
How do you unplug?
I like to watch movies with close friends. I also have a room in my house that I refer to as the "conference room" and I often find myself in there alone with my thoughts. But most fun way for me to unplug is a nice drive down the coast or the occasional cigar with close friend(s).
Is there a particular quote, mantra, or philosophy that motivates you?
It is difficult to pick one. My belief is that life is in a perpetual stage of change and evolution. Throughout my life, I have studied many philosophies and apply aspects that are useful in my current state of affairs (whether personal or professional) and apply it to propel me to the next state, whatever that may be. Among my favorite mantras is "Whatever It Takes" and "Expect Miracles."
What would your autobiography or memoir be called?
"What was I thinking?"
What's one idea you think could change the world?
How we as a society view problems, any problem. For instance, we are often more interested in being understood than actually understanding, so we do not truly communicate with each other. We spend too much time looking at the problem from all angles and not enough time on solutions. If we assumed all people are good and tried to help them be the best version of themselves, then we can solve all the worlds problems collectively. Here is one strategy to do this better, reflect on my following three rules for resolving differences:
1. Did you consider the other persons perspective and truly understand it?
2. If the situation were reversed how would this make you feel?
3. Every action you took after the disconnect began, was it to better the situation and work toward resolution, or just to further your own point? If we kept this in mind when dealing with each other then maybe we could understand one another better, build things together, and focus on the solution and not the problem. Light and love conquer hate and darkness.
What's next for you professionally?
I want to take my professional knowledge and contacts and put them to a greater use. I want to see my friends and colleagues continue what I began to learn with Dr. Strom at Pepperdine and help make homelessness a thing of the past. Dr. Strom shifted my perspective on the problem and since his class, I have been working on ideas on how we can work together to make this a problem of the past. It starts with viewing it differently. It can be a complete eco system where we help one and they help others. Not by giving them money and shelter but by helping them make a difference and having them help others like themselves. Our government can offer incentives to companies hiring people back into the workforce that have previously been homeless, and HR departments will look for them. Right now the cycle they get trapped in is hard to break. Working together, in a short period of time, homelessness can be something children hear about in our "history" books and not a present condition.