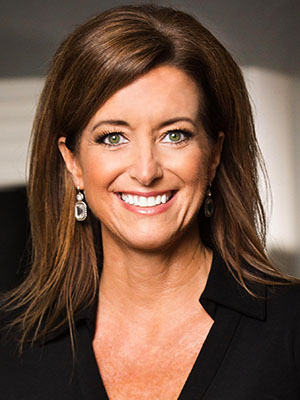 Peggy Grande
La Cañada Flintridge, California
Title: Author/Keynote Speaker/Specialty Project Consultant
AT A GLANCE:
Seaver College Class of 1989
BA, Communication
How has your Pepperdine experience impacted your personal and professional success?
Pepperdine gave me the tools to succeed in life. It provided the perfect balance between a safe and nurturing environment, while also giving me the confidence that I can take on the world. Especially traveling to Heidelberg and spending a semester abroad was my first international experience and truly gave me the world. The academic rigor and the personal connection to professors at Pepperdine prepared me in ways I couldn't yet appreciate as a student, yet perfectly positioned me for my career upon graduation.
Describe a project or accomplishment that you consider to be the most significant in your career:
Working for President Ronald Reagan was the honor and opportunity of a lifetime. To have the privilege of sitting right outside the office door of this iconic man for over a decade and serve as his executive assistant left a lasting impact on me. The timeless leadership principles and political civility which he embodied changed my life forever and has the power and potential to change other lives for the better still today.
Who or what inspires you? Tell us why.
Excellence inspires me - and passion for living a life of purpose. People who are committed to what they do – and committed to doing it well inspire me. I admire those who constantly try to improve and grow and try something new or find an improved way to do something. I also admire those who are willing to share their knowledge with others and help others along the way.
Are you where you thought you would be in life when you were in college?
Although I was raised to dream big, I guess my dreams weren't big enough because the world of history and politics and presidents that I longed to be even a small part of, I never could have imagined that I would have a front row seat to. It's hard to believe that an ordinary girl like me could intersect paths with such an extraordinary man like Ronald Reagan – and be so closely connected to him for such a long period of time.
In five words or fewer, what career or life advice would you give a new college graduate?
Dream Big and Work Hard.
What profession other than your own would you have liked to attempt?
Before I worked for President Reagan I worked for Nordstrom and thoroughly enjoyed my time there. Perhaps I would have stayed with that company. Tho I may have missed my true calling as a trauma or ER doctor. As the mother of four I have seen lots of injuries and situations requiring quick analysis, calm demeanor and swift course of action. I thrive in that environment and am clear headed under pressure and have a stomach of steel. I'm sure I would have enjoyed the rigors of that demanding job.
What three things could you not live without?
The "Sunday School" answer would be faith, family, and fulfilling work. But the true answer is more likely to be my iPhone, lipstick, and caffeine!
How do you unplug?
Between running my own portfolio of business and traveling for speaking engagements I don't unplug as often as I would like to, but when I can, I enjoy spending time at home with my family or getting away together on vacation or visiting an exciting destination together. Some of our best memories have been made in the midst of a family trip – and usually the most memorable times are those times when things didn't pan out exactly as planned!
Is there a particular quote, mantra, or philosophy that motivates you?
Two of my favorite Reagan quotes are:
"Live simply, love generously, care deeply, speak kindly, leave the rest to God."
"Whatever else history may say about me when I'm gone, I hope it will record that I appealed to your best hopes, not your worst fears; to your confidence rather than your doubts."
What would your autobiography or memoir be called?
In February of this year, a memoir of my life working for President Reagan was published. It is entitled, "The President Will See You Now: My Stories and Lessons from Ronald Reagan's Final Years," so I will stick with that title.
What's one idea you think could change the world?
Live as if your legacy depends on it - because it does. Your legacy is not something that is written after you are gone but is written with every day of your life.
What's next for you professionally?
The publication of my book this year has opened many doors I never anticipated so I am really at a crossroads in my career currently. I will continue to do keynote speaking, book signings, and consulting on specialty projects, but additional doors continue to open for me in media, in the political arena, and in writing. Five years ago I couldn't have imagined my life now, so in five additional years I hope to look back with the same sense of awe and gratitude.