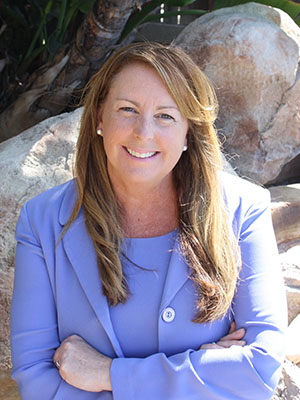 Dr. Shannon McAndrews
Carlsbad, California
Title: Learning Programs, Products, and Services Team
Company: AVID Center Headquarters
AT A GLANCE:
Graduate School of Education and Psychology Class of 2015
EdD, Organizational Leadership
How has your Pepperdine experience impacted your personal and professional success?
The Organizational Leadership Doctorate Program influenced my perspective, skills and abilities to foster, lead and empower individuals and teams. The philosophy and self-reflection components of the international cohort model, provided opportunities for me to fine-tune my focus and strengthen my impact in more succinct and intentional ways.
Upon graduation, I explored servant leadership roles and began serving as a board member and currently as the Vice President of a non-profit organization that raises funds to focus on academics, athletics, and the arts at our local high school. Additionally, I provide coaching and consultation to educators in elementary through high school.
To align with my "Pay it Forward" philosophy, I am a Clinical Practice Supervisor to elementary and middle school teacher candidates at California State University, San Marcos.
Describe a project or accomplishment that you consider to be the most significant in your career:
Over the course of my career in education, I have been afforded the honor to teach preschool to higher education and every grade level in between. Additionally, I have held classroom, administrative, and coaching roles across the educational system. It is this depth and breadth of experience that allows me to "stand-out" among the crowd.
In the roles of classroom teacher, administrator, supervisor, coach, mentor, professional learning facilitator, curriculum developer, and international director, I have seen the good, the bad, and the exceptional on a daily basis.
My work at AVID has been ground-breaking and innovative as well as personally rewarding and inspiring. Through my intentional design, AVID Elementary (K-8) became the fastest growing program for AVID Center with quality instructional practices, realistic assessment parameters, and real-world applicability. Currently, the professional learning and curriculum resources that I oversee, design, and develop continue to push the organization into new territories, platforms, and districts.
Who or what inspires you? Tell us why.
My strongest inspiration comes from my parents, who both passed away far too young. My mother and father instilled in me a servant leadership philosophy that has served me well throughout my personal and professional life.
Treating each individual with respect and dignity was a cornerstone of their modeling, parenting, and guidance, which in turn is the foundation in my own career and personal life. Respecting differences, exploring new cultures, and people is a way of life for my family and one that I know will guide our children and their children into the future.
Are you where you thought you would be in life when you were in college?
When in college, I thought I would always work with preschool students with disabilities and their community peers. I have far exceeded my goals and aspirations for myself. Completing my doctorate program at Pepperdine is beyond my wildest dreams when I was a freshman in college.
In five words or fewer, what career or life advice would you give a new college graduate?
Let your passions guide you.
What profession other than your own would you have liked to attempt?
If I had not gone into the field of education, I would have pursued a career as a lawyer striving for social justice for all. To satisfy my desire for social justice, I selected Pepperdine's international cohort for Organizational Leadership. The coursework empowers graduates to organize with others to accomplish outcomes that benefit entire communities. I believe collaboration, connections, and consideration have steered me to success in my personal and professional life.
What three things could you not live without?
Life would be unbearable without family, dance, and music ;).
How do you unplug?
I like to unplug by spending time with my family and friends, listening to music, watching the sunset at the beach, and taking walks along the ocean.
Is there a particular quote, mantra, or philosophy that motivates you?
I am inspired by the "Pay it Forward" philosophy of genuinely assisting, guiding and supporting those around me. I believe in acting with no expectation of reward, compensation, or benefit.
What would your autobiography or memoir be called?
Dancing in the rain.
What's one idea you think could change the world?
Children naturally perform random acts of kindness, as adults this natural instinct is somehow lost. If every adult on the planet, intentionally did at least one random act of kindness every day, we could change the world in a more positive direction.
What's next for you professionally?
Using my knowledge, expertise, and experiences, I would like to lead in the next five years, a non-profit educational organization that is focused on equality, access, and justice for students in foster care, students who are incarcerated, students with academic, social or emotional challenges, and students of military and first-responders.
It is my wish that my legacy is that I positively changed the trajectory of thousands of students across the nation and therefore positively impacted generations of students.