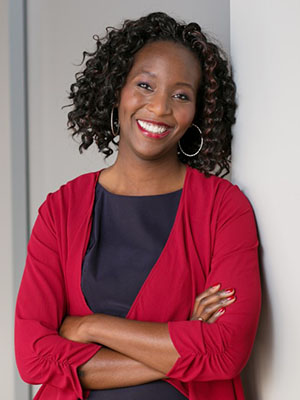 Stacey A. Gordon
Los Angeles, California
Title: Founder/CEO
Company: Rework Work
AT A GLANCE:
Graziadio School of Business and Management Class of 2007
MBA, Business Management
How has your Pepperdine experience impacted your personal and professional success?
My Pepperdine experience helped me become certain I was on the right track in my career. I can't describe the feeling I got when I sat in my first class. It just felt right. While the industries I have worked in and the titles I have held over the past 10 years have changed since I graduated with my MBA, what hasn't changed is the impact I have had the opportunity to make. And along the way, my Pepperdine family has been instrumental. I have contributed as a speaker to Pepperdine's women's events, diversity events, and career related events - all of which align directly to my work as a career strategist and diversity educator. I have kept in touch with many of my classmates and in some years it felt as though I spent more time on campus as an alumna than actual students.
Describe a project or accomplishment that you consider to be the most significant in your career:
One of the most significant accomplishments of my career is having the opportunity to impact people's lives by making unconscious bias accessible online around the world. I receive emails and messages every day from people who have watched the course online or while on a Virgin America flight and hear stories of how they have changed their behavior or their minds. It's humbling to know something so small can have such a large impact.
Who or what inspires you? Tell us why.
What inspires me is how easily the right word or act can catch on and affect us. Happiness is contagious and so too can the ideas and content that we provide at Rework Work.
Are you where you thought you would be in life when you were in college?
Not yet, but I can see the destination.
In five words or fewer, what career or life advice would you give a new college graduate?
Be humble enough to learn.
What profession other than your own would you have liked to attempt?
Real estate flipper. I love real estate and my dad was in construction so I've always grown up around home renovations. I know my way around a set of tools and have no problem getting my hands dirty.
What three things could you not live without?
My family, the internet, my laptop.
How do you unplug?
Going to the spa is where I unplug. It's one of the only places I can go where it is quiet, I can't work and I am forced to relax.
Is there a particular quote, mantra, or philosophy that motivates you?
Luckiest are the prepared. If you are prepared, you will always be lucky and so I make it my mission to always be prepared.
What would your autobiography or memoir be called?
Untapped.
What's one idea you think could change the world?
Kindness.
What's next for you professionally?
I'm going to change the world.