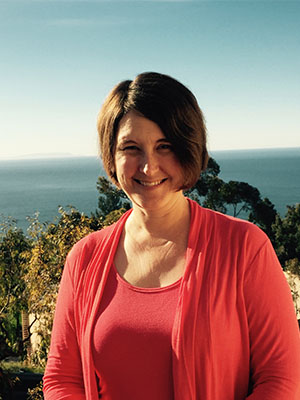 Stephanie Frahme Cupp
Malibu, California
Title: Program Coordinator
Company: Pepperdine Center for Faith and Learning
AT A GLANCE:
Seaver College Class of 1994
BA, Religion
How has your Pepperdine experience impacted your personal and professional success?
From my undergraduate years to being a faculty spouse to working at Pepperdine and now being a Pepperdine parent, I am happy to say that Pepperdine has shaped who I am in each of my roles and how I have chosen to live out my story.
Describe a project or accomplishment that you consider to be the most significant in your career:
January 2018 will mark my 15th anniversary working for Pepperdine. It has been my privilege to help welcome all of our new faculty into the Pepperdine culture and encourage them to bring their life experiences and faith into the classroom to benefit our students.
Who or what inspires you? Tell us why.
I take daily encouragement from Mother Teresa, who taught deep lessons which I try to live out: being faithful in the small things, treating each person I meet as if they were Jesus, and learning first to love those closest to me before trying to tackle the world.
Are you where you thought you would be in life when you were in college?
Definitely not! I thought I'd be a nurse out in the jungle somewhere in South America.
In five words or fewer, what career or life advice would you give a new college graduate?
Grow and nurture your community.
What profession other than your own would you have liked to attempt?
I was a registered nurse for several years before beginning to work at Pepperdine. If I were to have another career, it would be hospice nursing.
What three things could you not live without?
My boys (including my husband); my friends; and, sadly, my iPhone!
How do you unplug?
I hang out with my husband, Brad, and four sons mostly. We like to play board games, hike, go to museums, and explore L.A. I also have some great friends who I enjoy hanging out with.
Is there a particular quote, mantra, or philosophy that motivates you?
"And the world cannot be discovered by a journey of miles, no matter how long, but only by a spiritual journey, a journey of one inch, very arduous and humbling and joyful, by which we arrive at the ground at our own feet, and learn to be at home." - Wendell Berry
What would your autobiography or memoir be called?
The Goat Girl: From Ranch to University, Lessons I've Learned About Community.
What's one idea you think could change the world?
If we all took seriously Jesus' words, "Do not fear!"
What's next for you professionally?
I'm working on a master's degree in global leadership at Fuller Seminary, so probably ruling the world. :)