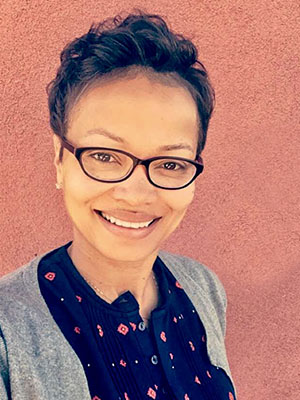 Tiffany Baker
Denver, Colorado
Title: Senior Product Marketing Manager
Company: Oracle
AT A GLANCE:
Graziadio School of Business and Management Class of 2009
MBA, Business Management
How has your Pepperdine experience impacted your personal and professional success?
As a graduate student at Pepperdine University, I was given a travel scholarship to attend the National Black MBA Association conference in Washington, DC. At the conference, I snagged an interview with the VP of Strategic Marketing for Disneyland Resorts & Parks, a Walt Disney Company. Shortly after the conference, I was offered my first marketing job at Disney. Needless to say, without the support of the Career Services team at Pepperdine I might not have ever gotten this opportunity to jumpstart my marketing career.
Describe a project or accomplishment that you consider to be the most significant in your career:
While at Oracle, I earned the unique opportunity to become an International Cloud Marketer. During the summer of 2016, I traveled to Hong Kong, Amsterdam, Canada, and Silicon Valley to market Oracle Cloud to top business leaders and IT influencers at events such as Oracle Cloud World, Oracle Cloud Days, and Oracle OpenWorld. Held annually in San Francisco, OpenWorld is a premier annual company event attracting over 50,000 attendees in the IT industry from over 123 countries.
Who or what inspires you? Tell us why.
More than anyone, my mother will always be my number one inspiration. No matter what idea, thing, or place I pursued she always believed I could accomplish my end goal. She relieved me of any fear that I couldn't do something.
Are you where you thought you would be in life when you were in college?
The blueprint of my life is ever-evolving, and I prefer it that way. To be too rigid with personal and professional goals is a recipe for disappointment. Ten years after receiving my MBA from Pepperdine, I not only have progressed in my marketing career at different Fortune 500 companies but I have also spread my wings as an entrepreneur which is something I fantasized about in the Entrepreneur 101 class at Pepperdine. I now own and operate a medical service business on the side that generates a six-figure revenue annually. That has been a rewarding surprise that I didn't anticipate coming out of Pepperdine MBA program.
In five words or fewer, what career or life advice would you give a new college graduate?
There will be another opportunity.
What profession other than your own would you have liked to attempt?
As a kid, I always wanted to be a fashion designer in Paris. I actually got accepted to the Parsons School of Design in NYC but I chose to pursue an MBA in Marketing at Pepperdine instead so that I could leverage some of my prior work experience in corporate America. I was a career changer but I had no interest in starting completely in fashion design. Luckily, I have still been able to travel to far away lands such as Hong Kong, Amsterdam, and Canada as an International Product Marketer. And moreover, I find it just as exciting to buy beautiful clothes as opposed to laboring over them. Ha!
What three things could you not live without?
In no particular order: my iPhone, LinkedIn, and Facebook. I would struggle to stay connected if it were not for these things. I'm a heavy, multitasker and social media allows me to stay connected to family, friends, and colleagues anytime, anywhere, and on any device.
How do you unplug?
Wanderlust travel re-energizes me. I recently traveled with my husband and kids to Punta Mita, Mexico, a private island an hour outside of Puerto Vallarta. We swam with dolphins, took a catamaran tour of the Marietas islands, and experienced an oceanfront guitar serenade while dining on the most scrumptious, authentic Mexican cuisine.
Is there a particular quote, mantra, or philosophy that motivates you?
My favorite motivational quote is from Maya Angelou's poem "And Still I Rise." The last line of the poem is, "Bringing the gifts that my ancestors gave, I am the dream and the hope of a slave." As an African-American, I find strength and confidence in the understanding that my ancestors sacrificed so much so that I could be where I am today.
What would your autobiography or memoir be called?
The Girl with Gumption. As a teenager, I interned for a local county judge in Montgomery, Alabama. There was an unfortunate misunderstanding and I needed to own up to my wrongdoing with misfiling some paperwork, etc. Instead of firing me on the spot, he said, "You got a lot of gumption, I'll give you that. Don't screw up again." From that moment on, I've never been afraid to admit when I've screwed up.
What's one idea you think could change the world?
I honestly believe that if we took away the societal construct of race that the world would be a better place. I have learned through owning a DNA testing business that we are all made up of different ethnicities, the concept of black or white is solely based on skin color, nothing more. The fact is the majority of us have a percentage of European in us, and some have more Native American, Hispanic, Asian, or African more than others. But no one captures this concept better than the great Jane Elliot who says, "There's only one race, and that is the human race and we're all members of it."
What's next for you professionally?
My hope is that I continue to learn and progress in my career. I hope to leave an impression on fellow marketers as being the "girl with gumption" who worked to have a positive impact on projects and co-workers. If I can accomplish this while moving up the corporate ladder and continue to pursue entrepreneurial passions then I will have exceeded where I thought I would be post-MBA from Pepperdine.