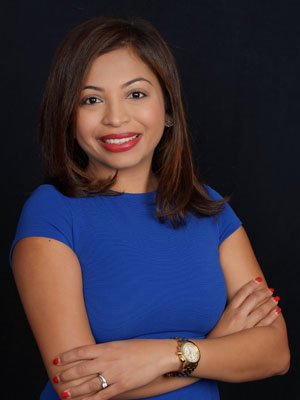 Dr. Amanda Wickramasinghe
Ladera Ranch, California

Title: Director & Vice President of Education Programs
Company: Einstein Group, LLC
At a glance:
Graduate School of Education and Psychology Class of 2016
Doctor of Education
What does being one of Pepperdine's 40 under 40 honorees mean to you?
I am honored and humbled to be nominated as one of Pepperdine's 40 under 40 honorees. I truly value and cherish my years at Pepperdine, and I will continue to promote all that I have learned at the University. I believe Pepperdine's family oriented environment has a strong influence on the success of students. As a girl who came to the United States 21 years ago from a little island called Sri Lanka, this is an incredible achievement and I am grateful for the opportunity.
Describe your success:
Success to me is being happy. I believe success is measured by the positive influence you have on others and working towards reaching your dreams.
How does Pepperdine play into your success?
Pepperdine University has given me a strong foundation for leadership, academic excellence, purpose, and service. The faculty and my fellow peers have been so influential in my life and encouraged me to make a difference in the world. My dedication to academia will continue to grow and it is my hope to enlighten my generation and future generations through education. The University has encouraged me to follow my heart and stay true to my values.
Who inspires you and why?
I am inspired by educators who lead and encourage others to strive to reach the stars. I believe inspiration is all around you. I am constantly inspired by the people I surround myself with on a daily basis from their work ethic, kindness to others, and having a positive perspective on life.
My husband is my inspiration. His ability to see the world through such a unique and positive lens is uplifting. He has always pushed me to reach the stars and be the best version of myself.
My family inspires me to love and care deeply for everyone around me. I am thankful for their guidance and sacrifices. As Maya Angelou once said, "We can learn to see each other and see ourselves in each other and recognize that human beings are more alike than we are unalike."
What's next for you? What's your five year outlook? What's your ten year plan?
I want to help as many people as I possibly can. I want to guide students to reach their maximum potential. I want to continue to do scholarly research and contribute to the world of education. I want to be dean one day and make a difference.
My husband and I want to own and operate a hospital one day. We want to emphasize on patient care and provide the best treatment for the patients and the community. We want to continue to travel the world and learn from other cultures.
How do you prepare for a busy day?
Organizing all my tasks and having my latte.
What is one of your hobbies?
Traveling, eating, and seeking new adventures.
What is your favorite quote?
"Education is the most powerful weapon in which you can use to change the world." –Nelson Mandela
What profession other than your own would you like to attempt?
University dean