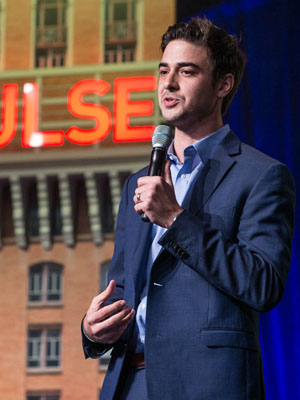 What does being one of Pepperdine's 40 under 40 honorees mean to you?
Pepperdine has been such a foundational part of my life. It's a huge honor to be recognized by an organization that helped shape me into the person I am today. I think being a 40 under 40 honoree is a good reminder that our actions represent not just ourselves, but also the affiliations we carry with us after graduation. Whether our alma mater or company, our family or customers, we owe it to the communities in which we belong to live with intention.
Describe your success:
Since my time at Pepperdine, I've had the opportunity to move to Silicon Valley and play a part in the stories of some of the most influential startups in enterprise software. The journey began as an early employee of Box (NYSE: BOX), a file sharing and collaboration company now worth close to $2 billion. I then joined a company called LiveOffice that was sold to Symantec (NYSE: SYMC) in 2012 for $115M. At Symantec, I led the Emerging Cloud Products division, responsible for the first organic product development effort that spanned both consumer and enterprise market segments.
Today, I'm the founding vice president of marketing for Gainsight and am building the next great category of enterprise software in Customer Success. Gainsight has been recognized by Inc. Magazine as the 48th fastest growing private company in America (2015), by Forbes as one of America's Most Promising Companies (2014), and by Fortune Magazine as one of 20 Great Workplaces in Tech (2014).
How does Pepperdine play into your success?
There are many aspects of my Pepperdine experience that I carry with me today, but the two that stick out are the investment made in me at the intersection of faith and work and the leadership training and network access enabled through my time as an undergraduate in Sigma Chi. On the former, Pepperdine's commitment to instilling Christian values into vocation has given me a context in which to frame my perspective on career. Although enterprise software may not necessarily be a ministry, paradoxically, Silicon Valley is my mission field. I can share my faith authentically, not by rocking a bumper sticker on my laptop (although that may work for some people), but rather by serving my employees, leaders, and customers while doing exceptional work and giving God the glory rather than claiming it as my own.
Pepperdine also helped facilitate my initiation into the Sigma Chi fraternity, which I couldn't have known back in 2004 would have such a profound impact on my life. Sigma Chi taught me that leadership is character in action and that a life worth living is one in constant pursuit of a set of ideals that remain just beyond our grasp. Over the years, I've met many Sigs in Silicon Valley who have helped open doors or otherwise have made their time available to meet me. They knew what I know, that although we had never met before, there would always be a welcome hand and warm heart available when I needed it most.
Finally, Pepperdine played a major role in (by far) the most important success of my life, meeting my wife Brittany. While success is great, coming home to her is even greater.
Who inspires you and why?
I'm a storyteller at heart, so I'm especially inspired by those who can create an emotional connection with an audience. It may be cheesy, but Steve Jobs is the quintessential example of this for my industry. If you don't believe me, check out the introduction of the iPhone keynote on YouTube and tell me that's not inspiring! Another example would be Beth Comstock at GE who is reinventing a 125-year-old industrial business into a digital-first company.
I strongly believe that we do not check our personal lives at the door when we come to work everyday. We're human—and while we grow more connected and the demands of our careers infringe on our personal lives, the opportunity to push back and to build an authentic brand becomes a competitive differentiator. It also happens to be incredibly fulfilling and an awesome creative exercise.
What's next for you? What's your five year outlook? What's your ten year plan?
We're super focused on building Gainsight into a profitable independent company—a journey in which we're still in the very early innings. My vision for the next five years would include evolving Customer Success beyond the early adopter community that we've helped facilitate today and into an established career path like sales and marketing. We won't rest until Pepperdine students can walk the stage on Alumni Park with Customer Success written on their diplomas!
Beyond Gainsight, I'm passionate about meeting with great founders and entrepreneurs, learning about their category-defining ideas and connecting them with resources to help bring their ideas to life. Today, I serve as an advisor and board member to SaaS companies focused on selling to the enterprise. The common denominator is innovation and, specifically, the people behind the innovation. My hope is to carry that passion into whatever comes next, whether that's leading another startup or venture capital.
What's your secret sauce?
Coffee. Lot's of it.
How do you prepare for a busy day?
Triple checking the iPhone alarm before bed, trying (hard) to clock at least seven hours of sleep, and ensuring the coffee pot is ready for action in the morning.
What is one of your hobbies?
Brunch with my wife on a (rare) sunny San Francisco day.
What is your favorite quote?
"Do not conform to the pattern of this world, but be transformed by the renewing of your mind." -Romans 12:2
What profession other than your own would you like to attempt?
College professor. Hopefully I can give out better grades than I was able to get myself.