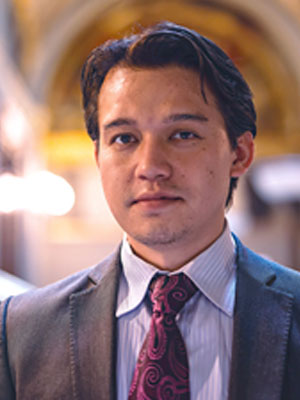 What does being one of Pepperdine's 40 under 40 honorees mean to you?
It's an honor and I am very appreciative of the excellent and broad education I received at Pepperdine University, which helped to catapult my medical career. One of my most educationally fulfilling experiences was my time abroad with Pepperdine's international program in Florence, Italy, as a junior and also Catacamas, Honduras, as a sophomore. Living abroad as an undergraduate exposed me to different cultures and allowed me to travel all over Europe and Latin America. It's great to see everything come full circle after graduating Pepperdine in 2001 and now returning back to Los Angeles in 2015 and being selected in Pepperdine's 40 under 40.
Describe your success:
Since graduating from Pepperdine University's Seaver College in 2001 with a B.S. in sports medicine, I completed medical school at the University of Texas Medical Branch in 2005 and completed surgical residency training in otolaryngology, head and neck surgery, and facial plastic surgery at Boston University School of Medicine. After the completion of my surgical training, I served as a clinical instructor at Harvard Medical School and a clinical assistant professor of otolaryngology-head and neck surgery at Boston University School of Medicine for the past five years. Additionally, since 2010, I have served as the surgical team leader for a yearly international humanitarian medical mission with the Lao Rehabilitation Foundation to provide surgical care for conditions relating to the thyroid, cleft lip and palate, and reconstructive surgery in rural Laos. Our medical missions focus on training local surgeons on thyroid surgery and cleft lip/palate repair.
How does Pepperdine play into your success?
While I attended Pepperdine to focus on pre-medical studies, it was my liberal arts classes that I remember most. My liberal arts education provided a broad knowledge base and helped me to "think outside of the box." Additionally, my experience with Pepperdine's international program in Catacamas, Honduras, helped to foster my career in medicine. During my time in Catacamas, Honduras, I experienced firsthand a humanitarian medical mission. I was able to study medical Spanish and volunteered at medical clinics to provide healthcare to the local population and helped build latrines. My experience in Honduras with Pepperdine University has stuck with me and is one of the reasons for my continued involvement with international humanitarian medical missions today.
Who inspires you and why?
My father, Dr. James Keojampa, who is a minister for the Church of Christ in Irving, Texas. He helped to build one of the largest Lao Church of Christ congregations in the United States and has served as a minister for the past 30 years. He has tireless energy and has worked selflessly in the Lao community. Prior to relocating to the U.S. as refugees from the aftermath of the Vietnam War and Lao Civil War in 1975, my father was one of the top and most respected general surgeons in Laos. He has always told me that his current work as a minister and prior as a surgeon are similar in that he now dispenses spiritual medicine to the whole person—body, mind, and spirit.
What's next for you? What's your five year outlook? What's your ten year plan?
Due to my wife pursuing advanced training in cancer surgery at Cedars-Sinai Medical Center, in 2015 we relocated from Boston back to Los Angeles. I am currently an attending surgeon at the Providence St. John's Health Center in Santa Monica. In the next five years, I would like to expand my international medical volunteer missions in Laos. In the next 10 years, I would love to be an integral part of developing the healthcare system in Laos. Additionally, I plan to continue advancing my surgical specialty with more minimally invasive surgeries. Currently, I am one of the few surgeons trained in minimally invasive robotic surgery for head and neck surgery and cancer. These new approaches have helped to avoid large external neck incisions, quicker recovery, and less pain for our patients.
What's your secret sauce?
My wife, Melanie Gainsbury. I consult with her concerning all important matters. She is also a surgeon who is extremely well rounded, fluent in four languages (Brazilian Portuguese, Spanish, French, and English), and holds citizenship in three countries (Brazil, Canada, and the United States).
How do you prepare for a busy day?
Start early! Surgical residency training has taught me that the only way to get everything done is to wake up early. During residency training, it was the norm for me to get up at 4 AM in the morning to read or work on tasks for 1 hour before getting to the hospital by 5:30 AM to start patient rounds and then the operating room by 7 AM. Still to this day, I typically wake up by 5:30 AM.
What is one of your hobbies?
Musical production. I have a home music production and recording studio. These days, though, are filled with playing with my daughter Eloisa who just turned one year old.
What is your favorite quote?
"Get busy living or get busy dying." from the Shawshank Redemption
What profession other than your own would you like to attempt?
Musician