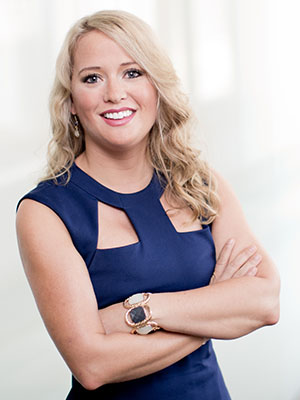 Brittney Lane
Washington, D.C.

Title: Associate
Company: O'Melveny & Myers
AT A GLANCE:
School of Law Class of 2012
Juris Doctor
What does being one of Pepperdine's 40 under 40 honorees mean to you?
I am honored and grateful to be selected as a 40 under 40 honoree. My Pepperdine classmates are the finest lawyers and people I have met, and I am humbled to be chosen as an honoree from among them.
Describe your success:
After graduating from Pepperdine School of Law, I clerked for two of the most prominent federal circuit judges in the country: Judge Diarmuid O'Scannlain of the Ninth Circuit Court of Appeals and Judge Jeffrey Sutton of the Sixth Circuit Court of Appeals. I currently work for one of the largest and most successful law firms in the country, and next year I will clerk for Justice Thomas of the United States Supreme Court.
How does Pepperdine play into your success?
My education at Pepperdine prepared me to be successful as I worked alongside graduates from top-ranked law schools across the country. But more importantly, the people at Pepperdine provided invaluable support as I applied for positions with Judge O'Scannlain, Judge Sutton, and Justice Thomas.
Who inspires you and why?
My parents inspire me because they worked very hard to ensure that I had the opportunity to get a good education and to excel in my extracurricular pursuits. Their selfless devotion and support when I was young made it possible for me to go far further than any of us ever thought possible.
What's next for you? What's your five year outlook? What's your ten year plan?
I look forward to clerking for Justice Thomas next year. After that, I plan to return to work at a firm and ultimately hope to serve my community in some way—either through undertaking significant appellate pro bono work, educating young lawyers, or working in a public service position.
What's your secret sauce?
My secret sauce is 4 cups hard work, 4 cups support from friends and family, a prayer, and a dash of luck.
How do you prepare for a busy day?
I prepare for a busy day with a prayer, a deep breath, a mental reminder to take things one step at a time, and (of course) a very large cup of Starbucks coffee..
What is one of your hobbies?
I love to weight lift. I insist on lifting with a trainer for three hours every week, no matter how busy I am at work. It helps me manage stress.
What is your favorite quote?
"If you want your children to be intelligent, read them fairytales. If you want them to be more intelligent, read them more fairytales." –Albert Einstein