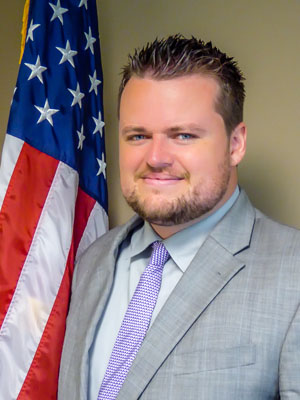 What does being one of Pepperdine's 40 under 40 honorees mean to you?
Being named as one of Pepperdine's 40 under 40 honorees is truly humbling. When I graduated from the School of Public Policy, I can remember thinking that I wanted to be able to return one day to prove to those who invested in me, through both scholarships and their time, that they made a good investment. In receiving this honor, I know that I'm on the right path to honoring those who invested in me.
Describe your success:
This year, I was named chairman of the Mission Viejo Planning and Transportation Commission. I've also had the opportunity to work on several great projects including SB 1273, which resulted in Proposition 63 (Mental Health Services Act) money being able to be used for crisis stabilization services for those in mental health crisis, having the month of May designated Lupus Awareness Month via California Resolution S.R. 65, and labor negotiations reform through the Civic Openness in Negotiations (COIN) ordinance.
How does Pepperdine play into your success?
Pepperdine has an incredible brand—especially here in Orange County—and I've been blessed to both graduate and work with incredible Pepperdine alums. In fact, it was a Pepperdine MPP alum, Alyson Piguee (MPP '10), who helped me land a job with my current boss—Senator (then Supervisor) John M. W. Moorlach. I'm also blessed to work with/for another Pepperdine MPP alum, Lance Christensen (MPP '04). I can honestly say that the education and connections that I've gained through Pepperdine University have greatly benefited both my professional and personal life.
Who inspires you and why?
My wife of nearly 10 years, Megan. Megan, who has lupus, an autoimmune disease, in having the ability to overcome the constant pain and discomfort that she lives with on a daily basis, consistently shows the best in humanity in her joy, compassion, and endurance that I could only dream of achieving. There is no one I admire more.
What's next for you? What's your five year outlook? What's your ten year plan?
The one thing I have learned is that any plan that I create is likely different than the plan that God has in store for me. If I had followed my original plan, I'd likely still be in Washington, DC, and would have never set foot on Pepperdine's campus. In the next 10 years, I hope that I'll be having my 20th wedding anniversary with my two sons entering high school. If that happens, I know I will have done something right.
What's your secret sauce?
Always say YES. There have been numerous occasions where I have agreed to do something that I had no business even attempting. This can lead to failure but has more often led to growth.
How do you prepare for a busy day?
I follow a routine. My life is a little bit like the movie Groundhog Day when it comes to preparation. Even if there is an event or issue that impedes on my normal routine, I do my best to make sure that I follow it as closely as possible.
What is one of your hobbies?
As a dad of two sons, ages five and three, my hobbies generally include activities with them like swimming, ninja warrior training sessions, and any sport with a ball.
What is your favorite quote?
"It is not what we do that matters, but what a sovereign God chooses to do through us. God doesn't want our success; He wants us. He doesn't demand our achievements; He demands our obedience. The Kingdom of God is a kingdom of paradox, where through the ugly defeat of a cross, a holy God is utterly glorified. Victory comes through defeat; healing through brokenness; finding self through losing self." –Charles W. Colson
What profession other than your own would you like to attempt?
I've always wanted to become a chef and own my own restaurant.