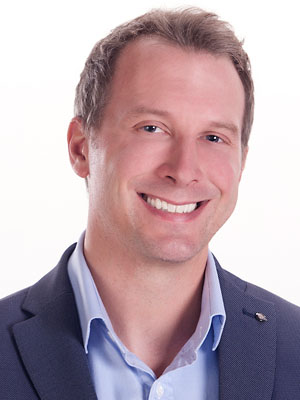 What does being one of Pepperdine's 40 under 40 honorees mean to you?
Pepperdine has been an important part of my journey, and my time at the business school came at a pivotal moment in my career. It is a great honor to be able to share how Pepperdine helped provide me with opportunities to shine and to grow in my career.
Describe your success:
I came to Pepperdine in August 2008 seeking a new direction for my career. It was an extremely volatile time, with banks going bankrupt daily and massive losses in the stock market. At one point, it seemed like there wouldn't be an economy to return to after business school. This increased the stakes considerably as it was a time where new grads were competing with the seasoned veterans flooding the market. It became even more important to get equipped with the skills, network, and leadership opportunities to compete in the market.
When I graduated in 2010, the outlook was grim for many graduates. Resumes were vanishing in the ether of online submission, and many graduates were getting desperate. It was a perfect time to begin leveraging the network I had built up during the MBA program. I was able to secure a position managing large defense contracts involving satellites and missile systems, where I stayed for a year while the market recovered. Even though this was not my preferred industry, I learned what I could and was able to use it to earn a chance in an analytics role at Symantec in Silicon Valley. Over the past few years, analytics/data science has become key to an organization's success and ability to make business decisions. Since influencing an organization's strategic decisions is what an MBA grad really wants to do, it made sense to pursue this route. The network I had built up came through again, and with a vote of confidence from a fellow alum I was given a chance to prove myself in that role.
Fast forward to today: I now lead an analytics organization that partners closely with senior leadership up to the CEO to make better business decisions at Intuit. The work we are doing directly influences go-to-market strategy, identifies new target customer segments to pursue, measures retention and customer lifetime value, evaluates multi-million dollar bets the company places, and makes strategic business recommendations daily. I have been fortunate enough to lead key initiatives that have had a material impact on the bottom line of multiple Fortune 500 companies. I work with and lead extremely talented people who are passionate about finding new ways to use data to grow the business and influence strategy. And since there is a shortage in the market of people with both business acumen and technical ability, I find the tables have turned, with recruiters from Apple, Facebook, Google, and others regularly reaching out to start a discussion about leadership roles in their firms. It's quite the reversal, and one I could not have achieved without the skills and network I gained from my MBA experience.
How does Pepperdine play into your success?
Like most MBA programs, the Pepperdine MBA is what you make of it. Pepperdine gave me the opportunity to increase my skills, take on leadership roles, and build a network that could vouch for my work ethic and work quality when the time came. In my experience, a degree from any university in itself does not entitle someone to a good job and good salary. What a degree does get you is an audition to prove that you are a hard worker who produces good work. After you have proven yourself, you don't need to rely on the degree as much to vouch for you as you can point to your accomplishments instead. I have sometimes seen people who go to get a degree simply to get the piece of paper and end up disappointed with their career trajectory. In today's market, a person's actual ability to accomplish a task matters far more than any degree they might have. The degree is helpful in increasing an employer's willingness to take a chance on you in lieu of specific accomplishments, but it can't keep you in the role if you don't perform.
Pepperdine provided the opportunities to work hard, prove myself to my classmates, take on leadership roles, and learn from talented professors. From there, I was able to leverage those skills and the network to gain opportunities that I would not have had otherwise.
Who inspires you and why?
I tend to like big visionary thinkers who aren't afraid to challenge the status quo and drive new ideas forward. Two that come to mind are Elon Musk and the late Steve Jobs. I enjoy reading about the new ideas that Elon Musk comes up with on a regular basis, as he really shoots for the moon (or maybe Mars?).
What's next for you? What's your five year outlook? What's your ten year plan?
I constantly toy with the idea of starting my own analytics firm that would partner with businesses to help them make better decisions and compete in the market. In parallel, I hope to continue to expand my scope and sphere of influence in whichever company I am involved. I hope to take on additional leadership roles and help others to grow in the way that others have helped me.
What's your secret sauce?
My secret sauce is my ability to frame very complex things in a manner that is easy for executives to understand. This can be difficult, especially when dealing with data and analytics. Being able to distill the message down to the "so what" and present it in a way that business leaders can understand has been critical to my success.
How do you prepare for a busy day?
If I have a big presentation I will write an outline of everything I want to say, including introductions and jokes. I'll read over it a few times and practice a bit before going in. This makes sure I don't miss anything I wanted to cover and helps me appear more natural. For other busy days, it helps to research as much as possible what will be discussed so i can have a voice in each meeting.
What is one of your hobbies?
I recently picked up surfing after moving to San Diego. It's difficult, but ultimately very rewarding. I enjoy being able to unplug and clear my mind out on the open water.
What is your favorite quote?
"The test of a first-rate intelligence is the ability to hold two opposed ideas in mind at the same time and still retain the ability to function." –F. Scott Fitzgerald
What profession other than your own would you like to attempt?
Adventure guide in Queenstown, New Zealand