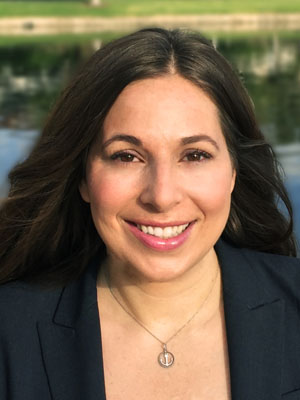 What does being one of Pepperdine's 40 under 40 honorees mean to you?
I am grateful to be chosen as a 40 under 40 honoree. Through its mission and teachings, Pepperdine inspires me to serve my community. Serving others is rewarding in and of itself, but Pepperdine recognizing me in this way is very special.
Describe your success:
I am a nonprofit board member and educator from Orange County, California, who serves on the boards of directors of the Blind Children's Learning Center, where I am governance chair, and Tias Arms, a nonprofit that assists abandoned children affected by HIV/AIDS in South Africa. I am also a court-appointed special advocate for foster youth, president of the Pepperdine University Orange County alumni association (OC Waves), and a member of the Chapman University alumni association board. At Brandman University, part of the Chapman University System, I am an assistant tutorial professor of humanities and social sciences. Additionally, I serve as a Delta Gamma PRO, which means I speak to Delta Gammas and other members of the Greek community around the country about topics such as leadership and self-esteem.
I earned a doctorate degree in education and master's degree in psychology from Pepperdine University, and a bachelor's degree in fine arts from Chapman University. My dissertation focuses on the leadership traits of female Fortune 1000 board members. I live in south Orange County with my husband, Dr. Michael (Mike) Moodian (also a Pepperdine alum), foster son (who we hope to adopt officially soon), rescue dog, and chinchilla.
How does Pepperdine play into your success?
Pepperdine has a great reputation and has opened several doors for me. My classes at Pepperdine were all wonderful, and I learned so much from my professors. Several faculty members were active in the fields they taught, and the knowledge they brought with them was invaluable. My husband and I had our wedding celebration at Heroes Garden and the Villa Graziadio, so Pepperdine plays a significant role in our successful marriage.
Who inspires you and why?
My husband inspires me. He is bright, extremely driven, and has a heart of gold. My mom has inspired me to teach and foster a child since she took me in when I was three. My son inspires me to do well so I can make a nice life for him.
What's next for you? What's your five year outlook? What's your ten year plan?
In the future I would like to help people on a greater scale. For everything else, as the saying goes, "If you want to make God laugh, tell Him your plans."
What's your secret sauce?
A guest in one of my doctorate programs, who I believe was a superintendent, shared that you should always treat everyone you meet as if they are having a terrible day and you want to make them feel better. You never know what they might be encountering in life. How you treat others has a ripple effect, so why not make a positive difference with each interaction? This is my philosophy.
How do you prepare for a busy day?
I am a proponent of agendas. I plan out everything I am going to do and then do it. It is also important to get a good night's sleep.
What is one of your hobbies?
I cannot choose just one. I love hiking and traveling, as well as going to museums, plays, musicals, concerts, and sporting events. Basically I am up for most things if they are adventures.
What is your favorite quote?
"If you don't like something, change it. If you can't change it, change your attitude." –Maya Angelou
What profession other than your own would you like to attempt?
Astrophysics because there is so much beyond Earth that fascinates me. This is what Neil deGrasse Tyson practices, and he is so cool and smart.