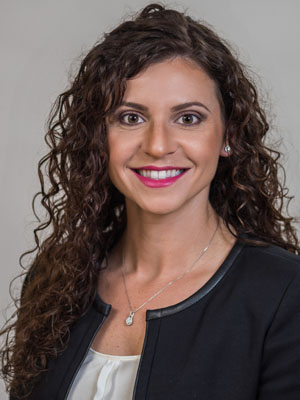 Marinela Gombosev
Corona Del Mar, California

Title: Executive Vice President, Operations and Marketing
Company: Evoke Neuroscience
AT A GLANCE:
Graziadio School of Business and Management Class of 2012
MBA
What does being one of Pepperdine's 40 under 40 honorees mean to you?
It's a real honor to be recognized as Pepperdine's 40 under 40. I strive to be the best version of myself, to make a significant and positive impact on the world around me, and to share my learning with the next generation of business leaders—particularly those in the STEM fields. To me, being a Pepperdine 40 under 40 honoree is a reflection of these goals and I feel honored to be recognized for my contributions.
Describe your success:
I've had the fortunate opportunity to develop exciting mission critical products, build and lead cross functional teams, and grow companies that improve the quality of life for patients. I always seek out ambitious assignments that often feel like an impossible feat, are entrepreneurial in nature, and always offer an opportunity to stretch myself and learn along the way.
In my first job after college, I worked as an electrical engineer at Parker Hannifin's aerospace division, where I was part of a team that designed and tested flight control electronics for executive business jets that are now flying all over the world. Seeing ads for business jet charters that have my flight controls on board has been very gratifying!
Earlier in my career, I had the opportunity to lead cross-functional teams to develop automated robotic allergy and DNA analyzers, work in an oil refinery, and design lightning protection circuits for aircraft. I've built on these experiences in every successive role and work to leverage my knowledge of product development in regulated industries, leadership skills, marketing strategy, and general business acumen in future roles.
In my current role at Evoke Neuroscience, our team is taking on the important mission of providing access to advanced brain function care to patients concerned about their memory and cognitive function—right in their physician's office. I am proud that our company was ranked #131 in the Inc. 500 | 5000 fastest growing private companies in the United States. It has been exciting to play a part in leading this growth at a company whose products strive to improve access to the most advanced brain healthcare.
How does Pepperdine play into your success?
Pepperdine's MBA program created a paradigm shift in my career and in my aspirations. It catapulted me from an engineering career into the world of global business and leadership where I could leverage my background in product development into building and growing teams and companies.
Who inspires you and why?
I attribute a big part of my success to the example my parents set after a war broke out in my home country of Bosnia at the age of 8. After escaping to Germany and making a life there, my family immigrated to the United States when I was 14. It was a difficult road, but my parents' tenacity and determination to achieve a better future has undeniably been my greatest inspiration. Like many other immigrant families who started over, my parents exemplified the value of humility, hard work, and perseverance, and perhaps most importantly the willingness to take big risks to achieve a worthwhile goal.
Nowadays, I draw my inspiration from many mentors, but especially from other women who have achieved much success in their careers and lives. While I was pursuing my MBA, Pepperdine hosted a symposium in partnership with the Committee of 200 (C200), a membership organization of the world's most successful women entrepreneurs and corporate innovators. It was then that I was awarded a scholarship by C200 who were looking for women in the MBA program who exhibited and had demonstrated extraordinary leadership potential, entrepreneurial spirit, and a commitment to giving back and supporting other women. I subsequently became involved in the C200 organization, acquiring many inspirational mentors, and have also taken on a leadership role to form a network of the many business women who were awarded scholarships worldwide. Our mission is to foster, celebrate, and advance women's leadership in business and give back to the next generation of women business leaders. I feel it's my responsibility to inspire others to achieve greater heights in the same way that my parents, C200, and many other mentors continue to inspire me.
What's next for you? What's your five year outlook? What's your ten year plan?
Over the next several years I intend to continue learning, advancing my career, and mentoring others. My goal is to lead building innovative technology companies on a global stage. In addition, I want to continue to mentor and coach the next generation of STEM innovators and women business leaders.
What's your secret sauce?
My curiosity, drive, problem-solver approach, and big picture perspective.
How do you prepare for a busy day?
Eat healthy, get a good night's rest, and being really prepared.
What is one of your hobbies?
I love being outdoors and enjoy playing beach volleyball here in Corona Del Mar.