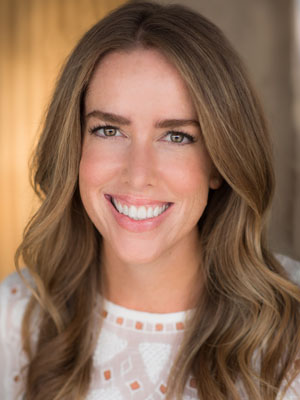 What does being one of Pepperdine's 40 under 40 honorees mean to you?
I know of so many Pepperdine alumni that are extremely successful in their fields and also impacting the world. To even be considered is a huge and very unexpected honor.
Describe your success:
I worked in the fashion industry in New York City for nine great years. I learned a tremendous amount working for designer Marc Jacobs with some amazing people, but I always knew I wanted to combine my love of fashion and philanthropy. I have helped build several clothing brands, from fun t-shirts to ugly Christmas sweater kits, and have always been very involved in nonprofit work, which includes being on UNICEF's Next Generation's steering committee and working closely with numerous organizations in Haiti.
Recently I am most proud of starting the online fundraising platform The Shop Forward (TheShopForward.com). In less than two years since launching, The Shop Forward has raised nearly $1 million for various charities. We've partnered with some amazing influencers to raise funds for deserving causes through apparel and accessories sales. The Shop Forward has become a one-stop shop for items that pay it forward. The success of The Shop Forward is based on the truly good nature of people wanting to give back in some way. I'm honored that we're able to provide a fun avenue for people to both learn about and contribute to important causes.
Stating that I'm 'successful' seems ridiculous to say when I know there is so much more to accomplish. I would say my greatest success comes from utilizing my extensive background in fashion, the entrepreneurial spirit cultivated at Pepperdine, and our business' ability to enable others to give back.
How does Pepperdine play into your success?
Pepperdine taught me to make giving back part of my growth strategy, which in turn made a huge impact on the foundation of my work. The business program at Pepperdine instilled the importance of ethics, values, and philanthropy. At the same time, it also equipped me with business skills and experience that I use on a daily basis as an entrepreneur. My favorite class was business ethics, and the advice given by my professor, Eric Halvorson, on the importance of core values. These values have guided me in both my personal and professional life.
Pepperdine's motto, Matthew 10:8 – "Freely you received, freely give," has really stuck with me since my freshman year on campus. I really do feel a responsibility to use what God has given me to the best of my ability to somehow give back in every aspect of my work.
Who inspires you and why?
There are so many strong social entrepreneurs who have motivated and inspired me, but I think I am most motivated right now by The Shop Forward site visitors and their stories. Our loyal customers are so eager to support SO many different causes with their purchases—ranging from buying a t-shirt to helping build a kitchen at an orphanage in Haiti to buying a hat to support the Red Cross after the flooding. Social media allows us to see the difference that giving back has made in their lives, along with the lives that they're helping. I am continually amazed and motivated by our site's visitors willingness to learn about and support new causes. In turn, this enthusiasm drives me to want to provide them with the best products possible and more ways to give back.
What's next for you? What's your five year outlook? What's your ten year plan?
I will continue to explore the best ways to combine my love of fashion and philanthropy to empower others to give back. This includes growing several of the apparel brands we're working on now and specifically growing The Shop Forward by partnering with more influencers and organizations. I also value my friends and family and identity as a Christian above all else. Keeping my work/life balance in order is definitely a focus of my plan (which you can count on my friends and family to keep me in check!).
What's your secret sauce?
Determination.
What is one of your hobbies?
Hiking, Soul Cycle, working with kids in Haiti, and FaceTiming daily with my best friends across the country.
What is your favorite quote?
"Wherever you are, be all there! Live to the hilt every situation you believe to be the will of God." –Jim Elliot
What profession other than your own would you like to attempt?
I would probably fulfill my childhood dream of being a professional soccer player! (This is assuming talent is not required.)