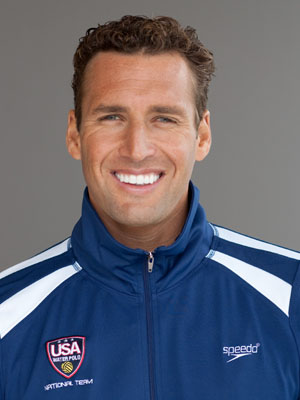 What does being one of Pepperdine's 40 under 40 honorees mean to you?
This is a great honor, and I am very proud to be able to represent Pepperdine as an assistant coach and to have represented Pepperdine while I was playing with Team USA.
Describe your success:
While I was at Pepperdine from 1995 to 1999, we won the 1997 NCAA Championship. I was voted as one of the MVPs of the game. This propelled my water polo career to the national team level. I represented Team USA in the 2008, 2012, and 2016 Olympic Games. In 2008 we won the silver medal, and I was named to the all world team.
How does Pepperdine play into your success?
Without attending Pepperdine I don't think I would be the man I am today. Pepperdine gave me an amazing education and the opportunity to play water polo at the D1 level. Pepperdine also helped guide me to have the great morals and values that I live by today.
What inspires you and why?
Coaching at Pepperdine University inspires me every day. I love that I have the chance to teach and guide our athletes and help them grow in and out of the water every day. It is a huge honor and responsibility to inspire our young generation and I take it very seriously.
Who inspires you and why?
There are multiple people in my life that inspire me everyday.
My wife Laura Moses inspires me every day to be the best Husband and father to my two daughters. She is the most amazing wife and mother a husband can ask for. She has always been by my side supporting my dreams even if it required me to be away for long periods of time traveling with Team USA. She is extremely dedicated, loving and intelligent and I feel lucky to have her by my side every day.
My father Dr. Max Moses inspires me with his amazing work ethic as a doctor and how he managed to raise 6 children with his busy schedule. I was the baby of 6 and he worked incredibly hard to make sure that all of his children had every opportunity to follow their dreams. I was blessed to have such an amazing father and he truly inspires me to be the best possible father for my children.
Dr. Terry Schroeder has inspired me every day since I met him at Pepperdine and started playing for him. Dr. Schroeder was my coach at Pepperdine and also coached me in the 2008 and 2012 Olympics. Now I get the pleasure of coaching by his side every day for Pepperdine. I believe it is safe to say that every athlete that is coached by Dr. Schroeder gets inspired by his genuine kindness, love, faith and work ethic. He has helped me become the man I am today.
What's next for you? What's your five year outlook? What's your ten year plan?
I plan to continue coaching water polo at Pepperdine University for the next 20 years plus. I would like to have Coach Schroeder by my side for that whole time and help bring another NCAA Championship back to Pepperdine for water polo.
What's your secret sauce?
Coffee.
How do you prepare for a busy day?
Make sure that I have the day planned out.
What is one of your hobbies?
Swimming with my daughters.
What is your favorite quote?
"It is amazing what you can accomplish when you don't care who gets the credit."
What profession other than your own would you like to attempt?
I could not imagine doing anything else at any other place. I love coaching at Pepperdine and giving back to the university that gave me so much.