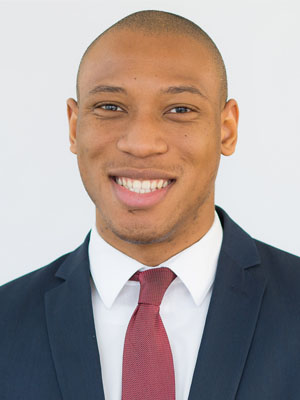 Nduka Nwankwo
San Francisco, California

Title: Fixed Income Analyst
Company: Wells Fargo Bank
AT A GLANCE:
Seaver College Class of 2013
BA, Economics
BA, Creative Writing
What does being one of Pepperdine's 40 under 40 honorees mean to you?
I am grateful to be recognized as an honoree, especially by Pepperdine, where I spent four of the most transformative years of my life.
Describe your success:
I serve on the boards of Alternatives in Action and Grow With Nigeria, two purpose driven organizations looking to transform the lives of young people. I use my financial services background to ensure these organizations remain financially sustainable. Success for me is every young person having the tools to be a change agent in her or his community.
How does Pepperdine play into your success?
Pepperdine taught me that the only life worth living is that of service to others. I have the words "purpose," "service," and "leadership" on a sticky note by my bed; those have become my watchwords and the lens through which I view my life on earth.
Who inspires you and why?
My parents are my source of inspiration. Though they have just three biological children, they have financially supported the education of 50+ individuals that I know of. They committed their lives to making other people's lives better and I saw that firsthand growing up in Nigeria.
What's next for you? What's your five year outlook? What's your ten year plan?
I have plans of continued service and am committed to building a career at the intersection of business and society.
What's your secret sauce?
Positive energy. I start everyday thankful for the gift of life.
How do you prepare for a busy day?
I write everything down and then execute some ruthless prioritization using the scale of urgency and importance.
What is one of your hobbies?
Cooking. I've been told my Nigerian-style pepper chicken is the "truth;" food brings people together and I enjoy the spirituality of eating together.
What is your favorite quote?
"Do what you can, with what you have, where you are" –Theodore Roosevelt
What profession other than your own would you like to attempt?
I would love to be a talk show host. I studied creative writing at Pepperdine and uncovered my love for telling people's stories.