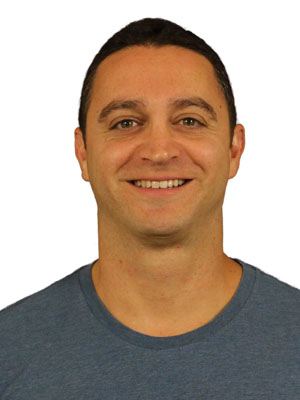 What does being one of Pepperdine's 40 under 40 honorees mean to you?
I'm truly humbled to be on this list alongside so many people who have made such a difference in their communities. We have some true trailblazers here. It's also a validation that success comes when natural curiosity meets hard work, humility, and a realization that you have to enjoy the journey. Success at a greater scale happens when more people who think this way come together around a common purpose. Think Silicon Valley with technology and the Washington, DC, area and federal government work. These hubs are where ideas take a life of their own, and none of this would be possible without Pepperdine giving me the opportunities to stretch myself beyond what I thought I'd be capable of handling and opening some doors in these hubs.
Describe your success:
I moved out to Washington, DC, right after graduation—without a job, but with a lot of hope and leads generated from spending 20 to 30 hours a week during my last year in grad school.
It's all about relationships though. One of the people I met at the U.S. embassy in Armenia during a USAID fellowship was able to refer me for a consulting position at Booz Allen Hamilton in northern Virginia. Data privacy and personally identifiable information were a very low priority 10 year ago, but that's also around the time when Facebook started gaining more traction. I recognized how people were sharing their pictures, location, stories, interconnections, and how the proper access and use of that data could be extremely valuable while also exposing substantial personal, societal, and national risk.
I saw the start of a career, not just a job. More importantly, I recognized the many paths a company of that size and breadth could open. My mindset shifted. I went from driving my beat up 1981 Datsun to USC while working in a two-person company that provided political consulting for the Association of L.A. Deputy Sheriffs to working with the IRS and HHS on their security and privacy policies and processes to walking the halls at the Pentagon and intelligence agencies to working alongside soldiers from the U.S. Special Operations Command in Hawaii and engineers in Google, Amazon, Apple.
Let me summarize my progress this way:
(Humble beginnings)
Family fled Iraq in the early 1970s when they saw how Saddam Hussein's Ba'ath party was cracking down on Christian minorities
First person in my family born in the U.S.
Raised by a single mom with a high school education
(Education and the road to success)
Worked full-time to put myself through college (USC)
Volunteered approximately 20 hours a week as a Boy Scout troop leader and coached a girls volleyball team
Worked three jobs during my last year in Pepperdine's MPP program to cover my expenses and help support my mom
September 2006: took a chance to accept an unpaid fellowship in DC without any money or a job lined up
October 2006: landed a job at Booz Allen Hamilton's federal consulting practice after being referred by someone I met while getting a tour of the U.S. Embassy in Armenia during an SPP-sponsored fellowship the summer before. Small world! (Thank you, Dr. Hawken!)
December 2006: finished my last SPP class remotely to receive my MPP degree. (Thank you Dr. Kaufman and Ms. Covey!)
I've been in all types of work environments and worked with all types of people, and I wanted to share a few observations about the happiest and most successful: set goals, take risks, find comfort in the uncomfortable and unknown, work hard with smart, humble people and in a fun, thought-provoking environment, and give back.
How does Pepperdine play into your success?
Pepperdine prides itself on a strong alumni program with well-placed, successful individuals throughout some of the most forward-thinking companies and industries. The School of Public Policy is no different. Public policy has many shapes and various levels of impact. Some people focus on government agencies while others prefer the localized impact of nonprofits or the academic nature of think tanks.
My experiences have taught me that the most successful public policy happens when theory meets reality, and failure tends to happen in the application of policy. That's where I think I've made a difference, i.e., through the use of technology that takes what people in policy want to do and simplifies it to magnify its impact. It may sound easier said than done, but it takes people-skills, and the ability to ramp up quickly and understand business process and technology. This is the future of public policy, and I can't wait to share my story with others who are curious to see how public policy works. (I may even try to save them from moving 25 times in the last 15 years to figure that out.)
The last 10 years flew by! It feels like it was only yesterday that I was standing on the Pepperdine lawn during the graduation ceremony and looking out over the ocean and a sea of possibilities.
Who inspires you and why?
At the end of the day, it's my mom who inspires me the most. She didn't have the education, money, or "know how" to teach me how to succeed in school or work, but she gave me some of the most valuable lessons in life by showing me what it means to work hard (two full-time jobs), giving back by volunteering in her community, and playing in and organizing athletic tournaments.
She used to always tell me to surround myself with people who are smarter and the have qualities I want to have. I used to always learn from the smartest kid in class, practice against the best player or even the adults that were much better in sports, and I went to the community organizing meetings she used to go to so I can see how adults plan and organize events.
She also kept me grounded and extremely close to my family. Most of what I do is more about all of them than for me. I want to show my younger cousins, brother, nephews, and nieces what's possible, i.e., if they have the right mindset and work ethic, then anything is possible. If I can start life from being the son of a then 18-year old single mother whose family fled Iraq just four years earlier and end up walking the halls of various intelligence communities and working for Google, Amazon, and Apple, then they don't have any excuses to not go after what they want in life.
What's next for you? What's your five year outlook? What's your ten year plan?
I truly believe that it takes a community to raise a child. As I look to start my own family within the next five years, I hope to give back to the local community through mentoring, career counseling, and starting sports programs to give kids a positive environment where they can learn leadership skills and work within a team.
Within 10 years, I want to teach more and take on more of a leadership position in some of the community building and athletic programs I'm been participating in and to pass on the cultural richness and create the bonds that form when people in different communities come together towards a common goal. That's the kind of environment I was raised in, within a community of teams and boy scouts, with positive role models and mentors all around me. The more concentric circles of positive influence and support I can provide for future generations, the more satisfaction I'll have in my life's mission.
What's your secret sauce?
Curiosity + Tenacity + Humility + People Skills
How do you prepare for a busy day?
Fill your calendar before someone else does it for you. Next, write down the top three to five things you need to get done that day. Nothing should slip to the next day. If it does, then move it to the "nice to have" category and have it be something you'll get to that week or month.
Drive towards your priorities and influence others by driving towards higher impact work rather than get distracted by what won't matter in a year or two.
What is one of your hobbies?
Playing volleyball. I need a competitive outlet. I don't do well sitting still or being bored. Volleyball also teaches you about being disciplined for each point versus falling into the fallacy of momentum. There is no such thing as momentum when the the whistle blows to start a play and another whistle blows to end the play. Each play is its own play just like each day is its own day. Someone having a bad week is more about mindset than seeing every day as its own day.
What is your favorite quote?
Be kind. Work hard. Stay humble. Smile often. Stay loyal. Keep honest. Travel when possible. Never stop learning. Be thankful always....and love.
What profession other than your own would you like to attempt?
Probably a career advisor and life coach. Besides that, I'd be:
Marine biologist
Adventure Tour Guide
Skydive Instructor
Pilot
Volleyball Coach
Relocation Coordinator (25 moves in 14 years!)