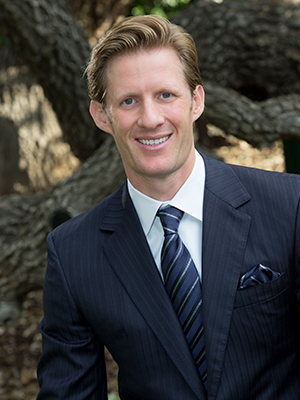 Seth A. Haye
Westlake Village, California

Title: Executive Director
Company: Morgan Stanley
AT A GLANCE:
Seaver College Class of 2002
BA, Communication
What does being one of Pepperdine's 40 under 40 honorees mean to you?
This is a special honor. As a student Pepperdine changed my life. I felt honored to simply be admitted to Pepperdine as a high school senior so this honor is very meaningful.
Describe your success:
I have been very fortunate to help grow our wealth management practice at Morgan Stanley to more than $1 billion in assets (as of November 1, 2016). We take pride in saying that virtually all of our clients are also personal friends.
How does Pepperdine play into your success?
I feel like I owe much of my success to Pepperdine, so much so that if it weren't for my association with Pepperdine I don't think I would be in my current industry or be working with my business partner of 13 years. We met at a Pepperdine Crest Board meeting in 2000 when I was a student speaker and he was a new prospective board member.
Who inspires you and why?
Some of the people who inspire me are longtime Pepperdine administrators who have helped to shape the University, legends like Charlie Runnels, who taught me what it means to be a good friend and thoughtful to others, and Andy Benton who speaks with unparalleled sincerity.
What's next for you? What's your five year outlook? What's your ten year plan?
My main focus at this point in life is staying connected to each member of my family while taking wonderful care of my clients and helping to grow our business.
What's your secret sauce?
I think it's a blend of gratitude, uncompromising expectations, and a lot of discipline and hard work.
How do you prepare for a busy day?
Step one is getting a good night sleep the night before.
What is one of your hobbies?
Wrestling with my son and coaching my daughter in whatever sport she is learning.
What is your favorite quote?
"Blessed to be a blessing."
What profession other than your own would you like to attempt?
I wouldn't be surprised if I worked in the wealth management/investment industry for the rest of my life. However, I do intend to take more time in the future to increase my involvement with philanthropic causes that are meaningful to my wife and me.