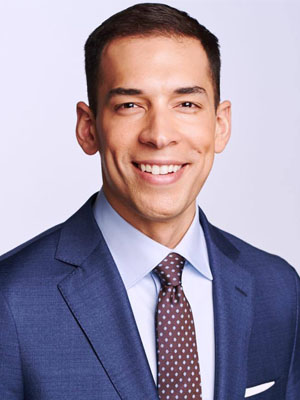 What does being one of Pepperdine's 40 under 40 honorees mean to you?
It's an honor! Pepperdine left an amazing mark on my spiritual, professional, and personal life. I'm incredibly thankful for the recognition from such an incredible university.
Describe your success:
It has been a fun adventure that has taken me to two of the country's top television markets working as an anchor and reporter. This year, I became the 4 PM anchor for the company's flagship station, WNBC-TV in New York. Prior to New York, I anchored the morning newscast at WMAQ-TV in Chicago where I was also recognized with Emmy Awards for anchoring and for spot news.
How does Pepperdine play into your success?
Pepperdine is where I fell in love with journalism. I started freshman year focused on studying political science and maybe pursuing a career in aviation. I remember flipping through channels one day in the dorm and found myself watching a student run newscast called "Newswaves." I thought to myself, "This looks cool!" Kind of on a whim, I went to an information session and then auditioned. I was immediately hooked! I've always had the news bug, but it was the Pepperdine program that really helped me build the practical skills that are essential for anyone who wants to be a reporter. I felt like the professors and faculty were truly invested in seeing me succeed. By the time I graduated from Pepperdine, I was fully prepared to shoot video, edit, and report the news.
Who inspires you and why?
I've always been inspired by my parents. They really pushed me to work hard and focus on my studies at Pepperdine, but even more importantly, encouraged me to find a calling.
What's next for you? What's your five year outlook? What's your ten year plan?
Hard to say. I'm very happy here at WNBC and hope to be here in New York for many years to come. This is such a fast-paced market, and I'm blessed to be here at this stage in my career. I also enjoy traveling and international news, so I would love the opportunity to journey overseas to report.
What's your secret sauce?
Coffee. Lots and lots of coffee.
How do you prepare for a busy day?
Did I mention coffee? Just kidding! I start with working out in the morning and then eat a solid breakfast. I try to read the paper on the way in to work, usually on my tablet. I'm connected all day long on Twitter, keeping tabs on what's going on in the world. I also keep a playlist of jams to listen to before the newscast or before a live shot.
What is one of your hobbies?
I've always loved aviation and have been a private pilot since 2006. I fly a Cessna 172 out of Caldwell Airport in New Jersey. I also love cycling and love to ride bikes with my wife through Central Park.
What is your favorite quote?
"In three words I can sum up everything I've learned about life: it goes on." –Robert Frost
What profession other than your own would you like to attempt?
Fighter pilot, urban planner, or architect.